The John A. McAllister Collection: Printed Ephemera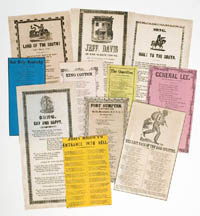 Confederate slip ballads, printed anonymously in the South, 1861-1865. "Fort Sumpter. A Southern Song. by Dr. Barnstable, B.C.H.G." is inscribed at lower edge "The first song printed in Balto 21 April 1861". Ranging in size from 12 ? by 6 inches and 7 by 3 inches. Before the age of broadcast technologies, new songs were introduced in music halls and other public settings, but achieved popular circulation through the means of lyric sheets, or slip ballads. Gift of John A. McAllister.
Song Sheets
The American Song Sheet Collection holds approximately 5,800 lyric sheets, also known as slip ballads, published in the nineteenth century and offered for sale by stationers, street-corner vendors, and by catalog through the mail. The songs were issued on a variety of white and tinted papers, and were often illustrated by images including portraits of Abraham Lincoln and George Washington; Civil War generals, battle scenes and maps; state seals and flags; cannons and eagles; and views of cities. Generally featured as headpieces, the illustrations are wood cuts, wood and metal engravings, and lithographs, which were printed in black and white and with colors.

The collection is fully described in Edwin Wolf's published catalog, American Song Sheets, Slip Ballads, and Political Broadsides (Philadelphia: Library Company of Philadelphia, 1963). The catalog gives a brief history of the genre and illustrates twenty-one graphic borders and 304 specific headpiece illustrations that were used repeatedly by the publishers. All of the entries in the Wolf bibliography; descriptive records for song sheets added to the Library Company's collection after the publication of the bibliography; digital images of approximately 1,000 song sheets; and all of the border and headpiece illustrations are available in ImPAC.

The collection was arranged by Wolf and described in the catalog according to his system: within each of the two series, the songs were organized alphabetically by title and assigned consecutive numbers. The numbers in Series I run from 1 to 2722.1, and those in Series II run from C1 to C194. These figures, known as "Wolf numbers," serve as the specific location/call number for each of the items.

The Wolf catalog has an entry for each song, consisting of the title, text of the first line, the number of lines or verses, and the tune or air to which the song was meant to be sung. Also included is information about the author, singer, composer, and publisher, any graphic components, and the sheet size. Variants of the same song—noted as such because of their different borders, headpieces, and publication information—are subdivided by letters and listed under the song's main entry, as publishers sometimes printed and reprinted particular songs, changing only the graphic designs or color of the paper. The New York publishers Henry De Marsan and James Wrigley employed twenty-one fancy borders which were identified and named by Wolf; these designations also appear in the catalog entries.