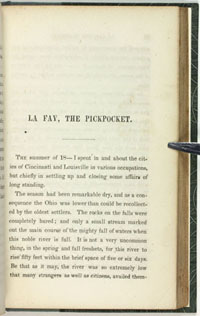 Daniel Mallory. Short Stories and Reminiscences of the Last Fifty Years. New York: D. Mallory, 1842.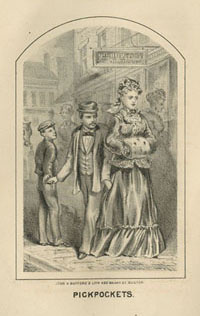 "Pick-Pockets," from Edward Savage. Police Records and Recollections or Boston by Daylight and Gaslight. Boston: John P. Dale & Co., 1873.
Successful pickpockets worked in teams with each member assigned his own job. In Daniel Mallory's Short Stories, the author recounts his time with Mr. La Fay, a skilled pickpocket who worked the riverboats. Pickpockets were also successful in urban areas, where the crush of people enabled them to work effortlessly and unnoticed. Indeed, the most skilled pickpockets could clear hundreds of dollars in one night. The image here shows a man handing a woman's purse off to his assistant while she remains oblivious.