Sep
26
Thu
2019
Library Company Seminar: Mirror of a City
Sep 26 @ 5:30 pm – Oct 24 @ 8:00 pm
Mirror of a City: Images of Philadelphia, 1780 – 1950
September 26 / October 10 / October 24
5:30pm – 8:00pm
---
Led By:
Erika Piola, Director of the Visual Culture Program and Sarah Weatherwax, Curator of Print and Photographs
Library Company of Philadelphia
The Print and Photograph Department at the Library Company of Philadelphia holds one of the few public historical, American popular graphic arts collections in the country. With a focus on the visual history of Philadelphia from the era of the early nation through post-World War II, the graphics materials chronicle the evolution of the city and the story of their creators, collectors, and distributors like few others. In this seminar Library Company curators, Sarah Weatherwax and Erika Piola will provide a sensory journey of the Library's premiere collection of prints, photographs, drawings, watercolors, maps, and ephemera depicting the city as it developed over three centuries from port city to urban metropolis.
The three-part seminar will examine the pivotal role of Philadelphia in creating the visual culture of the nation as a center for printmaking, photography, and collecting. Sessions will explore the social, cultural, and technological influences affecting Philadelphia image making; the known, hidden, and forgotten image makers; and the changing aesthetics of the physical city, as well as tastes of those who notably collected all manner of Philadelphia imagery. Seminar attendees will also gain knowledge about the evolution of the Library's graphic collections, as well as have hands-on experiences with specimens of early photography, including daguerreotypes and stereographs.
---
To pay by check contact Clarissa Lowry, Program & Events Coordinator, at clowry@librarycompany.org or 215-546-3181, ext. 130. For more information about the seminar series, contact Will Fenton, Director of Scholarly Innovation, at wfenton@librarycompany.org or 215-546-3181, ext. 119.
Nov
21
Thu
2019
Library Company Seminar: Victorian Sweets
Nov 21 @ 5:30 pm – Dec 17 @ 7:30 pm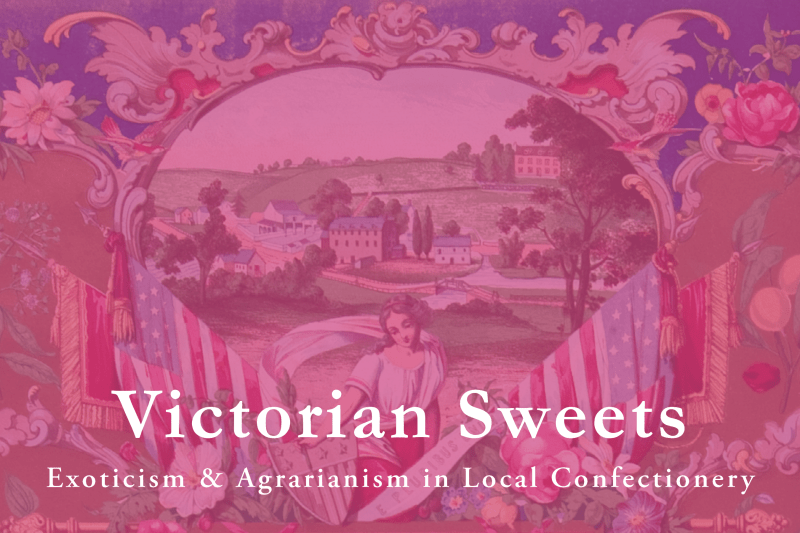 Victorian Sweets: Exoticism & Agrarianism in Local Confectionery
November 21 / December 5 / December 17
5:30pm – 8:00pm
The first session will be followed by a dessert reception catered by the Franklin Fountain 
Using 19th-century advertisements, photos, packaging, and broadsides from the Library Company of Philadelphia's rich collections, experts from The Franklin Fountain & Shane Confectionery will explore the written & visual culture of the 19th-century confectionery trades. The first session will reflect on 18th and 19th-century ice cream culture, such as "pleasure gardens," local cream, and exotic flavors offered right here in Philadelphia. In the second session, participants will examine a range of 19th-century chocolate recipes and advertisements made for urban consumers that tout far-flung origins while trumpeting pastoral manufacturing. The final session will look at the inherent tensions expressed in local confectionery and the global sugar trade.
---
About The Franklin Foundation
Owned and operated by brothers Eric & Ryan Berley, The Franklin Fountain was founded in 2004, but is an authentic re-creation of an American ice cream parlor and soda fountain, circa 1915.  Ice cream made on-premises is scooped and served in cones, sundaes and floated upon ice cream sodas drawn from a 1904 bronze & onyx soda fountain. Hot fudge, caramel, and other toppings are made using fresh, local, fair trade ingredients. Soda jerks are dressed in period attire, serving customers an authentic early 1900s experience in a historic building with ornate tin ceilings, marble counters, and mosaic penny tile floors.
About Shane Confectionary
Shane Confectionery is the oldest continuously operating confectionery in the United States, with candy made on site since 1863. The Shane family took over the business in 1911, installing elaborately carved woodwork, stained glass and curved windows to showcase the chocolates and confections crafted in the kitchens above. In 2010, the business transitioned to brothers Eric & Ryan Berley, owners of the nearby Franklin Fountain, who embarked on a meticulous restoration of the building and business. Candies and bean-to-bar chocolate continue to be made on-site, with an emphasis on natural, locally-sourced, fair trade ingredients, seasonal specialties, and old-fashioned quality.
---
About the Instructors
Eric Berley, co-owner of The Franklin Fountain and Shane Confectionery, dubs himself a "Confectionery Imagineer." He develops the Franklin Ice Cream products, including a "Forgotten Flavors" line of historically inspired ice cream, and acts as a Quality Officer; raising the standards for staff and guests at every opportunity. Eric is a born salesman and an extrovert with an educational background in philosophy. From his tour guide experience at Historic Christ Church, he saw an opportunity to story-tell through food & confectionery.  Eric believes the retail experience has the capacity to act as an educational venue and living museum.
Ryan Berley is a Media native who graduated from Washington & Jefferson College with a dual degree in History and Entrepreneurship. In 2004, Ryan and his brother Eric opened The Franklin Fountain, which has received international acclaim. In 2011, the Berley Brothers purchased and preserved Shane Confectionery, the oldest candy shop in America, and continue to hand-craft sweets onsite in the old world tradition. They have been featured in Smithsonian Magazine, The New York Times, Food & Wine and received preservation awards for their work. Ryan has curated and lectured on craftsmanship, history, base-ball, and confectionery at local and international institutions. Since 2015, Ryan has been a board member of the Rose Valley Museum & Historical Society, where he is Curator of the Rose Valley Museum, recently opened in the Fall of 2017.
 Kevin Paschall is the head chocolate maker at Shane Confectionery. He created the full line of bean-to-bar chocolate offerings at Shane Confectionery and developed the historically-inspired chocolate menu at Shane's Chocolate Cafe. He has been featured on ABC, Food Network, and Travel Channel.
---
 To pay by check contact Clarissa Lowry, Program & Events Coordinator, at clowry@librarycompany.org or 215-546-3181, ext. 130. For more information about the seminar series, contact Will Fenton, Director of Scholarly Innovation, at wfenton@librarycompany.org or 215-546-3181, ext. 119.