When:
September 16, 2020 @ 5:30 pm – October 14, 2020 @ 5:30 pm
UTC Timezone
2020-09-16T17:30:00+00:00
2020-10-14T17:30:00+00:00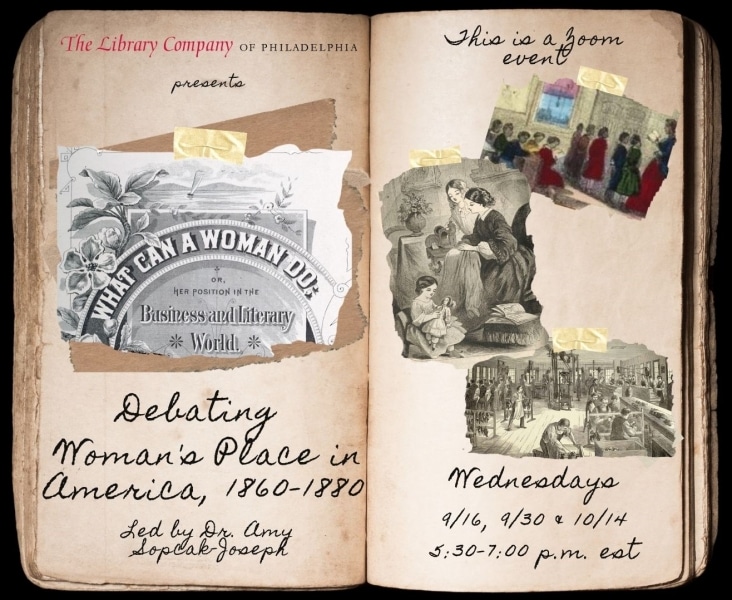 Three Sessions: Wednesdays
September 16, September 30 & October 14
5:30-7:00 p.m. est
The 19th Amendment forbids denying the right to vote on the basis of sex.  Yet its passage a century ago was less a definitive declaration of women's equality than it was one episode in a longer history.  This seminar contextualizes this important anniversary by examining the 19th-century roots of foundational questions about gender roles: what can women do?  What should their roles in society be?  The Library Company's collections illustrate the competing answers posed during the crucial decades of the 1860s and 1870s.  American women, both White and Black, shaped political conversations and public spaces in ways that were varied and complex, local and national, progressive and conservative – much like they do today.
Seminar Leader
Amy Sopcak Joseph
Amy Sopcak-Joseph is a historian of Early American gender and print culture.  In 2019, she defended her dissertation at the University of Connecticut and became an assistant professor at Wilkes University.  Her project, "Fashioning American Women: Godey's Lady's Book, Female Consumers, and Periodical Publishing in the Nineteenth Century," examines the Lady's Book's intertwined histories as literary magazine, fashion rag, and material object.  This work was awarded the Zuckerman Prize in American Studies and has been supported by many institutions, including the Library Company; American Antiquarian Society; Winterthur Museum, Garden, and Library; and the University of Connecticut Humanities Institute.  Prior to earning her PhD, Amy was the Education Coordinator at the American Antiquarian Society.
Dr. Sopcak-Joseph collaborated with Curator of Women's History Cornelia King on the exhibition Women Get Things Done: Women's Activism, 1860-1880 (launch date Sept. 22, 2020)
https://librarycompany.org/wp-content/uploads/2015/06/lcp_print.png
0
0
Dayjah Brock
https://librarycompany.org/wp-content/uploads/2015/06/lcp_print.png
Dayjah Brock
2020-07-21 14:36:50
2020-08-20 15:31:10
Seminar: Debating Woman's Place in America, 1860-1880