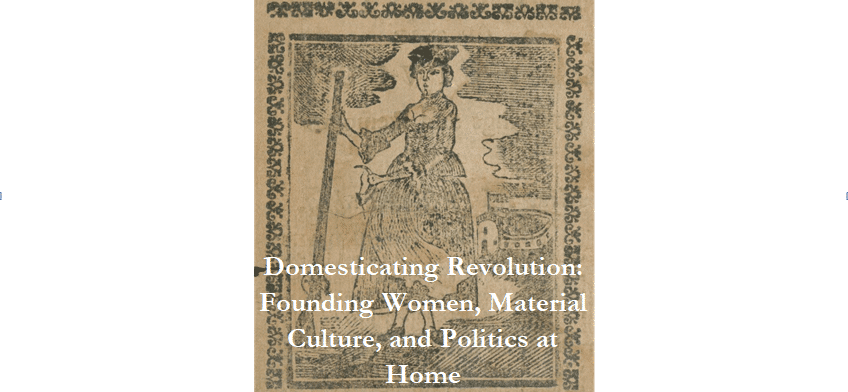 When:
March 11, 2020 @ 5:30 pm – April 22, 2020 @ 7:00 pm
UTC Timezone
2020-03-11T17:30:00+00:00
2020-04-22T19:00:00+00:00
Where:
The Library Company of Philadelphia
1314 Locust Street
Philadelphia, PA 19107, Philadelphia
PA 19107

Contact:
Library Company of Philadelphia
Domesticating Revolution: Founding Women, Material Culture, and Politics at Home


March 11th 2020, 5:30 p.m. to 7 p.m.


March 25th 2020, 5:30 p.m. to 7 p.m. 


April 22nd 2020, 5:30 p.m. to 7 p.m.


In 1781, a British newspaper reported that a British officer stationed in the United States "told Lord Cornwallis …that he believed if he had destroyed all the men in North-America, we should have enough to do to conquer the women." The fierce patriotism of American women was noted on both sides of the Atlantic in the revolutionary era, but has received far less attention in histories of the war told after the conflict ended. 
This material- and visual culture-centric seminar series fills that historical gap, using Library Company's collections to look at how Philadelphia women used their homes–and the things in those domestic spaces–to create revolutionary fervor and shape founding era politics from the mid-1760s through the 1790s. During and after the American Revolution, Patriot women from North to South used material culture to domesticate revolution. They used things–things they bought, things they made, and the architectural spaces of their homes–first to wage, and then to come to terms with waging, the war. American women made and used objects to "domesticate" the war in multiple senses: to bring battle into the home and home into battle, to make something public and communal private and intimate, to create an American political culture, to produce and consume goods related to the Revolution in the American marketplace, and, eventually, to tame memories of a violent Patriot.
About the Seminar Leader
Dr. Zara Anishanslin (Associate Professor of History and Art History and Director, History of American Civilization Program, University of Delaware) specializes in Early American and Atlantic World History, with a focus on eighteenth-century material culture. She previously taught at CUNY (College of Staten Island) and at Columbia, where she also co-chaired the Columbia Seminar in Early American History and Culture from 2011-16. Anishanslin received her PhD in the History of American Civilization at the University of Delaware in 2009, and has been a Mellon Postdoctoral Fellow at the New-York Historical Society (2014-15) and a Patrick Henry Postdoctoral Fellow in the Department of History at Johns Hopkins (2009-2010). Other fellowships include grants from the Omohundro Institute of Early American History and Culture, The Huntington Library, the American Antiquarian Society, Harvard Atlantic Seminar, the Massachusetts Historical Society, and the Henry Luce Foundation/American Council of Learned Societies. She can often be found talking history on the Travel Channel's "Mysteries at the Museum" show and just served as Material Culture Consultant for Lin-Manuel Miranda's "Hamilton, The Exhibition." Her first book, Portrait of a Woman in Silk: Hidden Histories of the British Atlantic World (Yale University Press, 2016) was the Inaugural Winner of The Library Company of Philadelphia's Biennial Book Prize in 2018 and a Finalist for the 2017 Best First Book Prize from the Berkshire Conference of Women's Historians. Anishanslin was the 2018 Mount Vernon Georgian Papers Programme Fellow, working at the Royal Archives at Windsor Castle, the Washington Library, and King's College London on her new project on the American Revolution, London Patriots. This year she is be a Barra Postdoctoral Sabbatical Fellow at the McNeil Center for Early American Studies at the University of Pennsylvania.
https://librarycompany.org/wp-content/uploads/14314_image.png
392
848
Dayjah Brock
https://librarycompany.org/wp-content/uploads/2015/06/lcp_print.png
Dayjah Brock
2020-01-09 14:22:48
2020-01-09 15:55:00
Domesticating Revolution: Founding Women, Material Culture, and Politics at Home