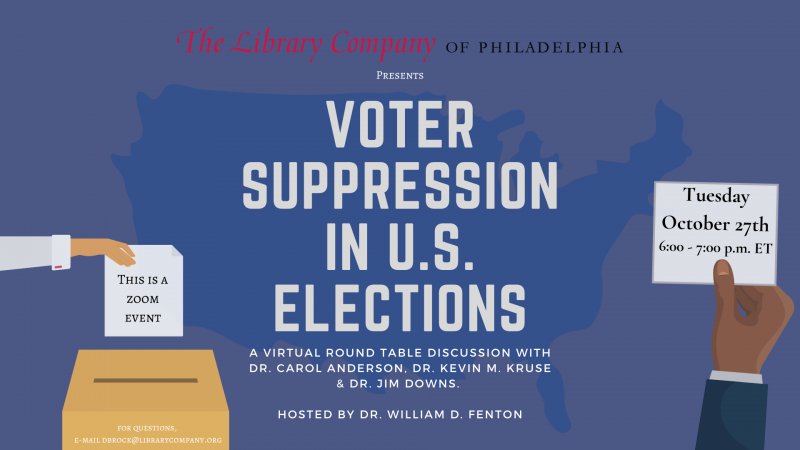 Tuesday, October 27th
6:00 – 7:00 p.m. ET
via Zoom
Voter Suppression in U.S. Elections is a round table discussion between Dr. Carol Anderson, Charles Howard Candler Professor and Chair of African American Studies at Emory University, Dr. Kevin Kruse, Professor of History at Princeton University, Dr. Jim Downs, Professor of History and American Studies at Connecticut College and hosted by Dr. William D. Fenton, Director of Scholarly Innovation at the Library Company of Philadelphia. Voter Suppression in U.S. Elections emerges from an extraordinary conversation held at Library Company last year in conjunction with the annual conference of the Organization of American Historians. This round table conversation will reflect upon that conversation and assess recent developments related to voter disenfranchisement and the voting barriers that ostracize the poor, Black, and Latino communities.
About the Panelists
Carol Anderson (Author)
Carol Anderson is the Charles Howard Candler Professor and Chair of African American Studies at Emory University and a Guggenheim Fellow in Constitutional Studies. She is the author of several books, including Eyes off the Prize: The United Nations and the African-American Struggle for Human Rights, 1944-1955, which was published by Cambridge University Press and awarded both the Gustavus Myers and Myrna Bernath Book Awards; White Rage: The Unspoken Truth of Our Racial Divide, which won the 2016 National Book Critics Circle Award for Criticism and was also a New York Times best seller and a New York Times Editor's Pick. Her most recent book, One Person, No Vote: How Voter Suppression Is Destroying Our Democracy, was long-listed for the National Book Award in Nonfiction and was a finalist for the PEN/Galbraith Book Award in Nonfiction.
Kevin M. Kruse (Author)
Kevin M. Kruse specializes in twentieth-century American political history, with special attention to conflicts over race, religion, and rights. He received his undergraduate degree from the University of North Carolina at Chapel Hill and his MA and PhD degrees from Cornell University. He is a professor of history at Princeton University, where he has served on the faculty since 2000. Kruse is the author of White Flight: Atlanta and the Making of Modern Conservatism, One Nation Under God: How Corporate America Invented Christian America, and, with Julian Zelizer, Fault Lines: A History of the United States since 1974, as well as the coeditor of three essay collections. He is currently working on his next project, titled "The Division: John Doar, the Justice Department, and the Civil Rights Movement."
Jim Downs (Editor)
Jim Downs is a professor of history and American studies at Connecticut College. He is the author of Sick from Freedom: African-American Illness and Suffering during the Civil War and Reconstruction and the coeditor of Beyond Freedom: Disrupting the History of Emancipation (Georgia) and Connexions: Histories of Race and Sex in North America.
To learn more and purchase the book, click here.
https://librarycompany.org/wp-content/uploads/2015/06/lcp_print.png
0
0
Dayjah Brock
https://librarycompany.org/wp-content/uploads/2015/06/lcp_print.png
Dayjah Brock
2020-07-07 16:51:15
2020-07-07 16:58:19
Voter Suppression in U.S. Elections