Overview
James Logan (1674-1751) served as Provincial Secretary to the Penn family, studied the sexuality of plants, mentored Benjamin Franklin and John Bartram, served as Mayor of Philadelphia and Chief Justice of Pennsylvania, and shaped his province's relationships with Native Americans. Logan traded furs, owned slaves, and was a gentleman-merchant, book collector, and scholar in Philadelphia in the decades that the colonial metropole became one of the most populous and cosmopolitan port cities in British North America.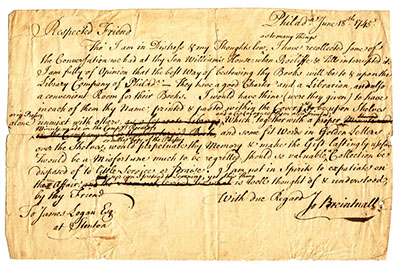 Logan amassed a wealth of documentary resources as well as material goods during his multi-faceted career. Logan's nearly 3,000-volume library remains intact at the Library Company of Philadelphia. The Historical Society of Pennsylvania archives include numerous papers and collections related to his activities, and The National Society of The Colonial Dames in America in the Commonwealth of Pennsylvania preserves his house, Stenton. These materials offer textured glimpses into his world, and opportunities for scholars of diverse disciplinary backgrounds.
In short, Logan's vast political, trade and knowledge networks provide a lens for examination of numerous facets of the Atlantic World in the first half of the eighteenth century. This conference is an effort to consider Logan's milieu in the widest possible way, via an international, interdisciplinary gathering focused on reconsidering not only Logan but also early Pennsylvania culture in an Atlantic World context.
The National Society of the Colonial Dames in America in the Commonwealth of Pennsylvania preserves Logan's house, Stenton. During the conference, Stenton will debut "Stenton Reassembled: A Reunion of James Logan's Furnishings," a year-long loan exhibition supported by a generous grant from the Richard C. von Hess Foundation. "Stenton Reassembled" brings together an extraordinary group of Logan objects from both private and museum collections, most of which have never been exhibited at Stenton and have not previously been exhibited together. Participants and attendees will have an opportunity to tour the exhibit, and other parts of Stenton, when the conference convenes there on Saturday, September 20.
The conference is free and open to the public, but preregistration is required.
Papers for most of the sessions on Friday, September 19, will be precirculated via a website accessible only to those who preregister. These papers will be only briefly summarized at the sessions. Conference attendees are strongly encouraged to read the precirculated papers in advance.

Inquiries can be directed to:
mceas@ccat.sas.upenn.edu
(215) 898-9251