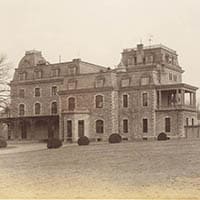 The collection and organization of personal mementoes, such as signatures, poems, trade cards, invitations, and photographs for inclusion in personal albums and scrapbooks was a popular pastime for many 19th-century young women. With the invention of box cameras such as the Kodak at the end of the century, many young women could not only gather and arrange photographic mementoes, but photograph the images themselves. This album compiled by Ida F. Drew while a student at the Ogontz School for Girls represents this pastime pursued by so many women of her era.
The album compiled by Drew contains over 200 photographs documenting her social life at and away from school during 1892-1893. The majority of the views show her classmates, friends, and presumably her family during informal and recreational gatherings, often playfully posing for the camera. Candid views taken around the campus predominately show the same young women posed in smalls groups or as individuals near the main building.
Curated by Erika Piola, 2005.
Resources
Ogontz School for Girls Album Online Exhibition