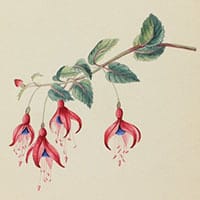 More than tokens of female expressionism, women's friendship albums are artistic gems rich for material culture studies. From the bindings to the beautiful calligraphy, such volumes are relics of artistic portrayals of feminine identity and thought. By shedding insight on the process by which friendship albums are created, the political and literary aspects of these materials can be understood in a wider context. Friendship albums (and complementary gift books) are prime specimens of the commodification of American print culture.
The Amy Matilda Cassey and Martina and Mary Anne Dickerson albums have long been some of the Library Company's most requested items. Visual and textual, as well as rare artifacts of 19th-century middle-class African American history, the friendship albums are rich for digital humanities scholarship. When the Library Company's Curator of African American History Krystal Appiah was approached in summer 2013 by Swarthmore professor Lara Cohen about her class analyzing the albums and in turn possibly creating an online site, we thought this may be the time to think a bit outside of the box when it comes to digital humanities at the Library.
Managed by Krystal Appiah, Nicole Joniec, and Erika Piola, 2013.
Resources
Cassey & Dickerson Friendship Album Project Online Exhibition
Subject Guide: African Americana