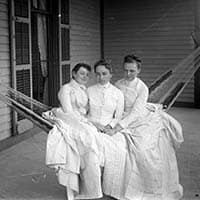 The Marriott C. Morris Collection is comprised of over 2500 glass negatives, photographic prints, film negatives, and lantern slides taken by Philadelphia photographer Marriott C. Morris. Morris was a member of a prominent Quaker family tracing its history back to Anthony Morris' immigration to Philadelphia in the early 1680's.
He married Jane Rhoads in 1897 and they had three children – Elliston Perot Morris Jr., Marriott Canby Morris Jr., and Janet Morris. Images include formal and candid portraits of the Morris family, views from family travels to Bermuda, the Poconos, and their summer home "Avocado" in Sea Girt, New Jersey. The collection also features numerous photographs of historic Germantown and other locations in and around Philadelphia, including Haverford College.
This exhibition was made possible through the generosity of Marriott C. Morris's grandchildren, David Marriott Morris, Eleanor Rhoads Morris Cox, and William Perot Morris.
Curated by Alison Van Denend, 2015.
Resources
The Morris Collection Online Exhibition