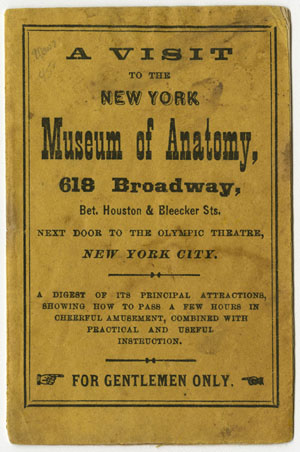 New York Museum of Anatomy. A Visit to the New York Museum of Anatomy. [New York, ca. 1865].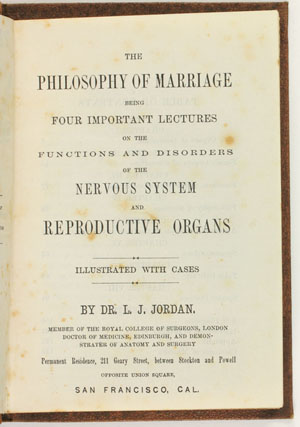 Henry J. Jordan. The Philosophy of Marriage Being Four Important Lectures on the Functions and Disorders of the Nervous System and Reproductive Organs. San Francisco: Donald Bruce's Book and Job Printing House, 1874.
Purporting to promote scientific education, anatomical museums promoted their salacious displays to men only. Souvenir booklets helped promote these local attractions and also generated additional revenue for proprietors. The earlier booklet touts the New York Museum of Anatomy, which Henry J. Jordan claimed to have founded in 1848, enumerating the hundreds of specimens it contained. The later publication, seemingly more substantive, concerns itself with the "generative organs" of men and women.
While anatomical museums were popular in all major 19th-century cities, the Jordans perhaps capitalized on them best, establishing museums on two coasts. Although Henry claimed to be a doctor, there is no evidence he ever was one. His son, Louis, supposedly a member of the Royal College of Surgeons and Doctor of Medicine in Edinburgh, was arrested in 1895 for practicing medicine under an assumed name.
Browse the New York Museum of Anatomy's full collection from the 1860s here.