Loading
Placing Bets
"Faro," scene from "Mining Life in California," Harper's Weekly, October 3, 1857.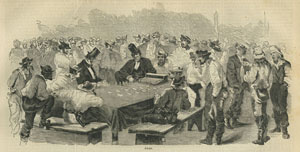 Requiring such little capital – a few tables, decks of cards, dice, and chips – gambling was a popular pastime on the 19th-century frontier, especially in mining towns where people were already primed to get rich quick. The author of this article in Harper's, which appeared a month after the Panic of 1857, notes the similarities of gold-mining and gambling: "Mining is to a great extent a game of chance, and though constant industry is sure at last of its reward, years may elapse before a trump card turns up."
Faro was a particularly mobile game, requiring only a cloth depicting the cards in a deck. People would place bets on which cards would come up – the first card revealed would win for the player, the second for the house. The game was especially attractive because, if conducted honestly, it offered close to even odds. And although honest faro games were rare, if they existed at all, it was often the only game in town. This image depicts two professional gamblers in formal dress who control the bank playing against the rough-and-tumble miners carrying guns on their hips.