Loading
Placing Bets
"The Progressive Steps in a Gambler's Career," Frank Leslie's Illustrated Weekly, June 8, 1867.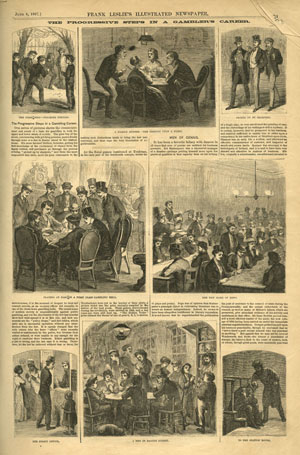 This pictorial feature depicts the common perceptions about the dangers of gambling. A boy who begins in his childhood innocently pitching pennies with his friends is drawn, inexorably, into the world of vice, and finally arrested by the authorities. The text claims that many such gambling operations are allowed to survive because of bribes to authorities.
The images show what gambling dens looked like and who frequented them. Although patrons were primarily middle-class white men, African Americans can be seen approaching the policy shop to bet on numbers, and women and children appear in the Baxter Street den, which also supports billiard playing and liquor drinking. The "new" game of keno (similar to bingo) is also illustrated.