Loading
Swindling
"An Auction of Splendid Household Furniture, to Be Sold without Reserve," Harper's Weekly, April 3, 1858.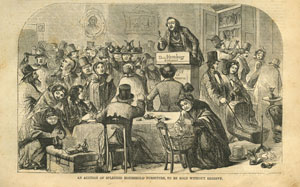 Auction swindles, colloquially called "Peter Funks," were quite common in the 19th-century city, and myriad variations successfully took advantage of consumers' false sense of market acumen. So prevalent were they that New York State passed "An Act to Punish Gross Frauds and to Suppress Mock Auctions" in 1858, which was ineffective. One example, illustrated here, was an auction purportedly selling off "the entire furniture of a wealthy family retiring to the country." Shills placed in the audience, in addition to the perceived desirability of the items, drove up prices. In reality, the furniture was used (and often infested with fleas), or new but cheaply-made and worth much less than what the winning bidder ended up paying.
"Pick-Pockets and Picture-Pockets; or, Art Dodges and Artful Dodgers," Frank Leslie's Budget of Fun, April, 1860.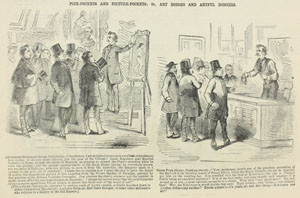 This illustration shows two other auction scams. The first exploited members of the upper class who fancied themselves knowledgeable art collectors. Attempting to impress and outbid each other, they were seduced by the auctioneer's patois and use of bogus art terms. (The paintings were actually reproductions made in factories.) The second example, a classic "Peter Funk," shows an auctioneer with a gold watch on the block. He puffs it, claiming it is identical to Prince Albert's and contains a genuine diamond. Of course, it was no such thing – a cheap knock-off likely made of base metal with an electroplated exterior. Other times, genuine goods were auctioned off, only to be surreptitiously switched for cheap imitations at the time of delivery.