Charles Brockden Brown
Charles Brockden Brown (January 21, 1771, to February 21, 1810) is a seminal figure in the history of American fiction. While scholars may quibble about whether he was "the Father of American Literature," there is no doubt he began the dark tradition that runs through more famous writers like Hawthorne and Poe, both of whom praised and imitated him. He is the linchpin of Philadelphia's strength in Gothic storytelling.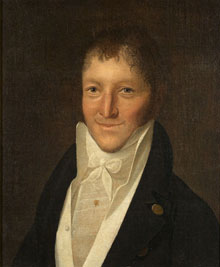 Trained first for the law and then for his family's mercantile business – both false starts – Brown was the first American to earn his living solely by writing. Most of that work took the form of stories, philosophical and historical meditations, and political writing in the magazines he edited. Today, however, we remember him for his novels, for their peculiarly American settings and characters, and for the imaginative intellect they display.
At the end of the 18th century, over a period of just two years, Brown produced four Gothic novels still considered important. The best are Arthur Mervyn (started 1799), set during the horrid 1793 yellow fever epidemic in Philadelphia, and Wieland (1798), based on grisly true cases of men who murdered their families, claiming God ordered them to make the sacrifice.
Left: William Dunlap. Charles Brockden Brown. Oil on canvas. (Philadelphia, 1809). Collection of Dr. Neil K. Fitzgerald. Recovered from a Manhattan law office in 1980, this is the only oil portrait of the first American professional man of letters. It was likely painted from life sometime between late 1809 (around the time Brown joined the Library Company) and his death in early 1810. It is the work of William Dunlap, one of Brown's closest friends, also a playwright, a theatre manager, and the first American art historian. Permission for use can be obtained from Neil K. Fitzgerald through The Library Company
"I saw him, a little time before his death. I had never known him – never heard of him – never read any of his works. He was in a deep decline. It was the month of November – our Indian summer – when the air is full of smoke. Passing a window one day – I was caught by the sight of a man – with a remarkable physiognomy – writing, at a table, in a dark room. The sun shown directly upon his head. I shall never forget it. The dead leaves were falling then – It was Charles Brockden Brown."
–- Thomas Sully, 1809
_______________________________________________________________________________________
| | |
| --- | --- |
| | [Charles Brockden Brown.] Arthur Mervyn; or, Memoirs of the Year 1793. (Philadelphia, 1799). A country rustic migrates to Philadelphia just in time to experience the horrors of the yellow fever epidemic of 1793. The novel's imitators include Poe, in "The Masque of the Red Death" (1842), Hawthorne in "My Kinsman, Major Molineaux" (1832), and Dr. S. Weir Mitchell in his novel The Red City (1907). The fever returned in 1798 both here and in New York, where it infected Brown and killed his best friend, Dr. Elihu Hubbard Smith. |
| | |
| | [Charles Brockden Brown.] Arthur Mervyn; or, Memoirs of the Year 1793. Second Part. (New-York, 1800). Favorable reception of Arthur Mervyn motivated Brown to produce a quick sequel, which can be read as a stand-alone story. Some modern critics believe the two installments together constitute Brockden Brown's best piece of fiction. The 1800 follow-up volume is extremely rare, and it is rarer still to find both volumes owned by the same person. |
| | |
| | [Charles Brockden Brown.] Wieland; or, The Transformation. An American Tale. (NewYork, 1798). The first great American novel, as well as the very cornerstone of American and Philadelphia Gothic, Wieland is set in a manse overlooking the Schuylkill River. Never technically out-of-print since publication of the first edition (displayed here), it inspired other American horror practitioners including Robert Montgomery Bird, George Lippard, Poe and Hawthorne, and terrified some like James Fenimore Cooper. |
| | |
| | [Charles Brockden Brown.] Ormond; or The Secret Witness. (New-York, 1799). Gift of Charles Brockden Brown, 1800. Ormond is one of the most perplexing of Brown's characters. In part he is cut from the traditional gothic "evil genius" mold, your basic hero who assumes he is part of an intellectual master race, has zero morals, and thinks nothing of applying his incomparable intellect and dashing suavity to seducing the country's fairest gentlewomen. But Ormond was variously a Deist, a Jacobin, a Democrat even, someone whose radical political ideas were either an expression of the highest ideals of the Revolution or else part of an international conspiracy to corrupt and destroy the New American Republic. |
| | |
| | The Library Company of Philadelphia. Record Book B. (Philadelphia, 1789-1814). Brown's great uncle Charles Brockden (1683-1769), Philadelphia's first city recorder, was a charter member of the Library Company. His novelist descendant used the library all his life, but only became a shareholder in 1809, the year before his death. His share was acquired by guest curator Neil K. Fitzgerald three decades ago. |
| | |
| | [Paul Allen.] Biography [of Charles Brockden Brown]. (Philadelphia, 1814). Unpublished printer's proof, with marginalia probably in William Dunlap's hand. Historical Society of Pennsylvania. |
| | |
| | William Dunlap. The Life of Charles Brockden Brown. (Philadelphia, 1815). Brown's family commissioned a biography from hack writer Paul Allen, who threw together a volume of material and had it set in type before abandoning the project. Shown here is the only known copy of the printer's proof. The Brown family then called in his old friend William Dunlap (whose portrait of Brown hangs above this case), to finish the job. The editorial marks in the proof show him excising irrelevant and distasteful material while reusing much of the already-set type. He then added a second volume of new material and published it under his own name as The Life of Charles Brockden Brown in 1815. In an abridged London reprint in 1822, the biography was given a new subtitle identifying Brown as "The American Novelist." Even then, Europeans doubted there was such an American animal. |
| | |
| | William Dunlap. History of the Rise and Progress of the Arts of Design in the United States. (New York, 1834). Brown's best friends found him to be spooky even after he died. In 1830 William Dunlap received a hundred dollar bill in the mail, about a third of a year's decent salary in those days, which was a welcome gift at a time of poverty and illness. With the money was a letter composed of words clipped from printed matter like a ransom note, and signed "Your friend before and after death, Chas. B. Brown." |