---
William Still, dealer in Lehigh & Schuylkill Coal, 1216, 1218 and 1220 Washington Avenue, Philadelphia ([Philadelphia, 1875]). Lithograph.
LCP P.9939
Pennsylvania Negro Business Directory, 1910 : Industrial and Material Growth of the Negros of Pennsylvania (Harrisburg, 1910). Gift of Donald H. Cresswell.
LCP 78958.O
Pennsylvania provided the Black community with greater privileges and opportunities than they could find in other states. The Black entrepreneurs in Pennsylvania created and provided goods, services, and support that Black consumers could not find elsewhere. While some white business men catered to Black trade, they denied them employment. This realization prompted them to open up their own businesses. This book includes advertisements as well as brief descriptions for successful Black businesses.
The Armstrong Association, made up of an interracial board and named after General Samuel C. Armstrong, created jobs for African Americans in mechanical careers. These positions included carpenters, bricklayers, plasterers, cement workers, roofers, latherers, electricians, engineers, painters, and other mechanical trades. The association raised more than $20,000 for Philadelphia African American businesses. 150 African American men benefited from this opportunity.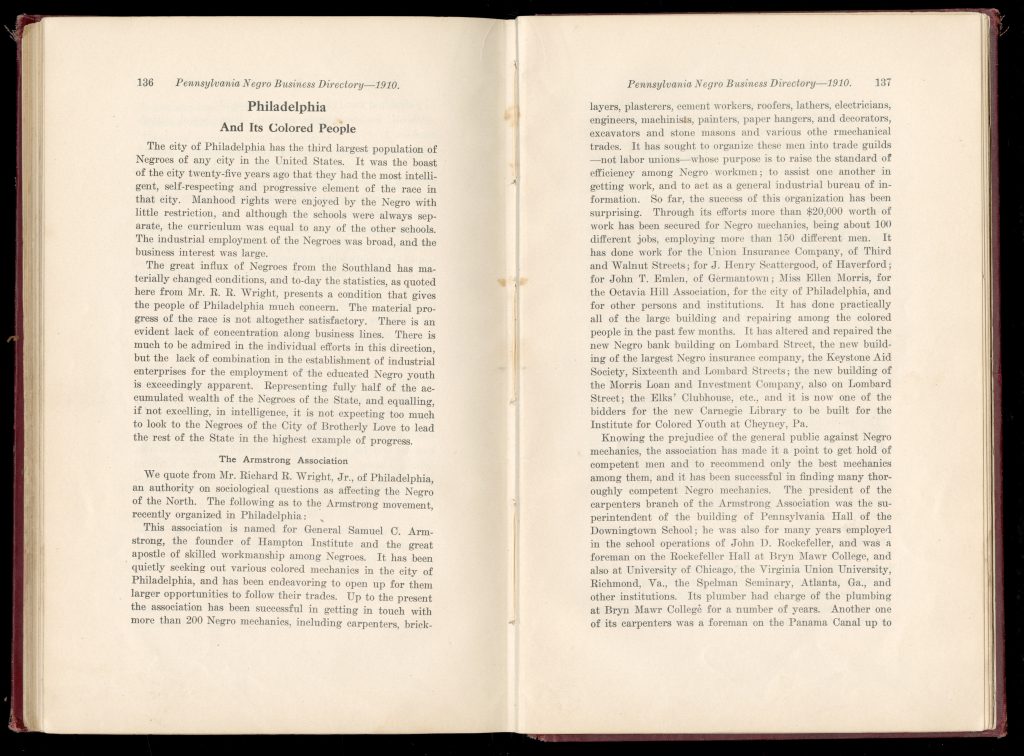 ---