LCP Conservator Publishes Landmark Essay on Papier-Mâché Bindings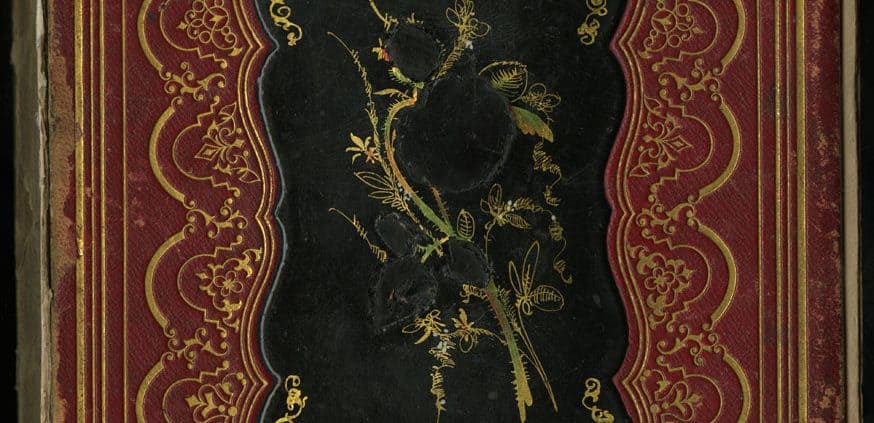 Suave Mechanicals: Essays on the History of Bookbinding, vol. 1
., just published by the
Legacy Press
.
Mrs. Rosner's chapter "Papier-Mâché Bindings: Shining in Black and Gorgeous with Pearl and Gold" traces the development of this type of binding in association with other decorative arts of the period. Papier-mâché products were so popular that entire factories in the United States were devoted to their production, and Birmingham, England, became the center of a large industry. Household items such as women's dressing cases and writing desks and larger items such as interior panels for steamships and piano cases were made with papier- mâché.
Papier-mâché bindings were one of several binding styles used in the production of gift books, though it was the most expensive. Adorned with mother-of-pearl, gold, and painted embellishments, these "annuals" or "keepsakes" were usually purchased as birthday and holiday presents or associated with courtship. While initially extremely profitable to publishers, gift books fell out of favor as readers grew tired of the same content, and, with changing tastes, papier-mâché bindings were increasingly perceived as gaudy and old-fashioned.
The editor of Suave Mechanicals Julia Miller was the first Library Company Fellow to study bookbinding in fall 2010. In addition to serving as editor, she also contributed an essay on scaleboard bindings. Both Ms. Rosner and Ms. Miller mention and include illustrations of many books from the Library Company's collections in their essays.
Little scholarly attention was given to papier-mâché bindings before Chief of Conservation Jennifer Rosner began researching the topic in May 2011. Largely through generous donations from Michael Zinman, the Library Company has amassed arguably the best collection in the world of these ornately decorated bindings, which enjoyed popularity between 1849 and 1856. Ms. Rosner has now contributed an essay based on her research to
https://librarycompany.org/wp-content/uploads/zinman-theiris.jpg
1200
874
nscalessa
https://librarycompany.org/wp-content/uploads/2015/06/lcp_print.png
nscalessa
2013-02-14 20:15:00
2019-05-01 16:50:10
LCP Conservator Publishes Landmark Essay on Papier-Mâché Bindings