Program in African American History
The Program in African American History brings together scholars and interested members of the public to explore and discuss every aspect of the experience of people of African descent in the Americas from the beginnings of European colonization through 1900.  For more than forty years, the African Americana collections of the Library Company have helped nurture and sustain rich scholarship that has added dramatically to our knowledge and understanding of that experience—and public exhibitions, lectures, and programs have sought to involve the broadest possible audience.
With the creation of the Program in African American History (PAAH) in 2007 with the generous support of The Albert M. Greenfield Foundation, the Library Company expanded fellowships, conferences, exhibitions, publications, public programming, teacher training, and acquisitions to help achieve the full potential represented by our holdings in this area.  We welcome the widest public participation in these activities.
In 2013, PAAH made an ambitious commitment to promoting scholarship in early African American History and increasing the diversity of scholars in the field with the help of a generous grant from the Andrew W. Mellon Foundation. Additional support for outreach activities has been provided by the Walter J. Miller Trust.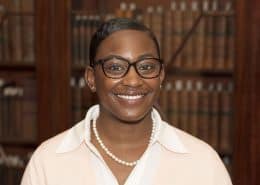 Curator of African American History and Assistant Director of the Program in African American History