Oct
23
Tue
2018
Library Company Seminar: Graphic Materials: Early American Political Cartoons and Propaganda
Oct 23 @ 6:00 pm – Dec 4 @ 8:00 pm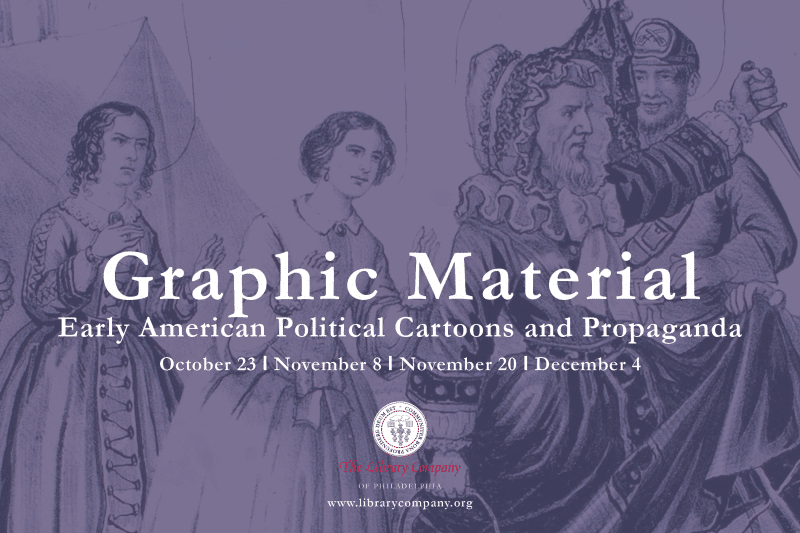 Graphic Materials: Early American Political Cartoons and Propaganda
October 23 / November 8 / November 20 / December 4
6:00pm – 8:00pm
---
Led by Dr. Will Fenton, "Graphic Material" will excavate the broadsides, engravings, political cartoons, caricatures, and propaganda that transformed early American politics. Canvasing the African Americana, John A. McAllister, and Political Cartoon Collections, Fenton will offer participants hands-on access to the Library Company's vaunted visual culture materials. "Graphic Material" promises to be a welcome companion to election-year politicking—a glimpse at a political culture that makes today's exchanges appear positively demure by contrast. Each session includes dinner in the Library's Logan Room, which features a selection of our historic collections.
About the Seminar Leader:
Dr. Will Fenton is the Director of Scholarly Innovation at the Library Company and Creative Director of Redrawing History: Indigenous Perspectives on Colonial America, a newly commissioned graphic novel and exhibition that will re-contextualize 18th-century historic events from the perspective of indigenous communities funded by The Pew Center for Arts & Heritage. Fenton specializes in early American literature and the digital humanities and is the editor of an award-winning digital humanities project, Digital Paxton, and the author of numerous academic and public articles. To learn more about his research, visit digitalpaxton.org.
Space is limited, so early registration is encouraged!
---
To pay by check contact Colleen Gill, Development and Membership Coordinator, at cgill@librarycompany.org or 215-546-3181, ext. 136. For more information about the seminar series, contact Will Fenton, Director of Scholarly Innovation, at wfenton@librarycompany.org or 215-546-3181, ext. 119.
Dec
10
Mon
2018
The Cabinetmaker's Account Book Launch
Dec 10 @ 5:30 pm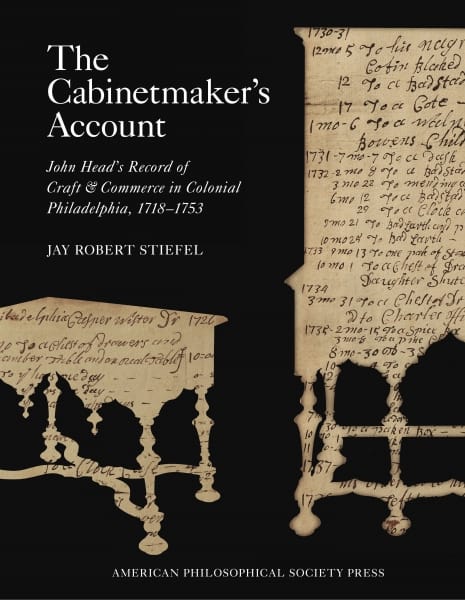 Join us for an evening with historian Jay Robert Stiefel as he presents his new book, The Cabinetmaker's Account: John Head's Record of Craft & Commerce in Colonial Philadelphia, 1718–1753 (American Philosophical Society Press, 2019).
This book-launch event is presented in partnership with the Library Company of Philadelphia and the Athenaeum of Philadelphia.
English joiner John Head immigrated to Philadelphia in 1717 and became one of its most successful artisans and merchants. However, Head's prominence had been lost to history until Jay Stiefel's serendipitous discovery of his account book at the American Philosophical Society Library. Head's account book is the earliest and most complete to have survived from any cabinetmaker working in British North America or in Great Britain.
Stiefel's definitive interpretation of the account book and his other discoveries fill documentary voids in the lives and trades of Colonial Philadelphia's middling classes, giving voice to those often overlooked in more traditional studies. His book, published by APS, is in large format with 320 pages, 100 mostly color illustrations, a comprehensive index, and biographical data.
Signed copies of The Cabinetmaker's Account will be available at the launch for a special price of $70 (regularly $85). Books can also be ordered online. The 320-page, hard-bound book includes 100 color illustrations and a comprehensive index with biographical data.
"Stiefels' discoveries … [have] established John Head as early Philadelphia's most prominent identifiable cabinetmaker and revealed Head's arduous transformation from immigrant craftsman to prosperous merchant. Stiefel's book opens up the world of John Head and his contemporaries to a wider audience and will make a significant contribution to our knowledge of early American history. It deserves as wide a readership as possible —and for as long as possible."
–Patrick Spero, Librarian
The American Philosophical Society
"The John Head account book is the earliest and most complete record of a cabinetmaker's work to have survived either in North America or in Great Britain. [A] find of great historical significance … the most comprehensive collection of contemporaneous data on how Colonial Philadelphia artisans and merchants conducted their trades and survived in a barter economy. Stiefel provides us with a detailed and fascinating account…. [T]he present volume is an essential companion…."
–Adam Bowett, Chair
The Chippendale Society
"John Head's account book is not only a rare survival but also a document of considerable historic import.
Jay Stiefel's book, The Cabinetmaker's Account, is an important contribution to historical American writing that handsomely details the life and work of John Head, one of early Philadelphia's leading furniture craftsmen."
–Donald L. Fennimore, Curator Emeritus
Winterthur Museum
Jay Robert Stiefel is an authority on the crafts and commerce of Colonial Philadelphia and the institutions founded by Franklin for the welfare of its tradesmen. A native of that city, he studied history at the University of Pennsylvania and Christ Church, Oxford. Stiefel's writings and lectures on social history have restored to the historical record many early craftsmen, artists, and merchants whose prominence had been obscured by the passage of time.