Reconstructing Fragments of African American Life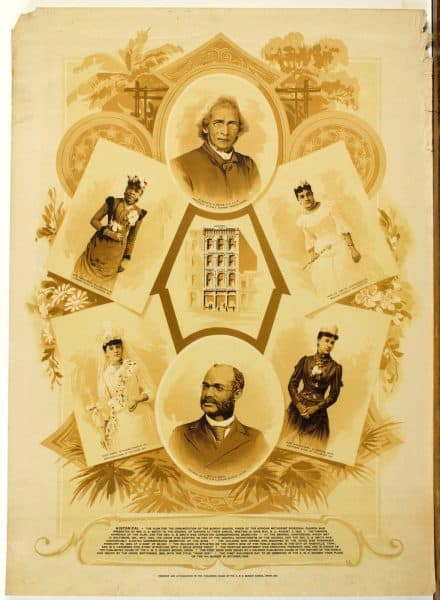 The Library Company's next major exhibition, The Genius of Freedom: Northern Black Activism and Uplift after the Civil War, will be on display from November 11, 2014, through June 26, 2015. One of the more unusual items in the exhibition is a mailer tube which held a Children's Day lithograph published by the African Methodist Episcopal (A.M.E.) Sunday School Union in Nashville. Copyrighted in 1891, the print commemorates the tenth anniversary of the establishment of the Sunday School Union, the publishing arm of the A.M.E. Church. Depicted are portraits of Charles S. Smith, the Union's founder, and four regional queens of Children's Day, an annual fundraiser when small donations were collected from Sunday school students.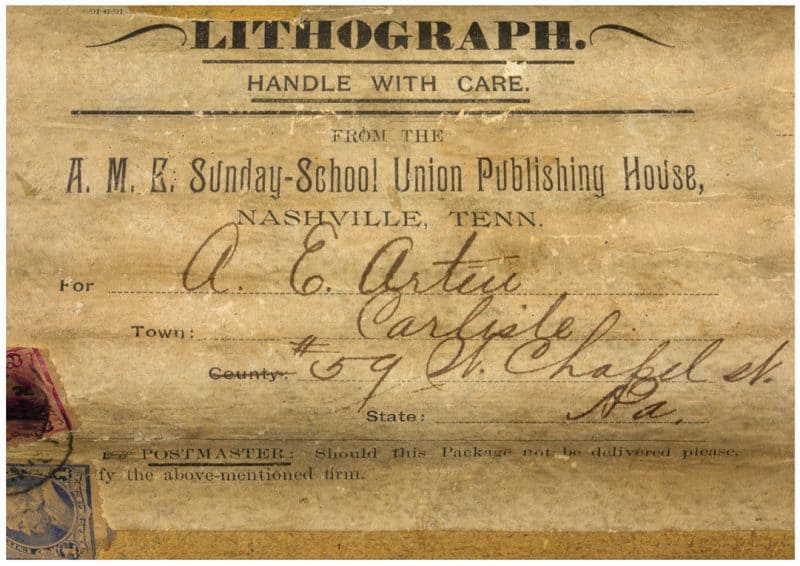 A rare piece of historical ephemera, the mailer tube's label records the name and address of the lithograph's purchaser, Absalom Arter of Carlisle, Pennsylvania, providing a glimpse into the A.M.E. Sunday School Union's customer base in the North.
Little is known about Absalom Arter's early life. The records that document that he was born in Charles Town, Virginia (later West Virginia), on December 25, 1839, do not indicate whether he was enslaved or free. By 1863, he was in Chambersburg, Pennsylvania, where he enlisted as a private in Company H of the 22nd Regiment of the U.S. Colored Infantry. He served for the duration of the Civil War, mustering out on October 16, 1865.
After the war, Absalom made a living as a day laborer and gardener. He and his family moved often from city to city in central and western Pennsylvania, perhaps in search of steady work. It is notable that, despite their frequent moves, the Arters usually settled in a town or city close to an A.M.E. or an A.M.E. Zion church. In 1880, he and his wife Henrietta (in either his first or second marriage) lived with their four children, Harriet, Laton, Charles, and Anna in Shippensburg, Pennsylvania. A November 22, 1884, article in the African American newspaper The State Journalnoted that a Miss Hetty Arter (possibly Absalom's fourteen-year-old daughter Harriet) had won a gold necklace as a prize for her performance in a fundraising concert at Shippensburg's Wesley A.M.E. Zion Church.
By 1887, Absalom was living in Carlisle, where he married his third wife, Nancy Ellen Plecker, around 1892. Like Absalom's previous wife Henrietta, Nancy did not work outside of the home. Between 1892 and 1909, Absalom and Nancy had ten children, three of whom died at an early age. Charles and Anna, the two youngest children from his previous marriage, may also have lived in the household until they reached adulthood. It was here in Carlisle that the A.M.E. Sunday School Union lithograph was sent. Solely dependent upon Absalom's wages, the growing family was not wealthy and probably lived in tight quarters at 59 West Chapel Street. Regardless of a family's income, a print such as this typically would be displayed in the main living room as a religious and social symbol of racial progress.
According to city directories and federal censuses, Absalom probably continued working well into his seventies. Although all of the Arters' children were literate and had attended school, when they reached adulthood, they too found work in domestic service or manual labor occupations, ranging from maids and laborers to porters and molders. The reasons for their employment choices are likely complex but may have been due to a combination of racial prejudice, economic pressures to earn money rather pursue advanced education, limited employment options, and lack of access to professional training. A December 3, 1891, article in The Christian Recorder observed that African Americans were completely shut out of employment opportunities in the thriving manufacturing sector of central Pennsylvania.
In 1922, for the first time, the Arters settled in a town without an A.M.E. church or a substantial African American population when they moved to Cambridge Springs, a resort town in Crawford County, Pennsylvania. A decade earlier, the Pennsylvania Negro Business Directory, 1910had noted that the town's only African American residents were a restaurant proprietor and his wife. In 1920, the entire county of Crawford contained approximately 700 African Americans out of 60,000 residents, suggesting that blacks were still a tiny minority in Cambridge Springs when the Arters arrived. A year following the move Absalom died. Nancy lived with her daughter Mary in Cambridge Springs until her death in 1962, likely supported by Mary's wages from domestic service and Absalom's veteran's pension.
Many gaps remain about the Arters' aspirations, motivations, and struggles. Nevertheless, as a material artifact of their existence, this print and its mailer tube help to flesh out the lives of a working-class Northern black family in the late 19th century.
Krystal Appiah
Exhibition Curator and
Curator of African American History
The Library Company of Philadelphia
1314 Locust St., Philadelphia, PA 19107
TEL 215-546-3181 FAX 215-546-5167
http://www.librarycompany.org
https://librarycompany.org/wp-content/uploads/2015/06/lcp_print.png
0
0
nscalessa
https://librarycompany.org/wp-content/uploads/2015/06/lcp_print.png
nscalessa
2014-11-07 17:51:00
2017-03-01 20:47:20
Reconstructing Fragments of African American Life