Shareholder Spotlight: Edward Drinker Cope (1840-1897)
Dana Dorman, Archivist, Library Company Papers Project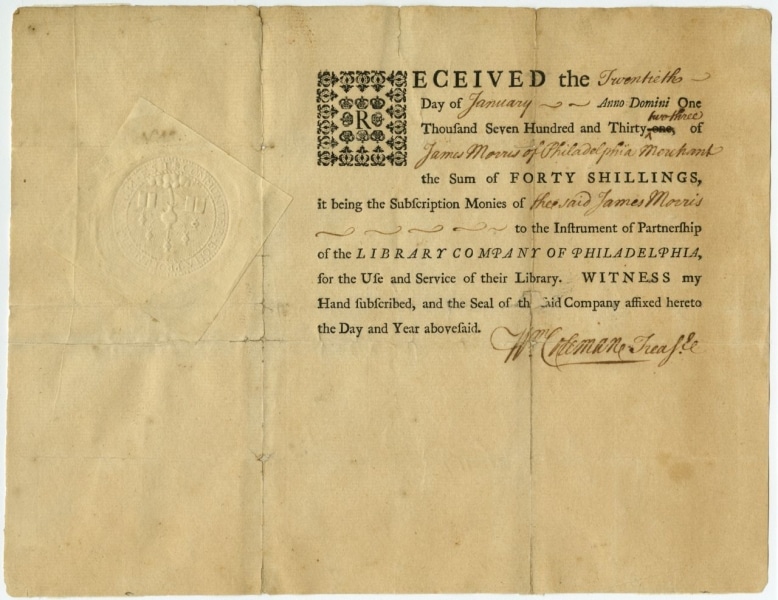 Image: Receipt for a Library Company share, 1733.
We continue our monthly "shareholder spotlight" series by taking a closer look at Share #704 and its fifth and sixth owners, Alfred Cope (1806-1875) and Edward Drinker Cope (1840-1897).
Shareholders have always been the backbone of the Library Company of Philadelphia. Starting with the first group of fifty tradesmen who formed the library in 1731, shareholders have provided crucial financial support each year for our mission to "pour forth benefits for the common good."
We keep careful track of who has owned each historic share, and our list of 9,800+ shareholders includes signers of the Declaration and Constitution, merchants, doctors, soldiers, scientists, artists, philanthropists, politicians, and much more.
Share #704
This share was first issued to Hugh Ogden (circa 1756-1803) on July 19, 1791. According to a 1791 Philadelphia directory, Ogden was a coach maker based on North Fourth Street. Newspaper advertisements from this period place him near Vine Street, "opposite the Methodist Church."
After Ogden's death in 1803, the share passed through three other owners before it was acquired by Alfred Cope (1806-1875) on February 10, 1830.
Alfred was a wealthy Quaker merchant. He had followed his father Thomas Pim Cope (1768-1854) and brother Henry Cope (1793-1865) into the family shipping business. The Cope ships provided regular freight and passenger service between Philadelphia and Liverpool, and helped to make Thomas one of the wealthiest men in Philadelphia at the time of his death.
(Alfred's father was also a Library Company shareholder: Thomas acquired Library Company share #482 in 1806.)
In addition to his business interests, Alfred was a driving force behind what is now Germantown Friends School, and was a major patron of both the school and the Friends Free Library in Germantown. He donated a significant sum to help the city purchase the Sedgley estate so it could be added to Fairmount Park to help protect Philadelphia's drinking water.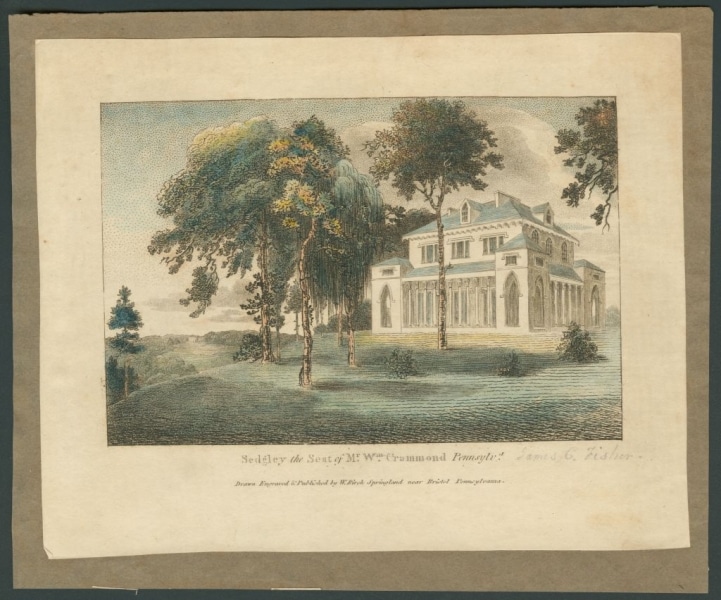 Image: William Russell Birch, Sedgley the seat of Mr. Wm. Crammond Pennsylva. [graphic] / Drawn engraved & published by W. Birch Springland near Bristol Pennsylva. Engraving mounted on paper, hand-colored. Gift of Mrs. S. Marguerite Brenner.
After Alfred's death, the share passed to his son, Edward Drinker Cope (1840-1897), on April 6, 1876.
Edward was a prominent paleontologist by that time. He had taught comparative zoology and botany at Haverford College early in his career and later taught at the University of Pennsylvania, but he spent most of his career focused on research and field work.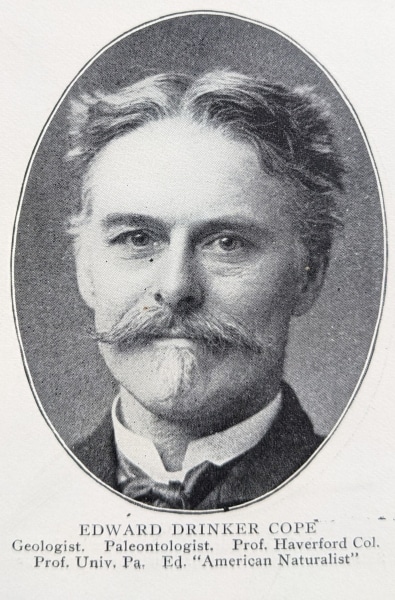 Image: Edward Drinker Cope portrait from Moses King, Philadelphia and Notable Philadelphians (New York: Moses King, 1902). Gift of Thelma E. Winterborne.
Edward typically spent his winters in the Philadelphia area and summers in the field in the western region of the U.S. His work was funded by state and federal geological surveys, and he had a long association with the Academy of Natural Sciences in Philadelphia. He also purchased the journal The American Naturalist in 1877, and served as its editor and publisher for nineteen years.
Edward discovered and described hundreds of species of extinct vertebrates, and published more than 1,300 scientific articles. However, his bitter "bone wars" with paleontologist Othniel Marsh (1831-1899) damaged both men's reputations.
Edward relinquished his Library Company share by the summer of 1884. He had lost much of his fortune by the end of the 1880s, but it is unclear if financial hardship was involved in him giving up the share.
Share #704 next passed to Virginia M. Struthers on July 3, 1884. Share #704 has had fourteen owners total.
Not yet a shareholder?
Share #704 is currently available. We work hard to match potential shareholders with historic shares that match their interests, and we would love to match you with Edward Drinker Cope's share or another option. To learn more, reach out to our Development Office at development@librarycompany.org or 215-546-3181 ext. 142.