Shareholder Spotlight: Dr. Thomas D. Mütter (1811-1859)
Dana Dorman, Archivist, Library Company Papers Project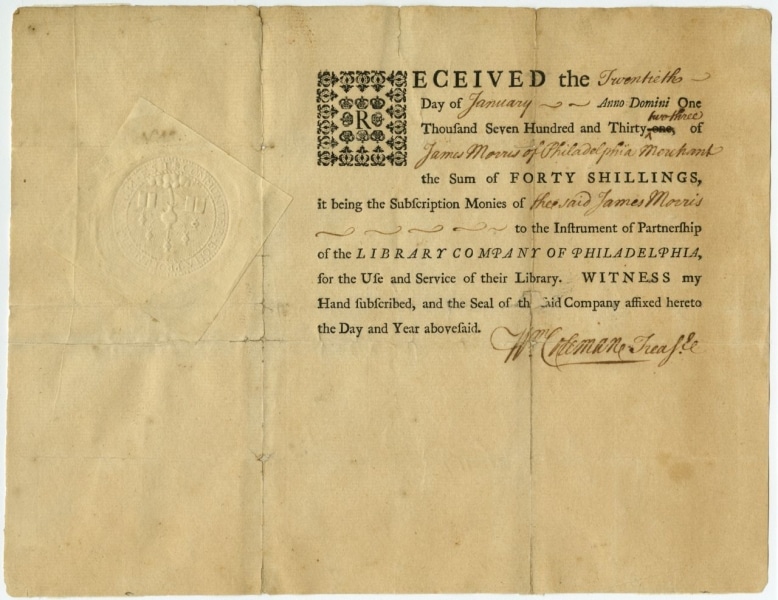 Image: Receipt for a Library Company share, 1733.
We continue our monthly "shareholder spotlight" series by taking a closer look at Share #1037 and its first owner, Dr. Thomas D. Mütter (1811-1859).
Shareholders have always been the backbone of the Library Company of Philadelphia. Starting with the first group of fifty tradesmen who formed the library in 1731, shareholders have provided crucial financial support each year for our mission to "pour forth benefits for the common good."
We keep careful track of who has owned each historic share, and our list of 9,800+ shareholders includes signers of the Declaration and Constitution, merchants, doctors, soldiers, scientists, artists, philanthropists, politicians, and much more.
Share #1037
This share was first issued to Dr. Thomas Dent Mütter (1811-1859) on April 15, 1840. He had been a shareholder in Philadelphia's Library of Foreign Literature and Science, which was added to the Library Company on this date.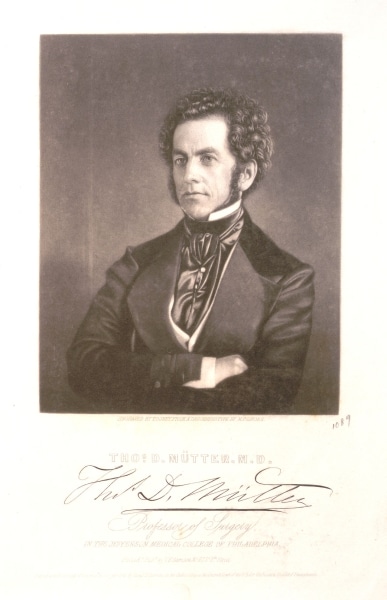 Image: T. Doney, engraver, from a daguerreotype by M. P. Simons, Thos. D. Mutter, M. D. Professor of Surgery in the Jefferson Medical College (Philadelphia, circa 1846). Mezzotint engraving.
Dr. Mütter was born and raised in Virginia, but graduated from the University of Pennsylvania with a medical degree in 1831. Dr. Mütter became a popular professor of surgery at Jefferson Medical College, and a year after acquiring this Library Company share, he was named Chair of Surgery at Jefferson Medical College.
Among other accomplishments, he invented a technique known as the "Mütter Flap" that's still used to treat burn victims, and is credited as being the first Philadelphia physician to administer ether for anesthesia. However, Dr. Mütter was forced to retire in his mid-40s due to ill health.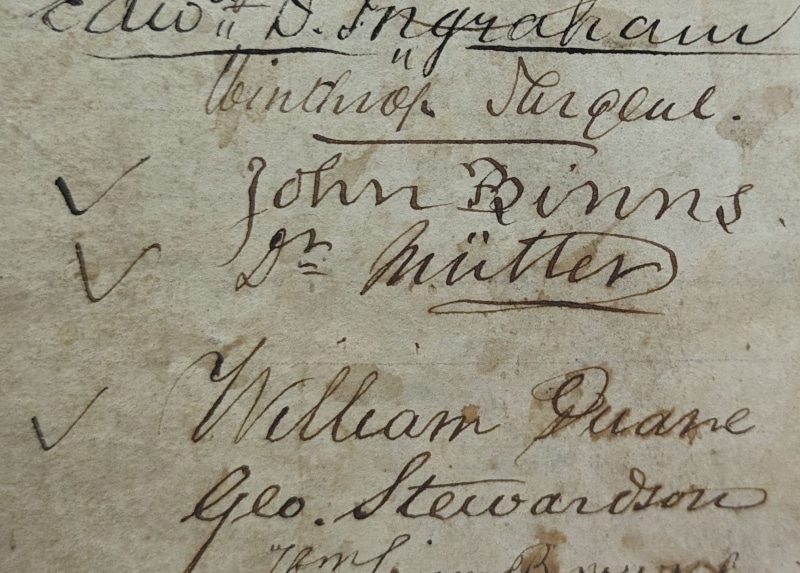 Image: Dr. Mütter was among those who subscribed to purchase a copy of the Library Company's third volume of its catalog, published in 1856. List of subscribers for catalog (1855). Library Company of Philadelphia Records (MSS00270).
He wrote to the College of Physicians of Philadelphia in 1856 to offer his personal collection of teaching specimens with the promise of a $30,000 bequest to help support the collection. The college finalized the agreement in 1859, just two months before Dr. Mütter passed away.
As part of the gift, the college agreed to build a suitable fireproof building to house the collection, hire a curator, fund lectures about medical science, and ensure the collection would remain accessible to members of the medical profession who wished to consult it. The Mütter Museum's first building was completed in 1863, and it still operates today as a museum of medical history.
After Dr. Mütter's death, share #1037 passed to Clara Cleemann (1802-1866) on May 6, 1862.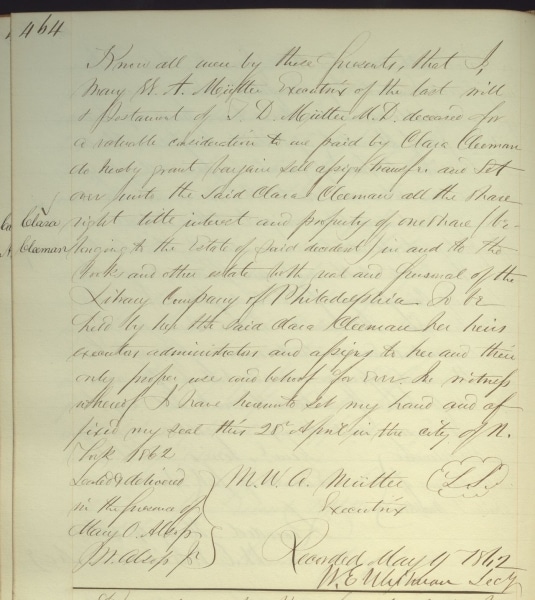 Image: Detail of Clara Cleemann share transaction in Shareholder Record Book D (1841-1867). Library Company of Philadelphia Records (MSS00270).
Clara certainly had a connection to Dr. Mütter – her youngest son was named Thomas Mütter Cleemann (1843-1896), and he was named as a beneficiary in Dr. Mütter's will – but the exact nature of that connection is unclear. Clara too was originally from Virginia, but no family connection is obvious.
Clara was a widow by the time she acquired the share, with the 1862 Philadelphia directory listing her as a "gentlewoman."
When she passed away in 1866, the share next passed to her son Thomas on July 7, 1870 and after his death, to his brother, Dr. Richard A. Cleemann (1840-1912). The share has been owned by 10 people in its history.
Not yet a shareholder?
Share #1037 is currently available. We work hard to match potential shareholders with historic shares that match their interests, and we would love to match you with Dr Mütter's share or another option. To learn more, reach out to our Development Office at development@librarycompany.org or 215-546-3181 ext. 142.