Explore Digital Resources
Nineteenth Century Bindings
Talking in the Library (Podcast)
Library Company News (Blog)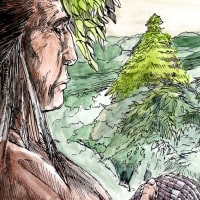 Redrawing History
Redrawing History: Indigenous Perspectives on Colonial America, a two-year project funded by The Pew Center for Arts & Heritage, connects Native American artists with the Library Company's rich collections and far-reaching scholarly community. Partnering with artist Weshoyot Alvitre (Tongva), author Lee Francis (Laguna Pueblo), and the indigenous publisher Native Realities Press, the Library Company published a graphic novel, Ghost River,  that reinterprets the Paxton massacre from the perspective of the Conestoga.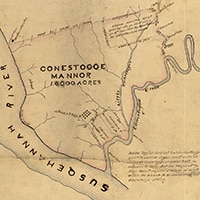 Digital Paxton
Built in the Scalar digtial publishing platform, Digital Paxton is a multi-media window into colonization, print culture, and Pennsylvania on the eve of the American Revolution, including primary source materials from more than two-dozen different archives, research libraries, and cultural institutions; a dozen contextual essays from leading historians and literary scholars; and half a dozen lessons from secondary and post-secondary educators.
Support The Library Company!
The library that once served our founding fathers now serves the nation as an internationally renowned research center. Since the days of Benjamin Franklin, the collection has grown to more than half a million rare books, manuscripts, pamphlets, broadsides, prints, and photographs, making the Library Company one of the nation's largest collections of printed and graphic materials relating to early American history. The Library Company connects with thousands of visitors annually, ensuring that the lessons of the past continue to amaze, instruct, and inspire future generations.
Your tax-deductible gift makes a difference.
Check out the many ways that you can support America's first lending library!