Cassatt House Furnished with Stiefel Family Heirlooms
Thanks to the generosity of Jay Robert Stiefel, long-time Library Company shareholder, the Cassatt House residential research center is furnished with four exquisite pieces of furniture belonging to the Stiefel and Orleans families. 
In the corner of the front room is a Renaissance Revival acanthus-carved, figured walnut desk and mahogany armchair, American, ca. 1870, owned by the donor's father, Israel Stiefel (1898-1966).  The desk and chair had been used by him in his office as Chairman of the Caucus of Democratic Senators during his tenure as a Pennsylvania State Senator (1936-1964).  In addition to his Senate career, Israel Stiefel was a scholar of the bible and Semitic languages and a widely acclaimed philanthropist.  He also taught political science at the Fels Institute of Government at the University of Pennsylvania.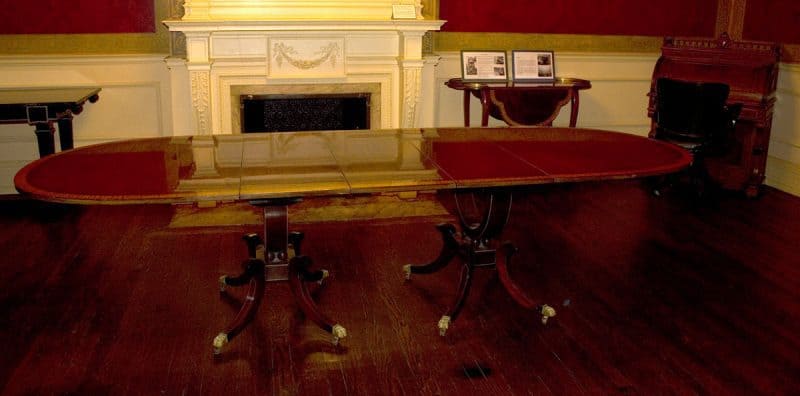 The centerpiece of the front room is a walnut and satinwood double-pedestal, three-leaved dining table with a matching sideboard, made by Zonin of New York, c. 1958. These were part of a suite of furniture made for the donor's mother, Beverly Ruth Stiefel Orleans (1910-1986), and her second husband, Alfred P. Orleans (1888-1981), for use in their dining room.
Alfred Orleans was a noted real-estate developer and both he and Beverly Stiefel Orleans were active philanthropists, she as president of her Hadassah chapter and he as, among other works, founder of the non-profit Orleans Vocational Center.
https://librarycompany.org/wp-content/uploads/2015/06/lcp_print.png
0
0
nscalessa
https://librarycompany.org/wp-content/uploads/2015/06/lcp_print.png
nscalessa
2012-11-16 15:07:00
2017-03-01 20:47:11
Cassatt House Furnished with Stiefel Family Heirlooms