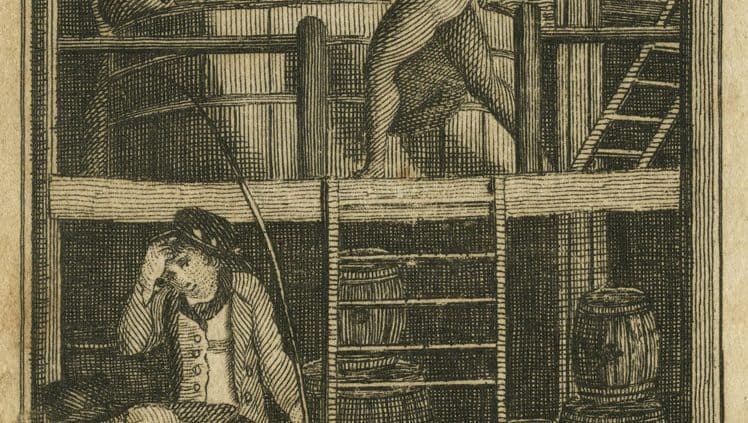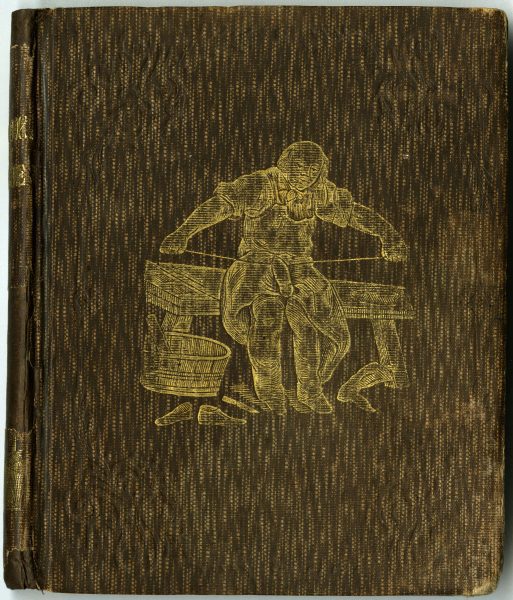 One of my favorite books in the Library Company's collection is
The Book of Trades
(Philadelphia: George S. Appleton, 1851).
Produced in many English-language editions in the 19th century, the book of trades reflects a trend in early childhood education that originated in 17th-century Europe with the heavily illustrated textbook Orbis sensualium pictus of John Amos Comenius. In this version,
twenty-three trades are briefly described and illustrated.
As a book conservator with a strong interest on bookbinding history – especially concerning 19th-century publishers bindings – this book appeals to me on several levels. I love the almost-square shape, often used in children's books. An advertisement in the back describes many of Appleton's books for children as "square 16mo." The square shape makes for a nice large area for a wonderful gold stamp of a shoemaker. He is shown actively working at his trade, arms outstretched, pulling waxed thread as he sews the sole to the upper part of the shoe. The brown patterned cloth on the cover is the kind that was used for a short time during the 1840s and early 1850s and is relatively scarce, making the book even more interesting to look at.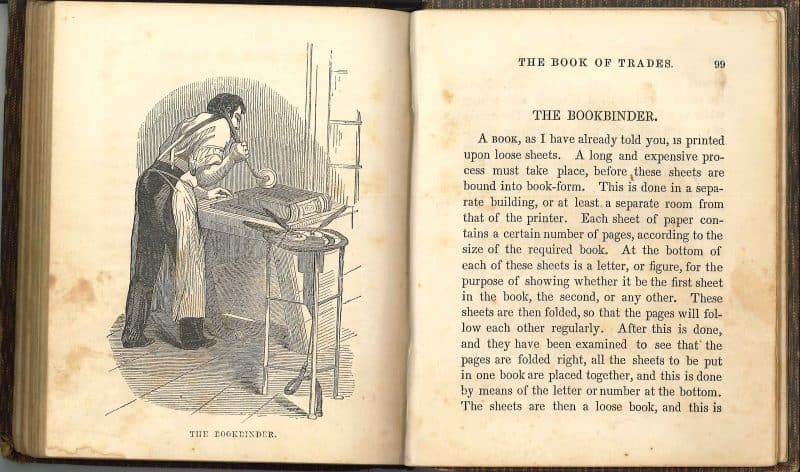 There is an obvious partiality for trades in the publishing industry:
the printer, the bookseller, the stationer, the printseller, the engraver, and my favorite, the bookbinder. I am entertained by how bookbinding is too complex for this short piece: "Next the cover is put on; but it would take a long while to tell you how this is done."
The last sentence says to "Call some day at Mr. Appleton's bookstore, and see some of the binding, done by Mr. Altemus, one of the best bookbinders in the world."
Joseph T. Altemus, was a Philadelphia bookbinder who had a large bindery at Fourth and Arch Streets until his death in 1853. His bindery is the subject of my current research project.
Finally, the book has a very sweet inscription:
Dear Little Freddie

This book was given to your uncle Freddie fifty two years ago now I give it to you on your tenth Birthday keep it nice and when you look at the Pictures and read the storyes think of the other little Freddie.

Aunt Sarah
Jennifer W. Rosner
Chief of Conservation
The Library Company of Philadelphia
1314 Locust St., Philadelphia, PA 19107
TEL 215-546-3181 FAX 215-546-5167
https://librarycompany.org/wp-content/uploads/Unacc-Book-of-Trades-Vol2-Brewer.jpg
1200
748
nscalessa
https://librarycompany.org/wp-content/uploads/2015/06/lcp_print.png
nscalessa
2013-09-23 18:17:00
2019-05-01 16:48:25
A Few of Our Favorite Things, Part Two: The Book of Trades