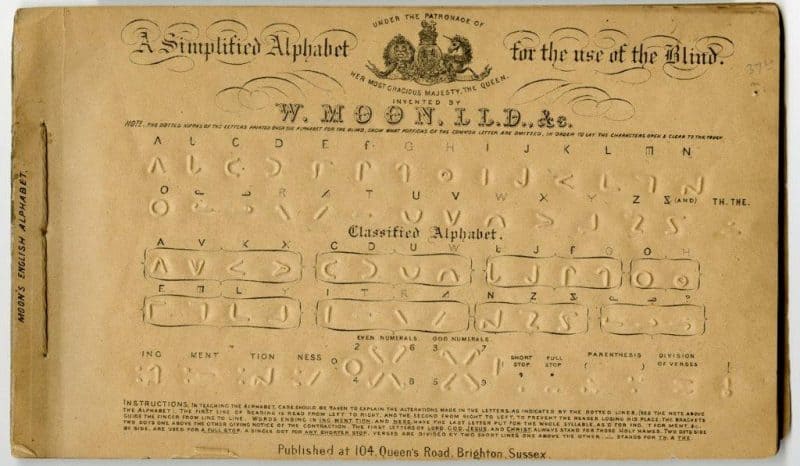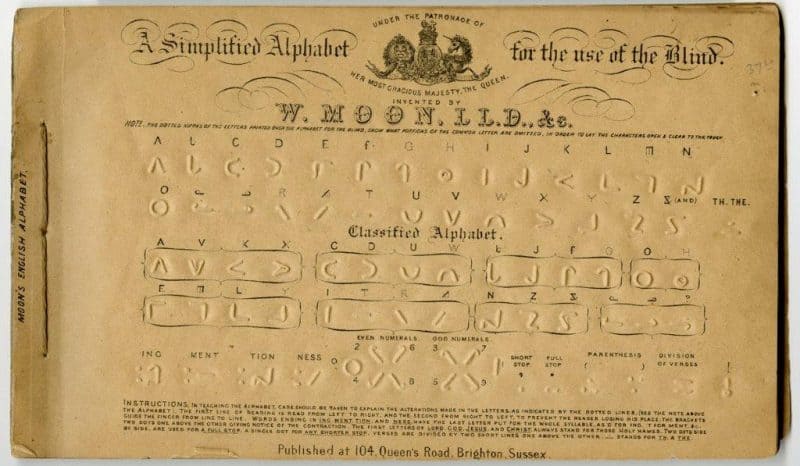 The Visual Culture Program (VCP at LCP) will host an installation by book artist Teresa Jaynes's in the Logan Room from September 4 to October 10, 2014. The first new work by Jaynes since her directorship of the acclaimed print festival Philagrafika 2010, The Moon Reader is amultimedia installation that invites participants to learn to read Moon, a raised-letter writing system for the blind invented by blind educator William Moon in 1845. The Moon Reader is a multimedia installation. Handmade, the first book is set in Moon Type with embossed illustrations. The second book, which is a translation of the Moon book, is set both in Braille and large print. An audio recording accompanies both books. Modeled after Victorian primers, the books are based on Jaynes's research in the Library Company's Michael Zinman Collection of Printing for the Blind. The texts and audio file are designed to be recombined to best suit the abilities of the reader to decipher Moon.
Beginning with an exercise to learn Moon, readers deepen their involvement with the writing system through a series of lessons inspired by history, music, and science textbooks in the Zinman Collection. The experience—touching, deciphering, translating and finally comprehending—is a serene act of discovery. The Moon Reader seeks to challenge participants' ideas about visual culture, in ways that elicit curiosity, humor, and empathy and expand their understandings of historical and contemporary connotations of sight.  A touch screen with access to the Reader Facebook page and blog enable visitors to further interact with the project.
The Visual Culture Program's collaboration with Jaynes will continue through the fall on development of a main-gallery exhibition also based on her work with our historic material printed for the blind.  Provisionally entitled "Talking to the Fingers in the Language of the Eyes," the exhibition will combine historic collections with new work and multisensory experiences designed to challenge the privileged status of sight. Talking, which is being funded by a major grant from the Pew Center for Arts & Heritage, is scheduled to open in February 2016.
A three-set, limited edition, the Reader will also be on display simultaneously at the Magill Library at Haverford College and the Library for the Blind and Physically Handicapped branch of the Free Library of Philadelphia. On September 23, 2014, to celebrate this collaboration, the Library Company will host a conversation with project advisors from the blind community reflecting on the similarities and differences between experiences with the sighted between them and their early American counterparts.
https://librarycompany.org/wp-content/uploads/2015/06/lcp_print.png
0
0
nscalessa
https://librarycompany.org/wp-content/uploads/2015/06/lcp_print.png
nscalessa
2014-07-16 13:18:00
2017-05-08 16:05:41
Learn to Read Moon