Mellon Scholars Program: An Intense Week of Professional Growth and Nurturing
This essay concludes our series of occasional posts about the 2015 Mellon Scholars Internship and Workshop programs. This program is generously funded by the Andrew W. Mellon Foundation.
This summer the Program in African American History welcomed the second cohort of summer Mellon Scholars. These academic programs foster and support students from underrepresented backgrounds with interests in early African American history. The program consists of an internship spanning the month of June along with a weeklong workshop series, which lasted June 15-19. During the workshop week, three workshop participants joined the Mellon interns for a rigorous week full of professional development activities. The workshop held sessions on various topics centered on applying to graduate school and navigating academia. The students attended sessions on graduate school selection, personal statement writing, and curriculum vitae development led by Dr. Kimberly Saunders, director of the McNair Scholars Program at the University of Delaware. Participants also gained insight into the fellowship application process in a session led by the Library Company's Librarian Jim Green.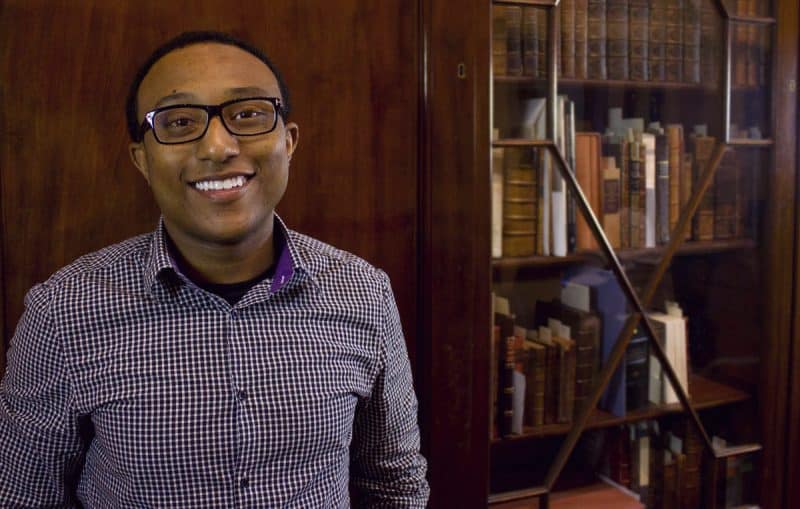 As the program's Graduate Research Advisor, I led two of the professional development seminars. I spent time with the Mellon Scholars explaining my journey through graduate school and discussing how to navigate the challenges of graduate life successfully. The students were extremely engaged, asking a range of questions and expressing their own concerns as they look to their future academic journey. "How did you decide which school to attend?" "What was the biggest adjustment for you in transitioning from undergraduate study?" "How do you balance your academic obligations and personal life?" These were some of the questions participants energetically posed during our first session. Together, we explored the ins and outs of academia, both to inform students about how to successfully achieve their academic aspirations and to address their potential apprehensions. The second session I ran was focused on personal statement development and revision. This meeting gave participants the opportunity to receive feedback from me and their peers on their personal statement drafts, which they had crafted earlier in the week.
The workshop week included a number of presentations on African American history by notable scholars Dr. Maurice Jackson, professor of history at Georgetown University; Dr. Erica Armstrong Dunbar, Director of the Program in African American History; and Dr. Richard Newman, Director of the Library Company. The Mellon Scholars also attended the Library Company's annual Juneteenth Freedom Seminar, which featured renowned political philosopher Dr. Danielle Allen. The students absorbed these presentations not only for their content but also for insight into effectively communicating research findings.
The Mellon Scholars would draw on these lessons immediately as they were required to present their research at a colloquium held on the final day of the workshop. In addition to professional development lectures, the workshop week entailed a significant experiential learning component. The three workshop participants were each assigned a historical figure with a corresponding theme and were tasked with finding and interpreting at least three primary sources from the Library Company's African Americana Collection that shed light on their topic. For example, one student was assigned the topic of African American activist Martin Delany and his relationship to black nationalism. Mellon interns similarly continued to unearth materials on the individual topics they developed in previous weeks. I worked with Library Company Curator of African American History Krystal Appiah to help guide the workshop participants as they searched the archives for relevant sources. At the colloquium, both groups provided presentations on their findings and research progress. The process helped familiarize students with finding and interpreting primary source material at a historical archive.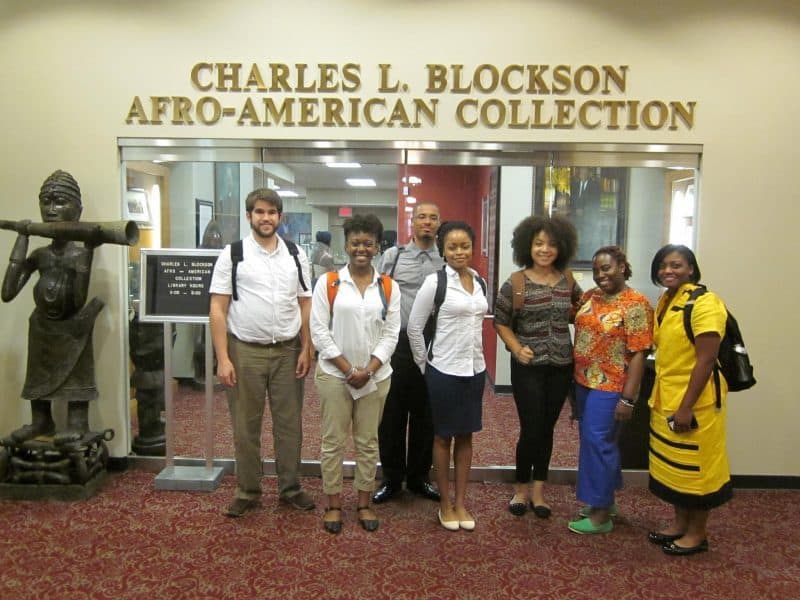 In addition to time at Library Company, I accompanied the students to educational trips to historical resources throughout the city including Temple University's Blockson Afro-American Collection, Mother Bethel AME Church, and the Historical Society of Pennsylvania. Therefore, I witnessed the intellectual enthusiasm and potential the Mellon Scholars demonstrated both inside and outside the walls of LCP. Though the Mellon Scholars frequently expressed their appreciation for the experience, my fellow staff members and I were truly fortunate to work with an incredibly talented group of students once again as the program completed its second year. I would like to thank our students for spreading their passion for learning and growth. Moreover, I would like to thank Dr. Dunbar and Krystal Appiah for the rewarding experience.
Michael Dickinson
2015 Mellon Scholars Graduate Research Advisor
PhD Candidate in History, University of Delaware