A 19th-Century Philadelphian in Rome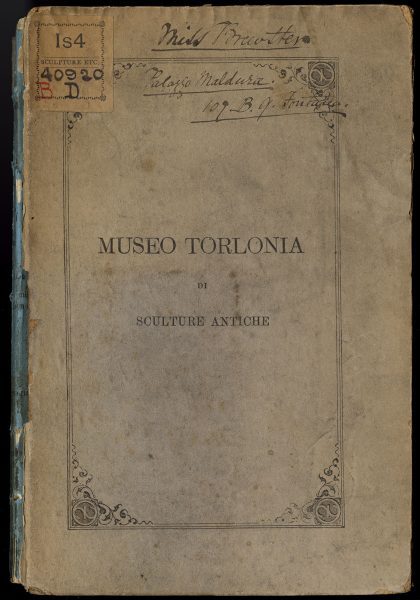 The papal visit to Philadelphia reminded us of the Library Company's extensive Anne Hampton Brewster Collection. Miss Brewster (1819-1892) left her books and personal papers to the Library Company as a bequest. She converted to Catholicism at age 30, while still living in Philadelphia. Eventually she settled in Rome. As part of her work as a foreign correspondent for American newspapers, she carefully negotiated relations with papal leaders.
A lifelong student of Italian history, culture, and especially art, Brewster had wide-ranging interests. Consequently, the research-potential of the Brewster Collection is also wide-ranging. For example, earlier this month, former fellow Dr. Etta Madden spoke in Bagni di Lucca, Tuscany, on Brewster's professional labors there in 1873 and her relationship with Rodolfo Lanciani, a key figure in the excavation of Roman sites after the unification of Italy. Late that summer Brewster wrote accounts of the region for the Boston Daily Advertiser and translated one of Lanciani's books.
During her fellowship, Dr. Madden brought our attention to the many annotations in the books in Brewster's library. Shown here is Brewster's copy of the guide to the Museo Torlonia, the Torlonia family's collection of classical antiquities. The Torlonias worked closely with the Vatican, and even today members of the family have hereditary honors at the Vatican. Dr. Madden has noted that Brewster's article on the museum appeared in Blackwood's (July 1879). Previously one of her newspaper articles had appeared describing a visit to the museum: "I went . . . one beautiful May afternoon, and spent more than three hours, looking, making notes, and taking in impressions so rapidly that I grew giddy" (Boston Daily Advertiser, June 19, 1877).
We deciphered the marginal note shown here: "The figures [on a fragment of a candlestick] are exquisite – one with head thrown back especially – the form is deliciously modelled." Brewster presumably wrote that annotation on the beautiful May afternoon she described for Boston readers. We hope further study will bring more attention to Brewster's role in the dissemination of information on Italy, Italian culture, and art appreciation to English speakers during this significant period in Italian history.