The LCP Abolitionist Walking Tour: A Digital Humanities Intern Project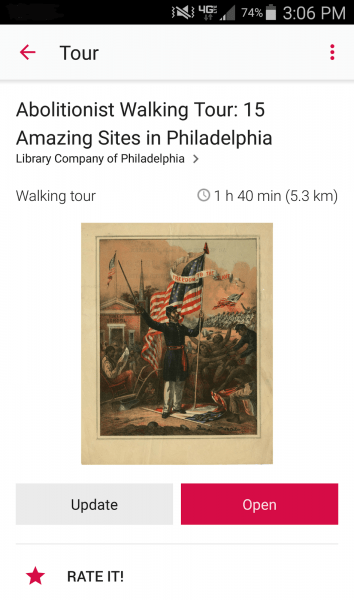 As the Digital Humanities Intern at the Library Company of Philadelphia (LCP) this summer I had the opportunity to build an online Abolitionist Walking Tour. This tour is based on the original walking tour students took part in with LCP Director Richard S. Newman during the NEH Summer Seminar for School Teachers. This summer seminar is
now available in digital form
, a web-based educational tool designed for students and educators. The tour consists of fifteen historic locations around the city of Philadelphia and highlights buildings, people, and events that played a role in the Abolitionist Movement in the United States of America – from the initial public protest of Quakers against slavery in 1688 through the organization of Black regiment training camps for the Civil War in 1863.
Considering that the majority of materials were already identified and audio recordings produced, my starting point was to determine the best program or app to work with. The goal was to structure our materials in relation to a location on a map, which would link the GPS point to the audio descriptions and relevant graphics and texts. We needed something that would be able to clearly connect the present-day locations and experience of Philadelphia with the history and collections held at LCP. I reviewed over 15 apps and potential designs that combined maps, tours, and history – all offering a wide range of services and structures, prices and flexibility. Each app had its pros and cons, but
izi.TRAVEL
was the best suited to meet our vision for the project.
izi.TRAVEL
has a number of clear benefits. First, LCP can utilize it to produce outside walking tours and internal gallery tours. It is exciting to have a new outlet for sharing our expansive collections in a curated manner with new audiences. We can create an unlimited number of tours throughout Philadelphia and within our facilities that can be accessed for free by anyone with a smartphone or internet access around the world. Second, the structure of viewing each stop simply incorporates everything we want the user to be able to experience:  a walking route and directions, automatically (or manually) playing audio, and captions to the associated images with links to their official catalog records. Third, setting up the tour is quite easy on the creator's end; while there are a few design quirks that I would prefer to make more consistent, it didn't take much time to upload our materials in a clear format.
Learning about the different ways to organize and present LCP content to users is interesting in and of itself, but I was also fascinated by the information in the tour. In my academic research and previous work experience, I have largely focused on 20th century history, so looking intensely into 18th and 19th century materials was somewhat different. While searching beyond the already identified resources, I found (often with the support of helpful LCP staff) additional photographs, frontispieces of or promotions for relevant books, and original maps within the LCP collections that help tell a more complete story of the Abolitionist Movement in Philadelphia.  I think that some tour stops will be familiar to most people, like the Liberty Bell, but other essential figures like Frances Ellen Watkins Harper or the Adelphi Building, where the American Anti-Slavery Society was formed, will highlight valuable information to Philadelphians, tourists, and history aficionados who are interested in the shifting understanding of slavery in the city and the nation.
I like the concept of layering history on top of our current experience of place, the way this walking tour can; it allows the way we move through our surroundings to be transformed.  It is important to consider how the world previously existed in the same spaces we now occupy, in part to give us a sense of how we came to this point.  A quote from the
izi.TRAVEL
website about their goals aligns with the Library Company's mission: "We believe that every site or work of art has a story waiting to be told. That stories bring art, streets and cities to life. And that stories connect people."  This tour will provide an innovative and exciting way to experience the history of the Abolitionist Movement in Philadelphia while connecting new audiences to the Library Company of Philadelphia collections.
Kate Philipson, 2015 Summer Digital Humanities Intern
The Library Company of Philadelphia
1314 Locust St., Philadelphia, PA 19107
TEL 215-546-3181 FAX 215-546-5167
http://www.librarycompany.org