"I Read as Much as I Dare"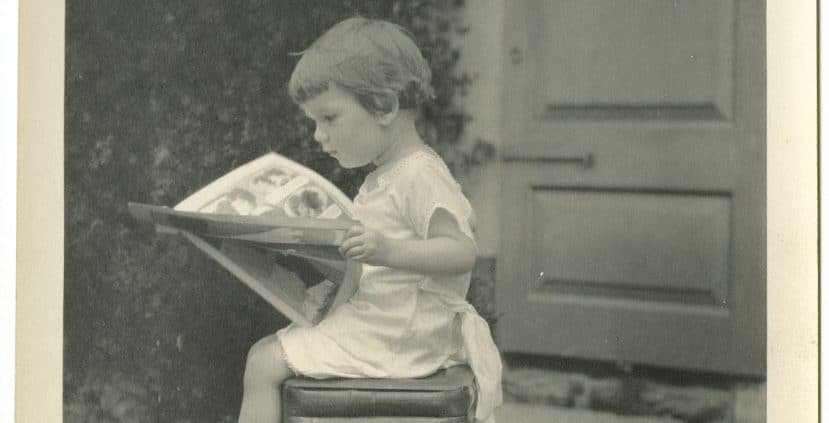 "

I Read as Much as I Dare

"
At the Library Company's 2015 Annual Dinner, speaker Jill Lepore talked about her recent biography of Benjamin Franklin's sister, The Book of Ages: The Life and Opinions of Jane Franklin. We learned that in a letter to her brother, Jane Franklin penned the words, "I read as much as I dare." Digital Outreach Librarian and Curatorial Assistant (and artist) Concetta Barbera used Jane Franklin's bold words to design a new Library Company T-shirt. Printed in either blue or dark red text, the white and off-white T-shirts are available for $20.00 (plus $6.00 shipping) by contacting the Library Company at 215-546-3181 or cknight@librarycompany.org.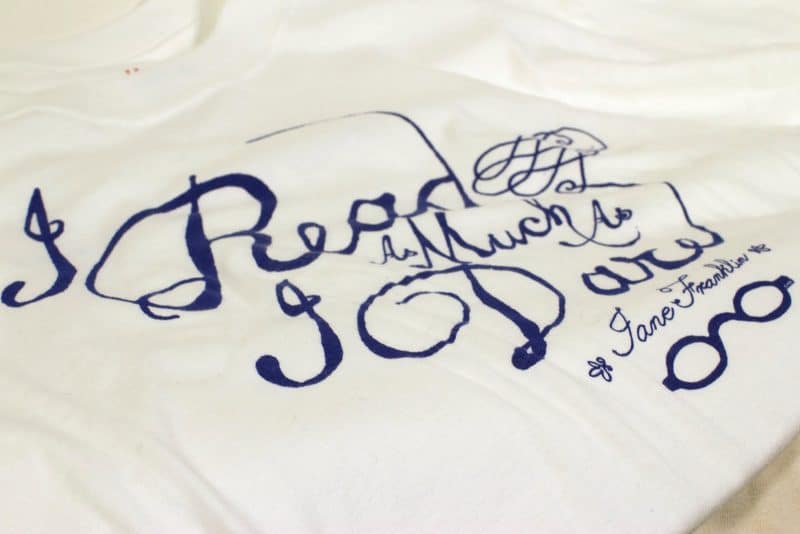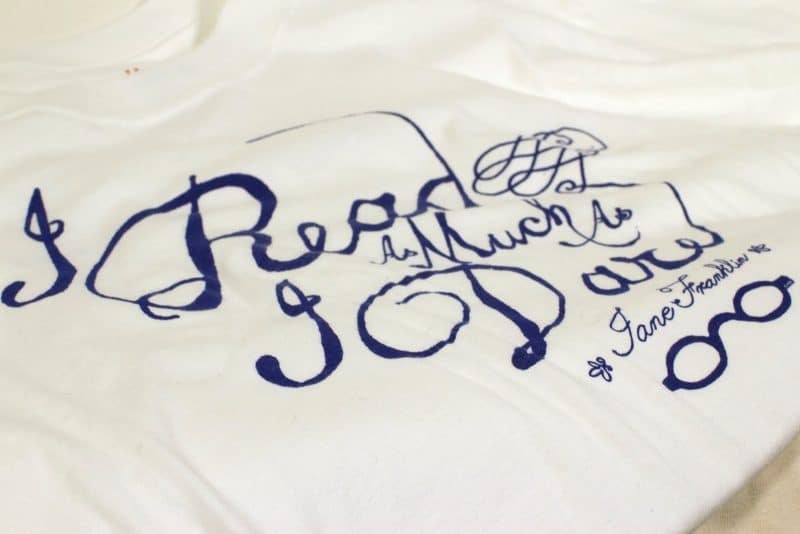 Jane Franklin's words also inspired me to I look through our collection for photographic portraits of people with books or other reading material. Books appear as studio props with relative frequency even in some of our earliest photographs. Sitters may have felt that being portrayed next to books stacked on a table or posing with a book in one's lap lent an air of education or sophistication to a portrait. In her portrait, Juliana Randolph Wood, a member of a prominent Philadelphia Quaker family, pays little heed to the daguerreotypist taking her image. Her attention is completely occupied with the book opened on the table next to her.
Providing children with a book or a toy to ensure cooperation in the tedious process of sitting for a portrait has long been a staple in the portrait photographer's arsenal. Although the child on the left seems a tad bored with the letters "F" and "G" in the image below, both children in this turn-of-the century image sit quietly with the large book opened on their laps.
The latest in women's hairstyles seems to have completely captivated the attention of the little girl who posed with her magazine and perfect posture for a series of portraits by the well-known Philadelphia female artist Jessie Willcox Smith.
Even an amateur photographer knew that having a relaxed sitter engaged in reading made the work of the photographer go the most smoothly. Here a boy looks down at a book while his brother or friend attempts to take his portrait.
For elderly sitters, a book may have represented the knowledge and wisdom acquired over a long life. These two older women, identified as sisters in their 80s, share a book in this portrait later given to a family member.
In the earliest days of photography, books provided a familiar and comfortable prop during what might have been a person's first experience of sitting for a daguerreotype. Even as photography grew commonplace, reading material gave sitters something to focus on to alleviate the self-consciousness that often accompanies sitting for a portrait session. Whether young or old, sitters with a book could at least give the illusion of being caught in a moment of quiet reflection.
Sarah J. Weatherwax
Curator of Prints and Photographs
The Library Company of Philadelphia
1314 Locust St., Philadelphia, PA 19107
TEL 215-546-3181 FAX 215-546-5167
http://www.librarycompany.org
https://librarycompany.org/wp-content/uploads/smith-f13-p-9446-2.jpg
1200
829
nscalessa
https://librarycompany.org/wp-content/uploads/2015/06/lcp_print.png
nscalessa
2016-03-17 20:00:00
2018-05-24 13:35:50
"I Read as Much as I Dare"