Treasures from the Library Company of Philadelphia: The Junto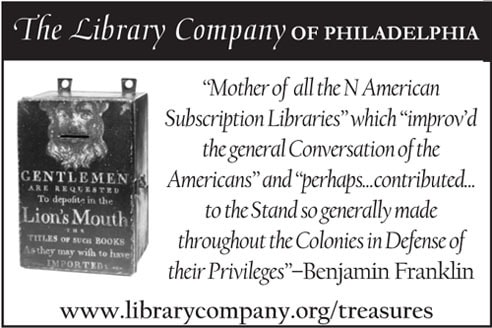 Treasures from the Library Company of Philadelphia: The Junto
On July 1, 1731, Benjamin Franklin and members of his Junto drew up "Articles of Agreement" to found a library.  The Junto was a discussion group of tradesmen of moderate means seeking social, economic, intellectual, and political advancement.  In colonial Pennsylvania at the time there were not many books, and they were expensive and difficult to obtain.  By pooling their resources in pragmatic Franklinian fashion, the Junto amassed sufficient capital to launch the first public subscription library in America—and probably the world.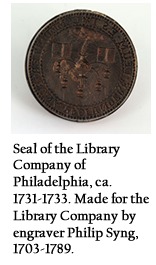 Fifty subscribers invested forty shillings each and promised to pay ten shillings a year thereafter to buy books and maintain the library. Thus, "the Mother of all North American Subscription Libraries"—as Franklin proudly referred to it in his Autobiography—was established.  The seal, engraved by silversmith Philip Syng, was to be "Two Books open, Each encompass'd with Glory, or Beams of Light, between which water streaming from above into an Urn below, thence issues at many Vents into lesser Urns, and the Motto, circumscribing the whole, Communiter Bona profundere Deum est," or "To pour forth benefits for the common good is divine."  The first list of desiderata to stock the shelves was sent to London on March 31, 1732, and by autumn that order, less a few books found to be unobtainable, arrived.  The rest, as they say, is history.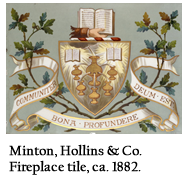 Shareholding in the Library Company was a civic badge of honor in the Philadelphia of the colonial era and the early Republic. Shares have been held by signers of the Declaration and the Constitution, soldiers of the Revolution and every major engagement since, politicians, merchants, doctors, philanthropists, and the great thinkers of the American Enlightenment. Most prominent citizens sooner or later found their ways onto the rolls of shareholders, which were representative and diverse.  The first woman to purchase a share in her own name was Susannah Carmalt in 1769, and 12 other women owned shares before 1800.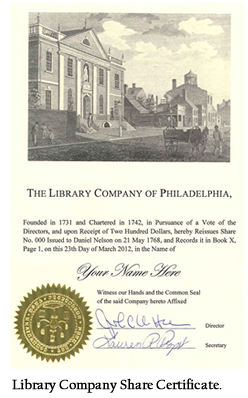 From the moment of its foundation to this one, there has been an unbroken tradition of shareholding in the Library Company.  In fact, descendants of the original subscribers own shares to this day.  When the Library Company became a not-for–profit charitable organization, the shareholders of the Library Company ceased to be its owners, but shareholding continues to be the backbone of the institution.  Annual shareholder dues provide essential operating support, and shareholders regularly visit exhibitions and attend conferences, talks, and receptions.
The Library Company has preserved detailed records of the ownership of every numbered share, and new shareholders may consult with our staff to find an available share whose history has particular resonance.  Be the next to join this illustrious tradition.  Select one of the available shares featured below, email us, or call us at 215-546-3181, x 136 today!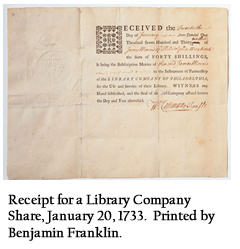 Frances ("Fannie") T. Fassitt was wife of the renowned architect Frank Furness, who was not a shareholder, but who designed the since-demolished building at the corner of Locust and Juniper streets that housed the Library Company from 1880 to 1940.  Fannie's father-in-law, the Rev. William Henry Furness, married them on March 8, 1866, in a Unitarian ceremony in Philadelphia once Frank finished his service as a captain during the Civil War. They had four children, Radcylffe Furness (b. 1868), Theodore Fassitt Furness (1873), James Wilson Furness (1874), and Annis Lee Furness Savage (b. 1877).  Fannie is buried in Laurel Hill Cemetery.  Purchase share 523 – issued to Fannie Fassitt in 1872.
James Paul was a Philadelphia merchant who partnered with his brother-in-law John Watson in the firm of Watson & Paul.  The firm's business papers are on deposit at the Historical Society of Pennsylvania.  James Paul was raised in his family's tavern, the renowned Indian King, located on High Street (now Market Street) in Philadelphia.  He married Elizabeth Rodman of Burlington, New Jersey, in 1797, and they lived across from the Christ Church burial ground with their twelve children.  Although raised Quaker, Paul was read out of the Society because of his involvement in the 1794 Whiskey Rebellion.  He thereafter became a member of the First Presbyterian Church.  Purchase share 923 – issued to James Paul in 1818.
View the Entire Treasures Online Exhibition Series Here: http://www.librarycompany.org/treasures/
https://librarycompany.org/wp-content/uploads/NYorker_ad15.jpg
328
492
Ann McShane
https://librarycompany.org/wp-content/uploads/2015/06/lcp_print.png
Ann McShane
2017-06-09 12:09:02
2018-05-24 13:33:34
Treasures from the Library Company of Philadelphia: The Junto