Treasures from the Library Company of Philadelphia: Emancipation Proclamation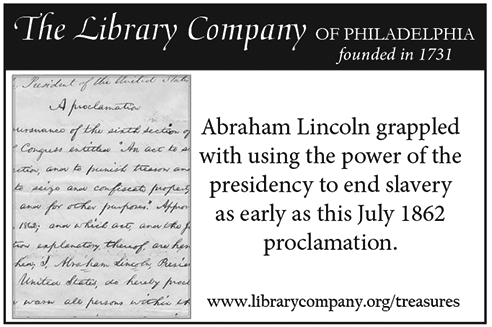 Treasures from the Library Company of Philadelphia: Emancipation Proclamation
While President Abraham Lincoln's Emancipation Proclamation on January 1, 1863, heralded the Union's new commitment to the abolition of slavery, freedom came by degrees. In fact, the process leading up to that historic gesture was also incremental, as attested to by the number of distinct proclamations chipping away at slavery that Lincoln drafted and issued.
On July 22, 1862, Lincoln privately presented a draft proclamation, calling for the gradual abolition of slavery, to his Cabinet. In the midst of a summer of Union battle losses, Lincoln decided to postpone issuing this document until he could speak from a position of strength following a significant military victory.
Nevertheless, Lincoln did act boldly three days later. On July 25, 1862, Lincoln issued a public proclamation warning Confederate rebels to surrender and declaring his presidential authority to "seize and confiscate property of rebels." Although the proclamation did not specifically mention either slaves or emancipation, the threat of forfeiting enslaved human property was implicit. A precursor to the Emancipation Proclamation, this document marks an important instance of Lincoln wielding his presidential power to strike a blow against slavery. While Lincoln doubted that Congress possessed the Constitutional authority to abolish slavery, he believed that he acted within his power  as President during a time of war.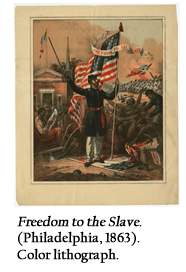 A few months later Lincoln issued two more antislavery proclamations. On September 22, 1862, after the Union victory at Antietam, Lincoln issued what is commonly referred to as the preliminary Emancipation Proclamation, a document which formally gave Confederates one hundred days' notice to surrender before forfeiting their slaves. As the war continued, he issued the final Emancipation Proclamation on New Year's Day 1863.
The Library Company's July 25, 1862, document has been recognized as a historic step towards abolition. The manuscript, written in Lincoln's own hand, was proudly advertised two years later at the Philadelphia Great Central Fair in 1864. As part of the fair's fundraising mission to support the Union war effort, the manuscript was sold by lottery at the cost of one dollar per ticket. The lucky winner was Anne Hampton Brewster, a writer and Library Company member, who bequeathed the manuscript to the Library Company upon her death in 1892.
View the Entire Treasures Online Exhibition Series Here: http://www.librarycompany.org/treasures/
https://librarycompany.org/wp-content/uploads/NYorker19_showcase.png
327
492
Ann McShane
https://librarycompany.org/wp-content/uploads/2015/06/lcp_print.png
Ann McShane
2017-06-09 12:04:41
2018-05-24 13:33:35
Treasures from the Library Company of Philadelphia: Emancipation Proclamation