Shareholder Spotlight: Paul Busti (1749-1824)
Dana Dorman, Individual Giving and Special Events Manager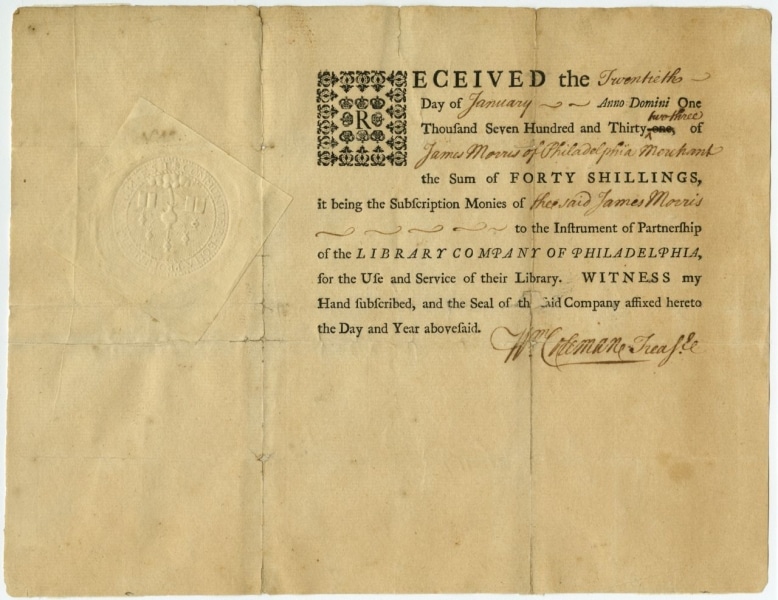 Image: Receipt for a Library Company share, 1733.
We continue our periodic "shareholder spotlight" series by taking a closer look at Share #388 and its second owner, Paul Busti (1749-1824).
Shareholders have always been the backbone of the Library Company of Philadelphia. Starting with the first group of fifty tradesmen who formed the library in 1731, shareholders have provided crucial financial support each year for our mission to "pour forth benefits for the common good."
We keep careful track of who has owned each historic share, and our list of 9,800+ shareholders includes signers of the Declaration and Constitution, merchants, doctors, soldiers, scientists, artists, philanthropists, politicians, and much more.
Share #388
Share #388 was first issued to James Whiteall on April 6, 1769.
Like last month's shareholder spotlight — Sarah Emlen — Whiteall had previously been a shareholder of the Union Library Company, which merged into the Library Company on this date.
Whiteall was a Quaker and an ardent abolitionist. In 1787, while owning this share, he served as a member of the electing committee of the Pennsylvania Society for Promoting the Abolition of Slavery and the Relief of Free Negroes Unlawfully Held in Bondage, which later became known as the Pennsylvania Abolition Society.
The share next passed to Paul Busti (1749-1824), who acquired it on January 13, 1800.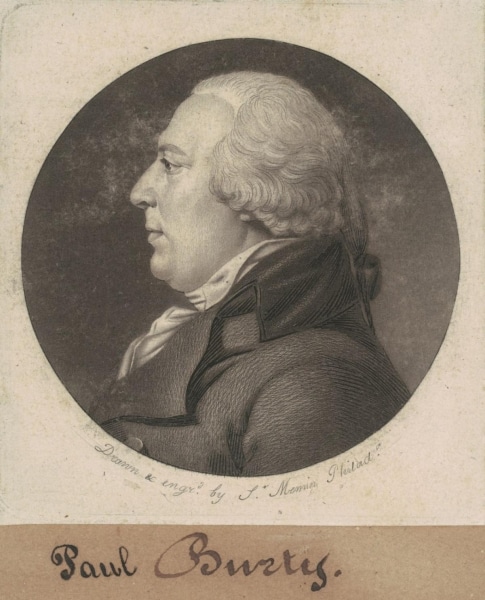 Image: Paul Busti, 1807. Courtesy of the National Gallery of Art.
Paulo, or Paul, Busti was born in Italy, but had built a career working in Amsterdam before moving to Philadelphia shortly before acquiring this share. In Philadelphia, he served as the Agent-General of the Holland Land Company, which was a group of Dutch investors who owned a huge swath of western New York.
After his death in 1824, Busti's 112-acre rural estate near today's 44th and Market Streets in Philadelphia was sold to the Pennsylvania Hospital, and became the site of the Pennsylvania Hospital for the Insane.
The new hospital opened in 1841, but soon doubled in size with the addition of a second building in 1859. This second building followed Thomas Story Kirkbride's "batwing" design, which was later adopted by at least seventy-five asylums across the country. That building is is now the Kirkbride Center. (You can learn more about Kirkbride and his building plan in our current exhibition, Hearing Voices: Memoirs from the Margins of Mental Health.)
After Busti's death, share #388 next passed to Joshua Francis Fisher in 1825, and has been owned by nine entities total in its 253-year history.
Not yet a shareholder?
Share #388 is currently available. We work hard to match potential shareholders with historic shares that match their interests, and we would love to match you with Paul Busti's share or another option. To learn more, reach out to our Development Office at development@librarycompany.org or 215-546-3181 ext. 142.