Shareholder Spotlight: Abraham L. Pennock (1786-1868)
Dana Dorman, Individual Giving and Special Events Manager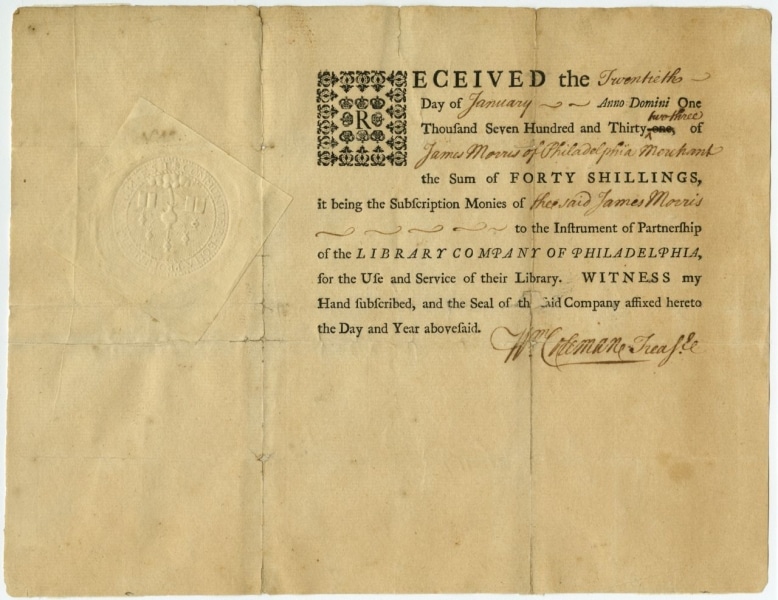 Image: Receipt for a Library Company share, 1733.
We continue our monthly "shareholder spotlight" series by taking a closer look at Share #307 and its fourth owner, Abraham L. Pennock (1768-1868).
Shareholders have always been the backbone of the Library Company of Philadelphia. Starting with the first group of fifty tradesmen who formed the library in 1731, shareholders have provided crucial financial support each year for our mission to "pour forth benefits for the common good."
We keep careful track of who has owned each historic share, and our list of 9,800+ shareholders includes signers of the Declaration and Constitution, merchants, doctors, soldiers, scientists, artists, philanthropists, politicians, and much more.
Share #307
This share was first issued to Thomas Middleton on April 6, 1769. That puts him among the shareholders of the Union Library Company, which merged into the Library Company on this date (as described in previous shareholder spotlight emails).
The share then passed to Joseph Cannon on September 11, 1771, and then to John Sellers, Jr. on May 11, 1790. Sellers later inherited his family's business, which came to be known as Millbourne Mills and produced King Midas Flour.
Image: Millbourne Mills was located on Cobbs Creek near today's 64th and Market Streets, Upper Darby. From Millbourne Mills Company, Millbourne Mills Company : its antecedents and present operations, and its exhibit in the Civic and industrial processional display at Philadelphia, September 15th, 1887, in commemoration of the centennial anniversary of the adoption of the United States (1888). Courtesy of Hagley Museum and Library.
The next shareholder was Sellers' son-in-law, Abraham L. Pennock (1786-1868), who acquired the share on March 8, 1816 and was married to Sellers' daughter Elizabeth.
Pennock was a prominent Quaker, inventor, abolitionist, and strong advocate for women's suffrage. Before he became a shareholder, he had helped found the Philadelphia Hose Company in 1803. He eventually helped to develop and patent a water-tight leather hose that proved essential for firefighting.
He was also well-known for his anti-slavery activities. He helped establish the Free Produce Society of Pennsylvania, which urged a boycott of any goods produced with the labor of enslaved people. He was also an editor, together with Samuel Rhoads and George W. Taylor, of the Non-Slaveholder.
A Pennsylvania Historical Marker now memorializes him outside his and Elizabeth's former home in Upper Darby. In 1933, a Sellers family member willed the home to the township to create a library, and the building is now part of the Upper Darby Township and Sellers Memorial Free Public Library.
The share next passed to Abraham and Elizabeth's son, George Pennock. This share has had 12 owners total and is currently available!
Not yet a shareholder?
Share #307 is currently available. We work hard to match potential shareholders with historic shares that match their interests, and we would love to match you with Abraham Pennock's share or another option. To learn more, reach out to our Development Office at development@librarycompany.org or 215-546-3181 ext. 142.