Shareholder Spotlight: Anna G. Hubbell (1801-1895)
Dana Dorman, Archivist, Library Company Papers Project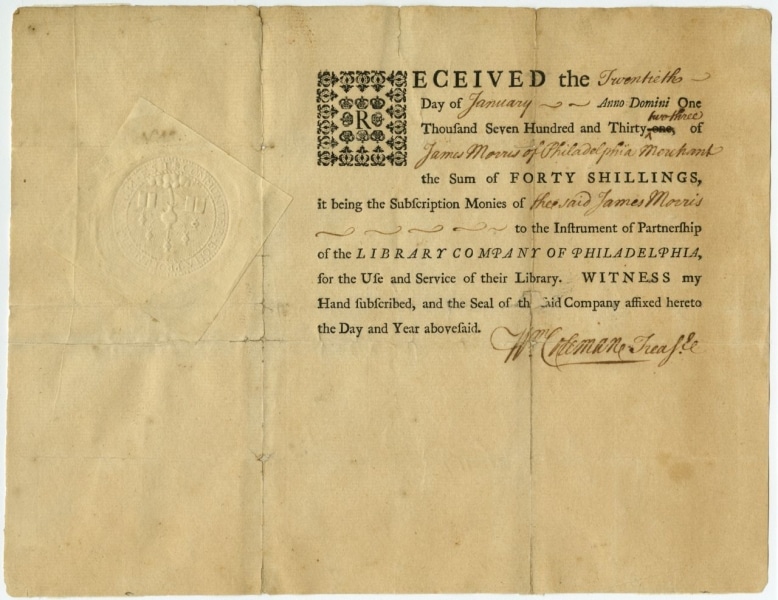 Image: Receipt for a Library Company share, 1733.
We continue our monthly "shareholder spotlight" series by taking a closer look at Share #594 and its fourth owner, Anna G. Hubbell (1801-1895).
Shareholders have always been the backbone of the Library Company of Philadelphia. Starting with the first group of fifty tradesmen who formed the library in 1731, shareholders have provided crucial financial support each year for our mission to "pour forth benefits for the common good."
We keep careful track of who has owned each historic share, and our list of 9,800+ shareholders includes signers of the Declaration and Constitution, merchants, doctors, soldiers, scientists, artists, philanthropists, politicians, and much more.
Share #594
This share was first issued to Gideon Hill Wells on April 6, 1790.
The share next passed to William G. Latimer on May 12, 1803, before it was acquired by Ferdinand W. Hubbell (1801-1852) on January 7, 1842. Ferdinand was a Philadelphia lawyer. A few years after his death, the members of the Philadelphia Bar Association presented an oil on canvas portrait of Ferdinand painted by Thomas Sully to the Bar Association's portrait collection.
After Ferdinand's death, the share passed to his wife, Anna Gibbon Hubbell (1801-1895) on June 8, 1866.
Our research notes tell us little about Anna, but she descended from one of the wealthiest families in Salem, NJ.
Her father, Colonel Robert Gibbon Johnson (1771-1850), was a wealthy farmer and historian. He is remembered today for a likely fictional story that he introduced tomatoes to the region in 1820 by publicly eating a tomato at the Salem courthouse to show that tomatoes were not poisonous.
Col. Johnson also enslaved Amy Hester "Hetty" Reckless (1776-1881), who escaped to Philadelphia in 1826 and eventually became a prominent abolitionist. Col. Johnson sought Hetty's return, but was unsuccessful. Hetty remained in Philadelphia until he died. She served as a manager of the Philadelphia Female Anti-Slavery Society from at least 1843 to 1850, according to that organization's annual reports.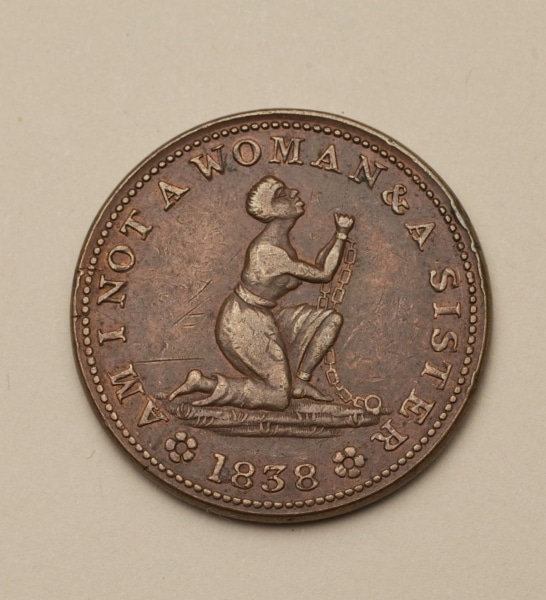 Image: These tokens were sold at antislavery fairs organized by abolitionist women like those in the Philadelphia Female Anti-Slavery Society to raise money for the cause. Anti-slavery Token (New Jersey, 1838). Gift of Chris McCauley, 1996.
It is hard to imagine that Anna would not have been aware of her father's efforts to reclaim Hetty as his property.
Hetty's legal status was certainly clear by the time Anna acquired Library Company Share #594 in June 1866. Congress had approved the 13th Amendment about six months earlier, officially ending slavery in the U.S.
The share next passed to Ferdinand and Anna's daughter, Anne Law Hubbell (1839-1905) in 1895.
Anne never married, and left her substantial estate to her unmarried sister, Helena Hubbell (1843-1929), including her share in the Library Company. Anne's will also detailed how she would want her assets distributed in case Helena were no longer living, and Helena clearly followed through with some of those wishes when she passed away 24 years later.
As Anne had suggested in her will, Helena donated their childhood home at 81-83 Market Street, Salem, NJ, to the Salem County Historical Society. The Historical Society is still based there.
She apparently also followed Anne's suggestion to create an endowed professorship at the University of Pennsylvania Law School in honor of their father. Many Hubbell family books were donated to the Library Company, again as Anne had suggested in her will.
Helena was never listed as a Library Company shareholder in her own name, but the share didn't pass to a new shareholder until 1936, long after her death. This share has had eight owners total and is currently available.
Not yet a shareholder?
Share #594 is currently available. We work hard to match potential shareholders with historic shares that match their interests, and we would love to match you with Anna G. Hubbell's share or another option. To learn more, reach out to our Development Office at development@librarycompany.org or 215-546-3181 ext. 142.