Shareholder Spotlight: Reuben Haines III (1786-1831) and Jane Bowne Haines (1790-1843)
Dana Dorman, Archivist, Library Company Papers Project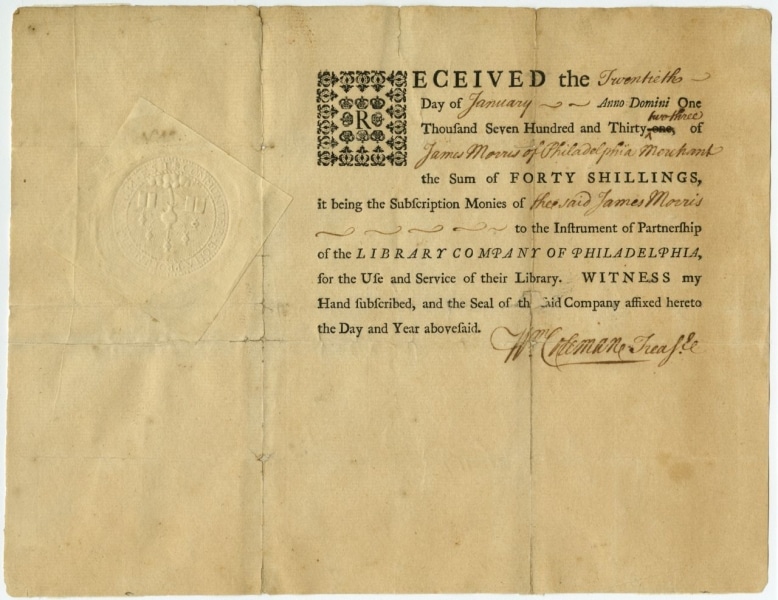 Image: Receipt for a Library Company share, 1733.
We continue our monthly "shareholder spotlight" series by taking a closer look at Share #231 and its second and third owners, Reuben Haines III (1786-1831) and Jane Bowne Haines (1790-1843).
Shareholders have always been the backbone of the Library Company of Philadelphia. Starting with the first group of fifty tradesmen who formed the library in 1731, shareholders have provided crucial financial support each year for our mission to "pour forth benefits for the common good."
We keep careful track of who has owned each historic share, and our list of 9,800+ shareholders includes signers of the Declaration and Constitution, merchants, doctors, soldiers, scientists, artists, philanthropists, politicians, and much more.
Share #231
This share was first issued to Reuben Haines (1726-1793) on April 6, 1769. Like a number of previously profiled shares, that puts him among the shareholders of the Union Library Company, which merged into the Library Company on this date.
Haines was a brewer, merchant, and land speculator. He and his wife Margaret Wister Haines lived in the city near 4th and Market Streets, but they eventually inherited her parents' Germantown property and used it as a country home. (That Germantown property eventually became known as Wyck, and is now open to the public as a historic house, garden, and farm.)
Unfortunately, during the 1793 Yellow Fever epidemic in Philadelphia, Reuben and Margaret chose to stay at their residence in the city, and both died. You can read more about Margaret's last days in this blog post from the American Philosophical Society.
The share next passed to Reuben's grandson Reuben Haines III (1786-1831) on June 3, 1807.
Reuben Haines III had inherited a sizeable fortune after his father's death in 1801. Besides managing his investments, he was a gentleman scientist with wide-ranging interests. He helped found the Philadelphia Hose Company and pioneered the use of leather hose for fighting fires, he served as Corresponding Secretary for the Academy of Natural Sciences, and was involved in several educational causes, among other activities.
He and his wife Jane Bowne Haines (1790-1843) lived in Philadelphia during the winter and at Wyck during the summers until 1820, when they moved to Wyck permanently.
The younger Reuben and wife Jane transformed the Germantown property. Jane is credited with designing Wyck's rose garden in 1821, and in 1824, they hired Philadelphia architect William Strickland (1788-1854) to renovate Wyck's first floor. Strickland rearranged the interior spaces and installed new windows, among other changes.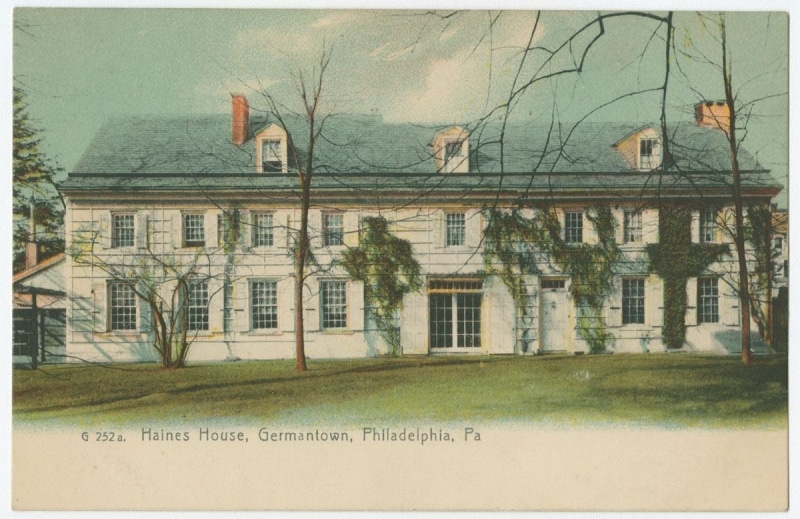 Image: George M. Brightbill, collector, Wyck postcards [graphic] (1900-1910).
After Reuben's untimely death in 1831, the share passed to Jane on November 3, 1832.
Our shareholder records indicate that Jane purchased the share from her husband's estate, with Bartholomew Wistar (1790-1841) noted as the executor of Reuben's estate.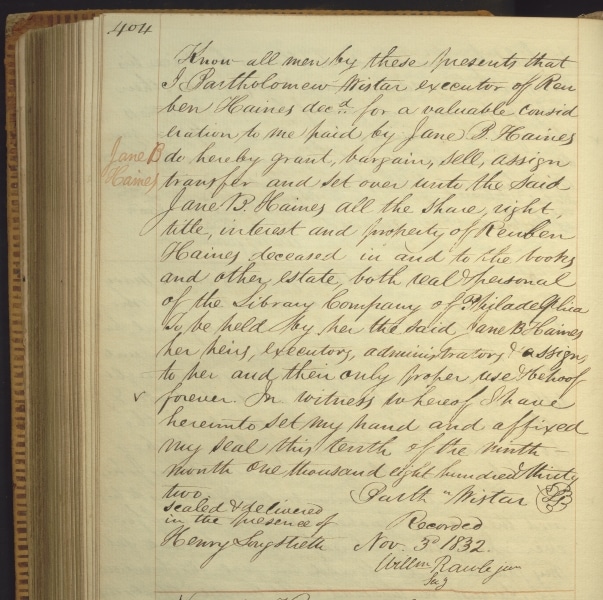 Image: Detail from Jane B. Haines share transfer on September 10, 1832. Shareholder Record Book C (1814-1841). Library Company of Philadelphia Records (MSS00270).
We know little more about Jane's involvement in the Library Company after her husband's death.
Share #231 remained in the Haines family until 1920, and has been owned by 10 people in its history.
Not yet a shareholder?
Share #231 is currently available. We work hard to match potential shareholders with historic shares that match their interests, and we would love to match you with Reuben and Jane Haines' share or another option. To learn more, reach out to our Development Office at development@librarycompany.org or 215-546-3181 ext. 142.