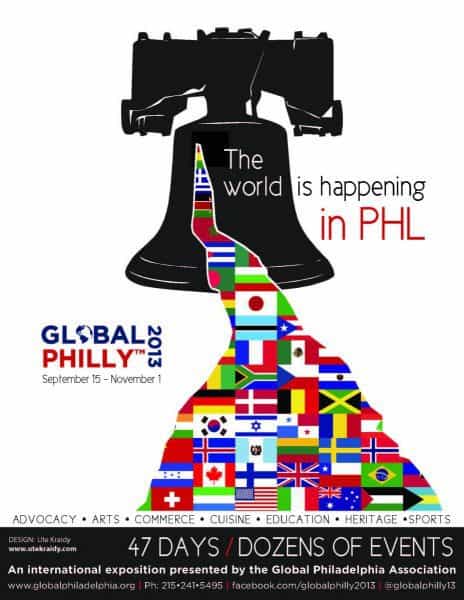 The Library Company is participating in GlobalPhilly 2013, an exposition celebrating Philadelphia as a world city from September 15 through November 1. A project of the Global Philadelphia Association, the exposition includes more than 100 events and activities connecting Philadelphia to the wider world in the areas of advocacy, the arts, commerce, cuisine, education, heritage, and sports. Two of the Library Company's fall events with significance for world history are included in the program of the exposition: the Thirteenth Annual PEAES conference on October 24 and 25, exploring the interconnectedness of colonial economies, and a lecture by Nicholas Basbanes, co-sponsored with the American Philosophical Society, on his new book On Paper: The Everything of Its Two Thousand Year History, by a Self-Confirmed Bibliophiliac on October 30.
GlobalPhilly 2013 will be Philadelphia's first modern exposition showcasing Philadelphia as an international city, with participation from almost 60 organizations and businesses. An online "passport" listing exposition events and providing a range of other information about international resources in the city
can be found online
.
The Global Philadelphia Association was founded in 2010 to assist and to encourage greater interaction between the organizations and people who are engaged in international activity within the Greater Philadelphia Region. By coordinating activities and communications among these groups, Global Philadelphia seeks to raise the international profile of Philadelphia as a cosmopolitan center and develop an international consciousness within the region.
Molly Roth, the Library Company's Development Director, served as the Founding Executive Director of the Global Philadelphia Association. "I am thrilled that the Library Company can lend its intellectual heft to the important project of raising awareness of Philadelphia's internationalism—and equally thrilled to have the Library Company benefit from the impressive regional network being built by the Global Philadelphia Association."
https://librarycompany.org/wp-content/uploads/2015/06/lcp_print.png
0
0
nscalessa
https://librarycompany.org/wp-content/uploads/2015/06/lcp_print.png
nscalessa
2013-09-17 20:58:00
2017-03-01 20:47:13
GlobalPhilly 2013