A wide variety of projects have resulted from readers using our historical collections. Occasionally we like to feature them in our blog. In late 2014 I had the pleasure to meet Ronald Shaffer, who among his many activities serves as the president of the Old Pine Conservancy, as well as a tour guide of the church's graveyard.  Mr. Shaffer has been a frequent visitor to our main reading room immersing himself in Philadelphia's past. One of the results of his labor is the Old Pine Conservancy graveyard self-guided tour guide reproduced below.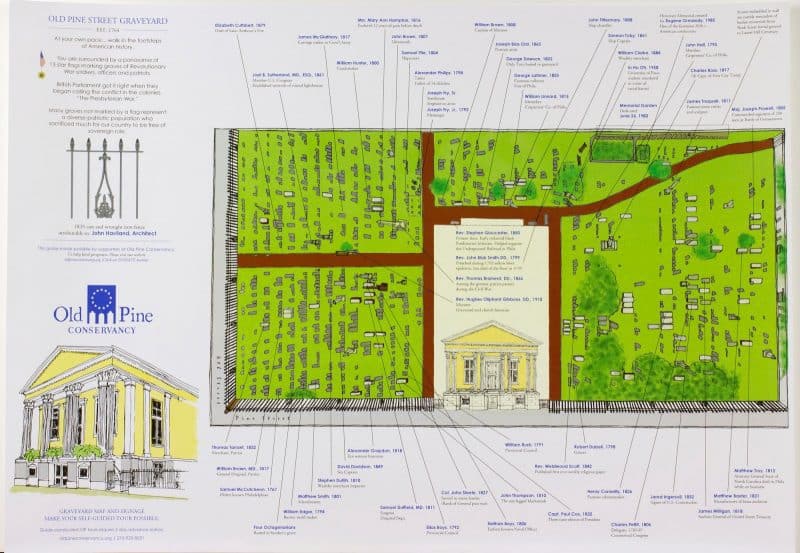 Suel-Gi Lee, a student at Moore College of Art and Design, created this map as part of an internship project.
To study the graveyard from different perspectives, Ms. Lee walked among the headstones at ground level and spent time on the roof deck of the adjacent Old Pine Community Center. Utilizing digital photography and knowledge about drawing spatial relationships gained from former art student Mr. Shaffer, Ms. Lee drew a map that depicts an overall view of the cemetery, while also highlighting specific markers. Old Pine Conservancy members chose the selected grave markers to emphasize the diversity of the nearly 5, 000 people buried in the graveyard. Additional maps are being planned by the Conservancy covering tour topics such as Yellow Fever, Sea Captains-Privateers, and Affairs of the Heart.
A desire to learn more about who was interred in the graveyard is what drew Mr. Shaffer to the Library Company. With the help of Chief of Reference Connie King, he researched the 275 Revolutionary War veterans buried at Old Pine. Using sources such as the multi-volume Pennsylvania Archives, Watson's Annals of Philadelphia, and Scharf & Westcott's History of Philadelphia, Shaffer and other volunteers created brief biographies for approximately half the Revolutionary War soldiers buried in the graveyard. With thousands of more names from the graveyard to investigate, we are sure to be seeing more of Mr. Shaffer in the months (and years!) to come.
Sarah J. Weatherwax
Curator of Prints and Photographs
The Library Company of Philadelphia
1314 Locust St., Philadelphia, PA 19107
TEL 215-546-3181 FAX 215-546-5167
http://www.librarycompany.org
https://librarycompany.org/wp-content/uploads/2015/06/lcp_print.png
0
0
nscalessa
https://librarycompany.org/wp-content/uploads/2015/06/lcp_print.png
nscalessa
2015-01-23 21:35:00
2017-03-01 20:47:10
A New View of an Old Graveyard