Digital Humanities Outreach: Turning Library Records into Data Workshop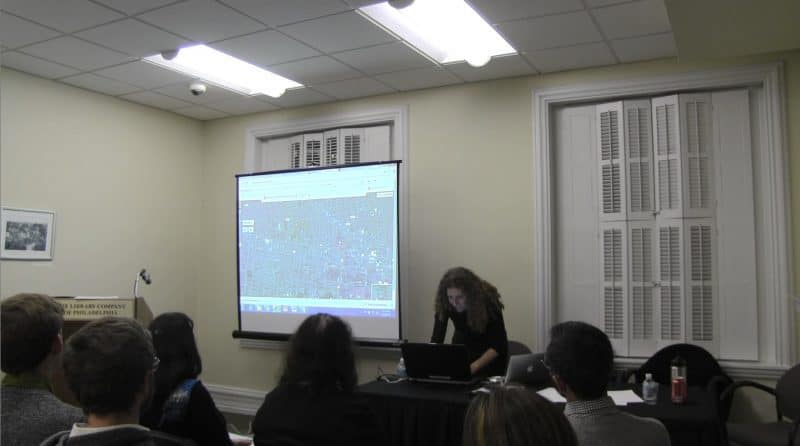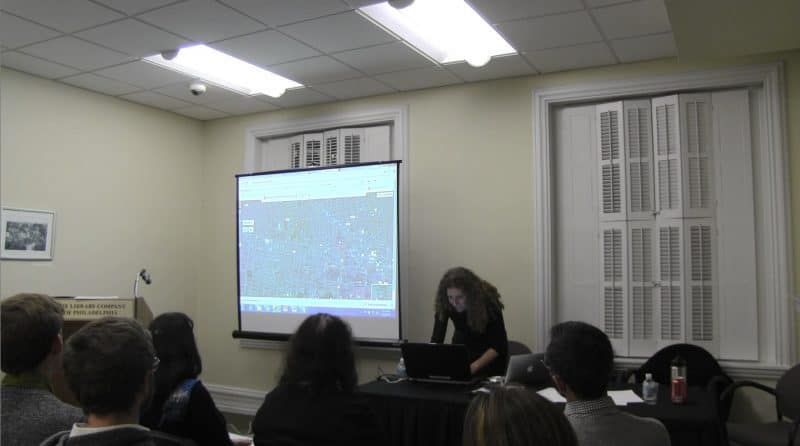 One of the hallmarks of the Digital Humanities is collaborative education and outreach. The Library Company continues to work with digital managers and support staff among area colleges, cultural organizations and museums. This past December LCP's Information Technology manager Nicole Scalessa collaborated with Laurie Allen, Coordinator for Digital Scholarship and Services at Haverford College, to organize a program entitled "Turning Library Records into Data: A Conversation & Workshop." Nicole and Laurie called upon their colleagues Doreva Belfiore, Digital Projects Librarian, Temple University; Nabil Kashyap, Librarian for Digital Initiatives and Scholarship, Swarthmore College; and Delphine Khanna, Head of Digital Library Initiatives, Temple University, in planning the workshop at the Cassatt House.
This half-day event invited librarians and archivists to discuss ways to expose their online collections to interpretation and analysis by digital humanities scholars, students, and local hackers, and to make those collections easily mappable.  The workshop began with a session featuring examples of discussion of data-sharing methods at various librarie and was followed by group discussion about planning and implementation strategies. "What is data?," "What can we usefully export from our various systems?," and "Once I've opened my data, where should I put it?" were just a few of the questions presenters addressed. Another session focused on using geospatial data to make collection records accessible to a wide array of online users.
The event was attended by nearly 30 participants and marked the first time that a Library Company event was available online via live stream. Comments from this event may be viewed on Twitter at
#glamdataphilly
, and portions of the broadcast will be published on our YouTube channel in the spring.
https://librarycompany.org/wp-content/uploads/2015/06/lcp_print.png
0
0
nscalessa
https://librarycompany.org/wp-content/uploads/2015/06/lcp_print.png
nscalessa
2015-02-23 14:58:00
2017-03-01 20:47:12
Digital Humanities Outreach: Turning Library Records into Data Workshop