Treasures from the Library Company of Philadelphia: Ephemera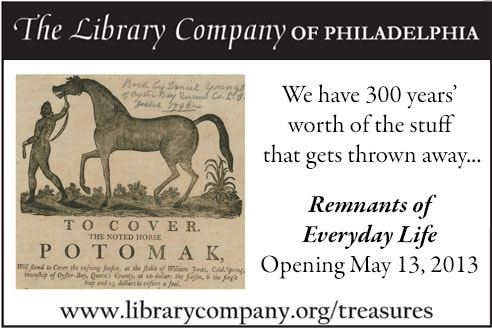 Treasures from the Library Company of Philadelphia: Ephemera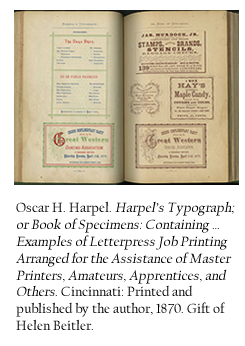 The Library Company has been acquiring "transient documents of everyday life" since 1785 when it acquired the Pierre Eugène Du Simitière collection of Revolutionary War-era pamphlets and broadsides. Today the Library Company has one of the largest, most important, and most varied collections of 18th- and 19th-century American ephemera, including postcards, stereographs, scrapbooks and albums, trade cards, patent medicine advertisements, and World's Fairs souvenirs and collectibles.
Recently cataloged and selectively digitized through a grant from the National Endowment for the Humanities, the Library Company's ephemera collections will be showcased in the exhibition "Remnants of Everyday Life: Historical Ephemera in the Workplace, Street, and Home" on display May 13 through December 13, 2013. Beginning with an overview of the technological and cultural changes affecting the production of ephemera, subsequent sections provide visitors with a visual history of the ephemera produced, circulated, and consumed in public spaces, places of business, and the home—an enclave of domesticity and leisure.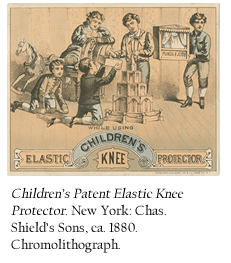 Materials from our visual culture collections on display include the seminal 1870 printing manual Typograph by premier Cincinnati job printer Oscar Harpel; albums and scrapbooks of personal memorabilia and business specimens; one of the earliest illustrated circus posters, issued in 1828; popular medicine advertisements; broadsides; business forms and stationery; trade cards; postcards; and stereographs. Not to mention a portable packet of toilet paper from 1872!
View the Entire Treasures Online Exhibition Series Here: http://www.librarycompany.org/treasures/
https://librarycompany.org/wp-content/uploads/NYorker_ad17.jpg
328
492
Ann McShane
https://librarycompany.org/wp-content/uploads/2015/06/lcp_print.png
Ann McShane
2017-06-09 12:16:16
2018-05-24 13:33:32
Treasures from the Library Company of Philadelphia: Ephemera