Shareholder Spotlight: Ann Bartram
Dana Dorman, Individual Giving and Special Events Manager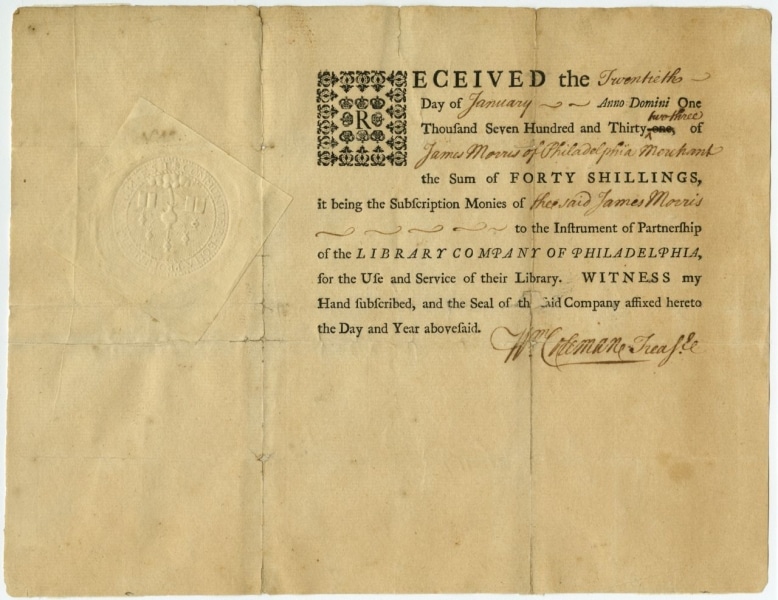 Image: Receipt for a Library Company share, 1733.
We continue our monthly "shareholder spotlight" series by taking a closer look at Share #102 and its second owner, Ann Bartram.
Shareholders have always been the backbone of the Library Company of Philadelphia. Starting with the first group of fifty tradesmen who formed the library in 1731, shareholders have provided crucial financial support each year for our mission to "pour forth benefits for the common good."
We keep careful track of who has owned each historic share, and our list of 9,800+ shareholders includes signers of the Declaration and Constitution, merchants, doctors, soldiers, scientists, artists, philanthropists, politicians, and much more.
Share #102
After being first issued to George Emlen in 1748, share #102 next passed to Ann Bartram on April 23, 1784.
The Library Company's minute book adds the further distinction of "Widow Bartram." That leaves at least two possibilities: Ann was the name of both the wife and the youngest daughter of noted botanist John Bartram (1699-1777), and both were widows in 1784.

Image: Detail from Library Company Directors Minutes, Volume 2 (1768-1785).
John Bartram was certainly a friend of Benjamin Franklin and other founding members of the Library Company. But he does not appear in the Library Company's list of shareholders. He did, however, help Franklin found the American Philosophical Society.
Three other Bartrams had become shareholders of the Library Company fifteen years earlier, when the Union Library Company merged into the Library Company in 1769. Son Isaac Bartram was issued Library Company share #151, and son Moses Bartram (1732-1809) acquired share #155. An Alexander Bartram acquired share #157.
So who was Ann Bartram?
John's daughter Ann Bartram Bartram (1741-1824) had married a "cousin" of her father, George Bartram (1734-1777), and had a son of the same name, George Bartram (1767-1840). According to the 1792 and 1793 Philadelphia directories, this Ann was a gentlewoman living at the same address as her son George on Second St. below Market St.
The Library Company certainly would have been convenient for this Ann, first at its rented space in Carpenter's Hall (today's 320 Chestnut St.) and then, after 1791, at its newly built home on Fifth Street near Chestnut St.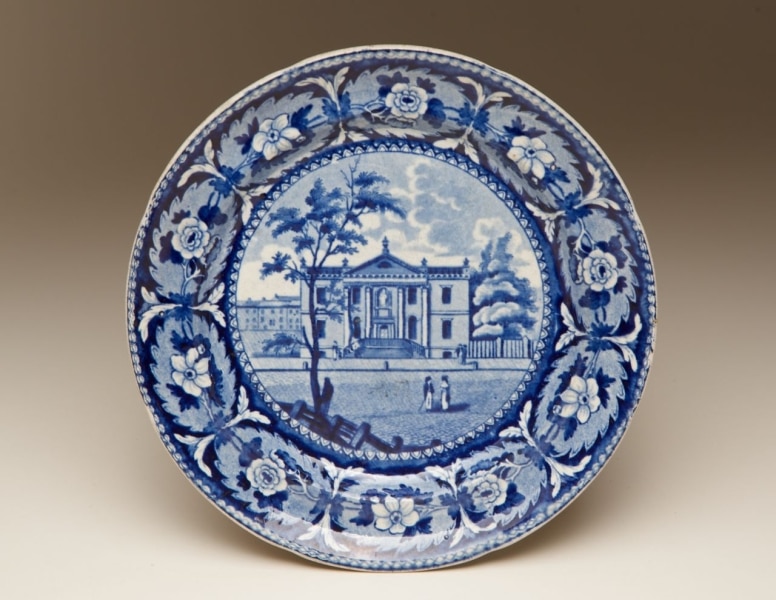 Image: The center image on this plate depicts the Library Company's Fifth Street building a few decades after it was constructed. J. & W. Ridgway, Library Company Blue Plate, between 1814-1830. Gift of Donald H. Cresswell.
But John's wife Ann Mendenhall Bartram (1703-1789) was technically also "Widow Bartram" in 1784. It's possible that share #102 was owned by that Ann instead.
Either way, share #102 next passed from Ann's estate to George Bartram in 1830. This is most likely Ann Bartram Bartram's son George (1767-1840), and therefore the grandson of the botanist John Bartram. The share has been owned by ten people total in its 274-year history.
Not yet a shareholder?
Share #102 is currently available. We work hard to match potential shareholders with historic shares that match their interests, and we would love to match you with Ann Bartram's share or another option. To learn more, reach out to our Development Office at development@librarycompany.org or 215-546-3181 ext. 142.