Shareholder Spotlight: Benjamin Eastburn (1695-1741)
Dana Dorman, Individual Giving and Special Events Manager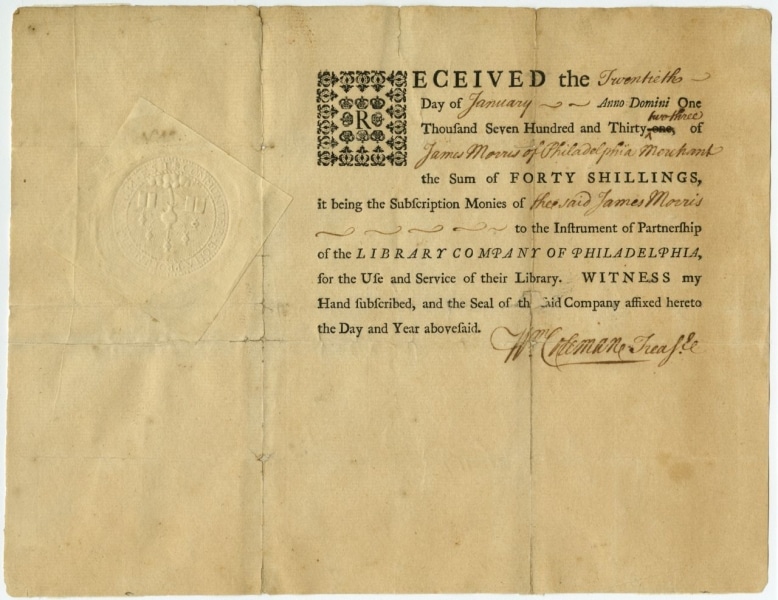 Image: Receipt for a Library Company share, 1733.
We continue our monthly "shareholder spotlight" series by taking a closer look at Share #25 and its first owner, Benjamin Eastburn (1695-1741).
Shareholders have always been the backbone of the Library Company of Philadelphia. Starting with the first group of fifty tradesmen who formed the library in 1731, shareholders have provided crucial financial support each year for our mission to "pour forth benefits for the common good."
We keep careful track of who has owned each historic share, and our list of 9,800+ shareholders includes signers of the Declaration and Constitution, merchants, doctors, soldiers, scientists, artists, philanthropists, politicians, and much more.
Share #25
This share was first issued to Benjamin Eastburn on December 14, 1731.
Eastburn was born in England, and apparently came to Philadelphia in 1713. By 1731, he was obviously acquainted with Benjamin Franklin and his fellow Junto members. That group drew up their "Articles of Association" on July 1, 1731 to found a library, and Eastburn was among the first group of shares issued over the next six months.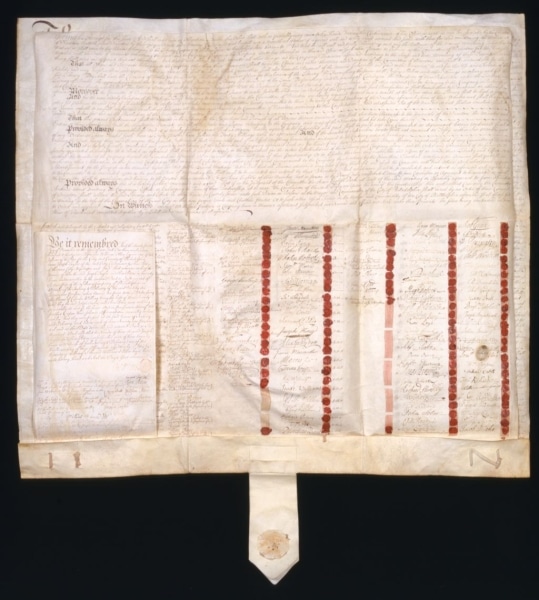 Image: Articles of Association, 1731.
These early subscribers each invested forty shillings and "promised to pay ten shillings a year thereafter to buy books and maintain a shareholder's library."
In 1733, two years after becoming a Library Company shareholder, Eastburn was appointed Surveyor General of the Province of Pennsylvania. He held that role from 1733 until his death in 1741.
That means he was the surveyor in charge at the time of James Logan's 1737 "walking purchase" that swindled land from the Delaware Indians, as well as during the 1739 creation of the boundary line between Pennsylvania and Maryland. He also drew up the plans for the site of Mikveh Israel Cemetery in 1740, among many other surveys.
After his death, the share next passed in 1742 to William Peters (1702-1789), who was a lawyer and land management agent for the Penn family. Peters was also a gentleman architect, and his country home and estate, Belmont, was eventually purchased by the city of Philadelphia for inclusion in Fairmount Park.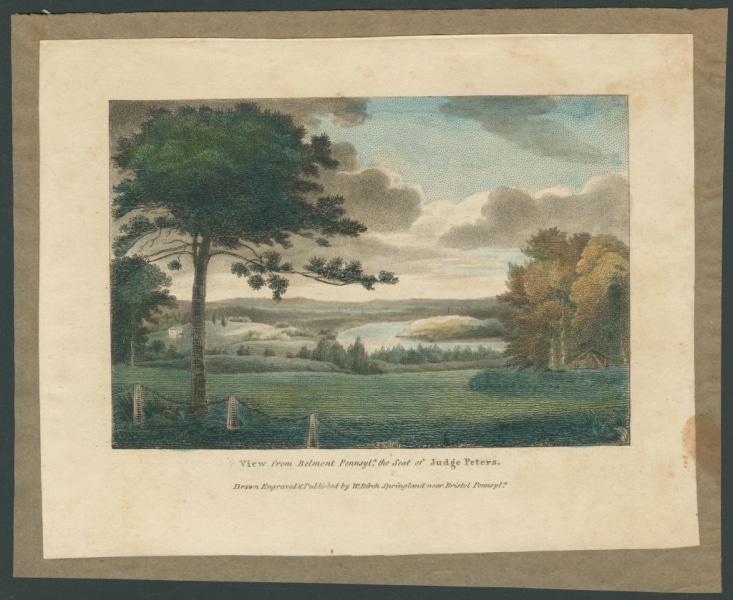 Image: William Russell Birch, View from Belmont Pennsyla. the Seat of Judge Peters [graphic] / Drawn engraved & published by W. Birch Springland near Bristol Pennsylvania, [1809]. Gift of Mrs. S. Marguerite Brenner.
Belmont Mansion still stands today, and is now open to the public as an underground railroad museum.
Share #25 has been owned by six people total in its 291-year history, and it is currently available!
Not yet a shareholder?
Share #25 is currently available. We work hard to match potential shareholders with historic shares that match their interests, and we would love to match you with Benjamin Eastburn's share or another option. To learn more, reach out to our Development Office at development@librarycompany.org or 215-546-3181 ext. 142.