Shareholder Spotlight: Elizabeth Stott
Dana Dorman, Individual Giving and Special Events Manager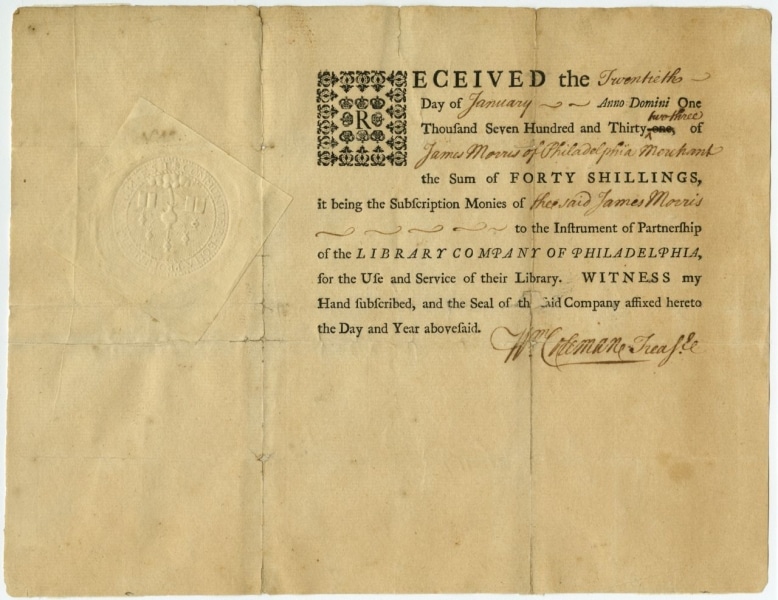 Image: Receipt for a Library Company share, 1733.
We continue our monthly "shareholder spotlight" series by taking a closer look at Share #462 and the first woman to own that share in her own name, Elizabeth Stott.
Shareholders have always been the backbone of the Library Company of Philadelphia. Starting with the first group of fifty tradesmen who formed the library in 1731, shareholders have provided crucial financial support each year for our mission to "pour forth benefits for the common good."
We keep careful track of who has owned each historic share, and our list of 9,800+ shareholders includes signers of the Declaration and Constitution, merchants, doctors, soldiers, scientists, artists, philanthropists, politicians, and much more.
Share #462
This share was first issued to John Todd on January 13, 1779. Our records describe him as "John Todd, schoolmaster." Todd had agreed to serve as the Library Company's librarian for six months. As part of his compensation, he was given a share and "admitted a Member immediately."
The share then passed through five more owners before it was acquired by its first woman owner: Elizabeth Stott acquired the share on November 6, 1830.
Although our records provide no additional information beyond her name, this is most likely the Elizabeth Stott (1765-1848) who helped to organize the Philadelphia Ladies' Depository just two years after acquiring this share.
The Ladies' Depository provided "distressed" white gentlewomen a venue for selling fancywork like embroidery on consignment. The women could sell their work anonymously at the depository's charitable consignment shop, thus making it more socially acceptable to their peers.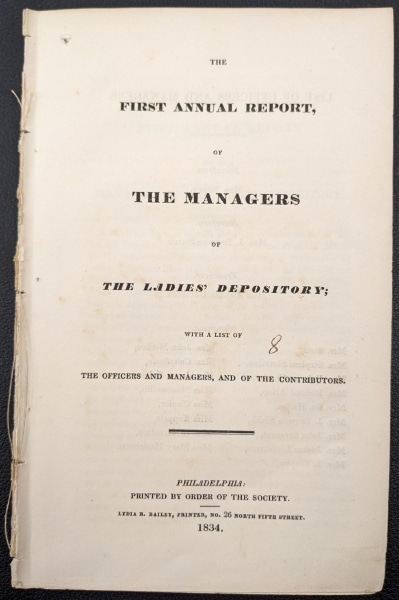 Image: The First Annual Report of the Managers of the Ladies' Depository; with a List of the Officers and Managers, and of the Contributors (Philadelphia, 1834).
According to historian Kathleen Waters Sander, Stott had visited a similar institution in Scotland and was inspired to invite a group of friends to create one in Philadelphia. Stott is listed as its "Directress" in the depository's first annual report, published in 1834.
Similar depositories emerged in many major cities across the country by the end of the nineteenth century, though most were known as "exchanges."
Share #462 passed to a new owner (William Luddards) in 1837, and has been owned by eighteen people total in its 244-year history. This share is currently available!
Not yet a shareholder?
Share #462 is currently available. We work hard to match potential shareholders with historic shares that match their interests, and we would love to match you with Elizabeth Stott's share or another option. To learn more, reach out to our Development Office at development@librarycompany.org or 215-546-3181 ext. 142.