Shareholder Spotlight: Tench Coxe (1755-1824)
Dana Dorman, Archivist, Library Company Papers Project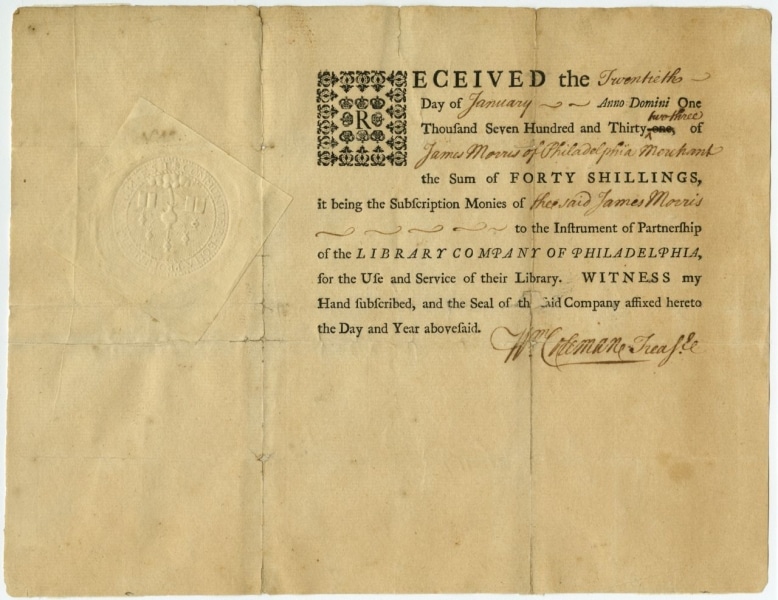 Image: Receipt for a Library Company share, 1733.
We continue our monthly "shareholder spotlight" series by taking a closer look at Share #182 and its second owner, Tench Coxe (1755-1824).
Shareholders have always been the backbone of the Library Company of Philadelphia. Starting with the first group of fifty tradesmen who formed the library in 1731, shareholders have provided crucial financial support each year for our mission to "pour forth benefits for the common good."
We keep careful track of who has owned each historic share, and our list of 9,800+ shareholders includes signers of the Declaration and Constitution, merchants, doctors, soldiers, scientists, artists, philanthropists, politicians, and much more.
Share #182
This share was first issued to William Coxe (1723-1801) on April 6, 1769. Like a number of previously profiled shares, that puts him among the shareholders of the Union Library Company, which merged into the Library Company on this date.
Among other accomplishments, William served as a trustee for what is now the University of Pennsylvania and as treasurer of their board for 1768-1769 – roughly the same time he was a shareholder of the Library Company.
The share next passed to his son Tench Coxe (1755-1824) on August 18, 1779.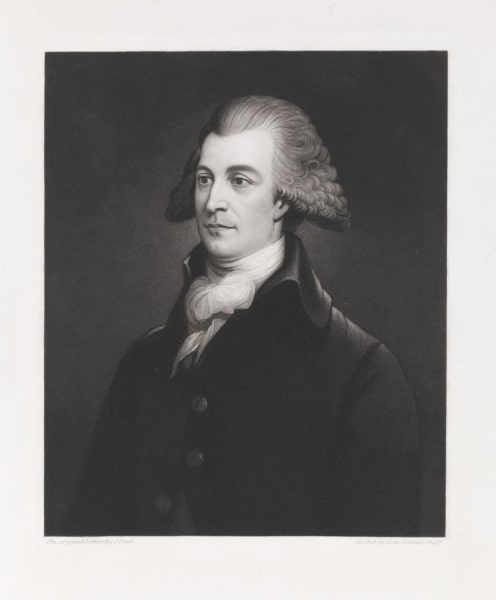 Image: John Sartain after J. Paul, Honorable Tench Coxe (mid 19th century). Mezzotint. Courtesy of the Pennsylvania Academy of Fine Arts.
Tench was a merchant, industrialist, land speculator, writer, and politician. He had attempted to remain neutral as tensions with the British escalated in the 1760s-1770s, but eventually sided with the British. However, in May 1778 – about a year before he took ownership of share #182 – he took a voluntary oath of allegiance to the United States after the Supreme Executive Council of Pennsylvania of people included his name on a list of those accused of high treason.
Later, he attended the 1786 Annapolis Convention, the precursor to the next year's Constitutional Convention. And in 1790, he was named the Assistant Treasury Secretary under Alexander Hamilton (1757-1804). But his political enemies gave him the nickname "Mr. Facing Both-Ways" for his political evolution, borrowing the name of a character in John Bunyan's The Pilgrim's Progress.
Now, one Library Company shareholder might be thinking – wait, I thought Tench Coxe was a previous owner of MY share, #59?
Indeed, he was! Tench acquired that share on April 11, 1803.
Share #182's first owner, William Coxe, also owned another Library Company share: #574. William acquired share #574 on December 19, 1789, roughly 10 years after share #182 had been taken over by his son.
Our shareholder records show many examples of such repeat buyers. One can imagine that some repeats are due to shareholders giving up shares because of cost or lack of use. Perhaps the person moved away for a time, and then renewed their association with the Library Company when they returned. Or perhaps the shareholder switched library affiliations, or accessed our collections through a family member's share.
In the case of share #182, Tench is listed as the owner of this share for the next 21 years.
During that time, Tench was involved with the Philadelphia Society for Alleviating the Miseries of Public Prisons, the Pennsylvania Society for the Encouragement of Manufactures and the Useful Arts, and the Society for Promoting the Abolition of Slavery and Improving the Conditions of the African Race, among other organizations.
While he owned share #182, he wrote to the Library Company in 1788 as secretary of the Society for the Abolition of Slavery to offer "some valuable pamphlets in prose & verse calculated to excite the feelings and engage the understanding to oppose" slavery. More research is needed to determine whether his pamphlet donation was accepted.

 Image: Detail from Tench Coxe letter to the Library Company, November 6, 1788 (7439.F.33).
Share #182 next passed to Samuel Bettle on February 7, 1800, and the share remained in the Bettle family until 1970. Share #182 has had nine owners total.
Tench didn't stay away from Library Company shareholding for long. Just three years after transferring ownership of share #182, he acquired share #59 on April 11, 1803 and it remained in his name until his death in 1824.
Not yet a shareholder?
Share #182 is currently available. We work hard to match potential shareholders with historic shares that match their interests, and we would love to match you with Tench Coxe's share or another option. To learn more, reach out to our Development Office at development@librarycompany.org or 215-546-3181 ext. 142.