Yellow Fever and the Library Company in 1793
Dana Dorman, Archivist, Library Company Papers Project

In a recent blog post, I discussed how the Library Company's records sometimes capture happenings in the world outside the library.
The Yellow Fever epidemic in 1793 is one of those events that we see reflected in our institutional papers from that time period.
I first noticed the epidemic's impact while browsing through a chronological register of share ownership. The ledger also includes lists of the library's board of directors from 1731 through 1994. The list of directors from 1793 includes one name with an asterisk next to it: Benjamin Poultney, who was serving in his 16th year on the board.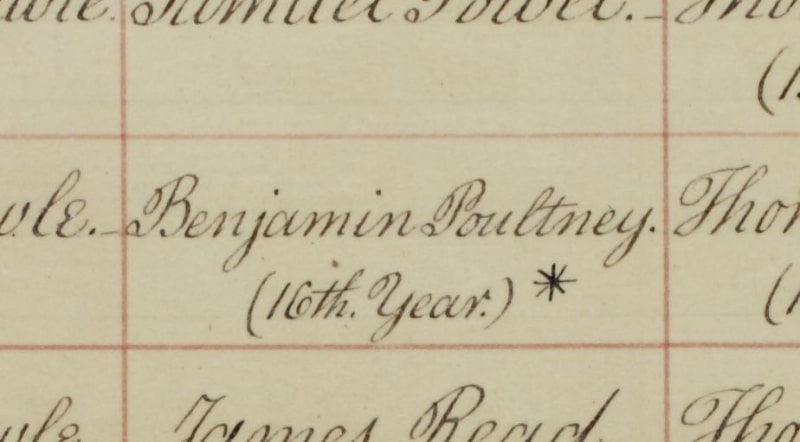 Image: Detail from Chronological Share and Directors Register. Library Company of Philadelphia Records (MSS00270).
A corresponding note on the facing page in the register adds the following comment about Poultney's service:
"*During the awful prevalence of the Yellow Fever in Philadelphia in 1793, Benjamin Poultney fell a victim to that disorder on the 21st of September in the 48th year of his age. He was the only Director who attended at the Library on the first Thursday of that Month."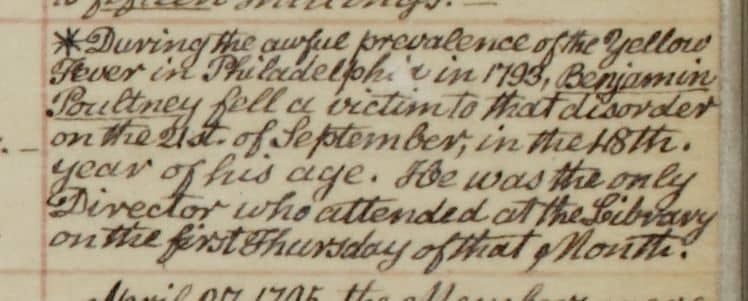 Image: In very small handwriting, someone noted Poultney's death from Yellow Fever in 1793. Detail from Chronological Share and Directors Register. Library Company of Philadelphia Records (MSS00270).
In other words, Poultney was the only director who attended the library's directors meeting on Thursday September 5, 1793, and he died just a couple weeks later.
In fact, Poultney's wife and daughter also died during the epidemic. I found them all listed in Mathew Carey's published list of deaths from that fall's outbreak: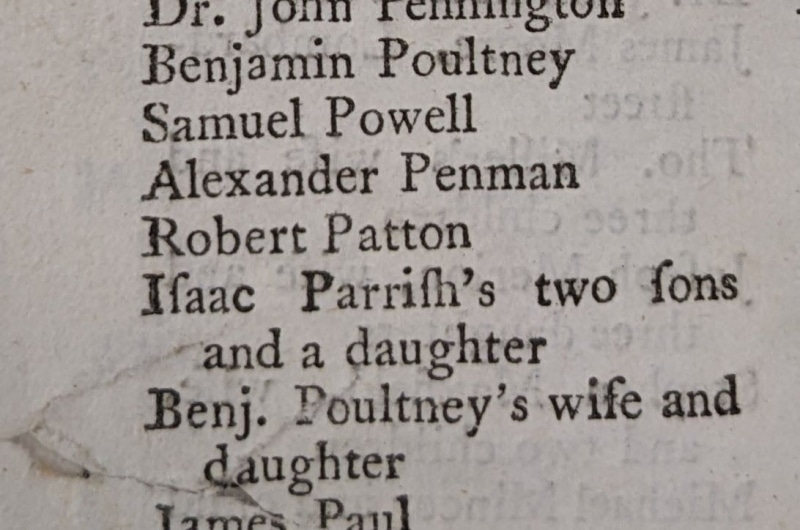 Image: "Benj. Poultney's wife and daughter" are listed a few lines below Benjamin's name in this list of Philadelphians who died in the 1793 epidemic. Detail from Mathew Carey, A Short Account of the Plague or Malignant Fever Lately Prevalent in Philadelphia… (Philadelphia: 1794).
Thanks to digitized records available on Ancestry.com, I also skimmed through the final settlement papers for Poultney's estate. His administrator James Todd hints at the upheaval in the Poultney family, with expenses for coffins for Poultney's wife and daughter, medical attention for Poultney's surviving son and daughter, and assorted untangling of both business and personal interests.
And while Poultney may have been the only Library Company director to attend the library's monthly meeting on September 5, 1793, he was far from the only person who had attended a special shareholders meeting just a few days before.
Earlier that spring, a group of Library Company shareholders had petitioned the library to raise the price of shares, raise annual dues payments, and make other financial changes. The directors called a shareholder meeting for August 1, 1793 to consider the proposal, but they failed to meet quorum. They rescheduled and met instead on August 30, but by that time, an epidemic was raging.
A previous record keeper for the Library Company added an apocryphal note on the wrapper that held the records for the August 30 meeting: "Many of the members who attended were shortly after numbered with the dead."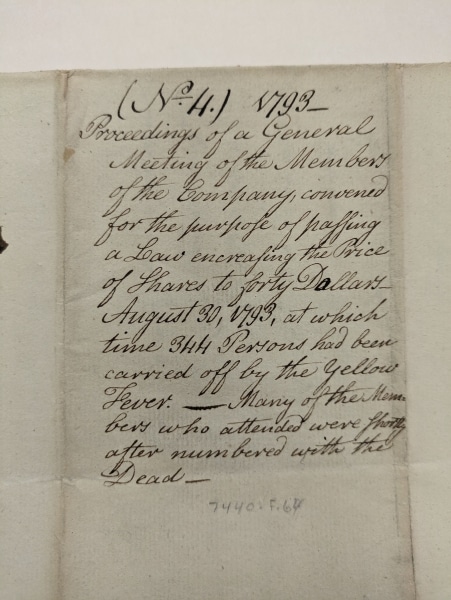 Image: Detail from wrapper for meeting records, August 30, 1793. Library Company of Philadelphia Records (MSS00270).
Approximately 5,000 people in Philadelphia died during the 1793 epidemic. But was the library's special shareholder meeting a super-spreader event?
Our meeting records indicate that 51 people attended the August 30 meeting in person, with many more voting by proxy. Fortunately, most of those people appear to have survived the 1793 epidemic.
Cross-checking with Mathew Carey's list of deaths, I found only three Library Company attendees who were also listed among Carey's list of deaths: Benjamin Poultney and two former librarians who were father and son (John Todd and John Todd, Jr.).
Perhaps other shareholders left the city immediately after the library meeting, and were not counted in Carey's list? Or perhaps the apocryphal note refers more generally to the Yellow Fever epidemics that plagued Philadelphia for several years after 1793? Certainly other shareholders lost their lives in the 1793 epidemic, such as shareholder Reuben Haines and his wife Margaret, even if they didn't attend the Library Company's August 30 meeting.
More research is needed!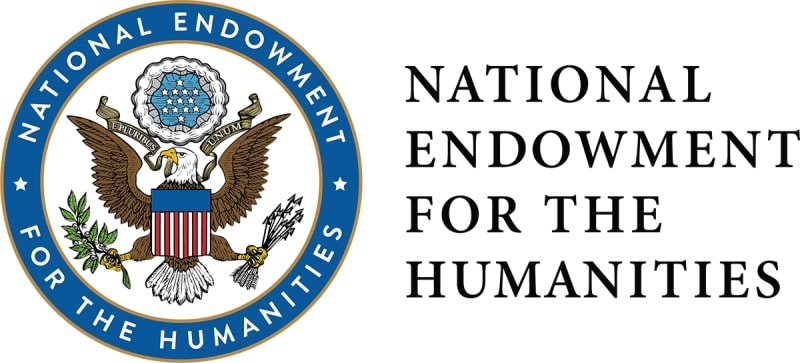 Any views, findings, conclusions, or recommendations expressed in this blog post do not necessarily represent those of the National Endowment for the Humanities.