Katie Maxwell, Visitor Services and Design Coordinator
Inspired by the 300th anniversary of Benjamin Franklin's arrival in Philadelphia, I've decided to attempt the "Puffy Rolls" Franklin purchased when he first entered the city on October 6, 1723. He described the event in his autobiography (pgs 28-29):
I met a Boy with Bread. I had many a Meal on Bread, & inquiring where he got it, I went immediately to the Baker's he directed me to in second Street; and ask'd for Biscuit, intending such as we had in Boston, but they it seems were not made in Philadelphia, then I ask'd for a three-penny Loaf, and was told they had none such: so not considering or knowing the Difference of Money & the great Cheapness, nor the Names of his Bread, I bad him give me three penny worth of any sort. He gave me accordingly three great Puffy Rolls. I was surprised at the quantity, but took it, and having no room in my Pockets, walk'd off, with a Roll under each Arm, & eating the other. Thus I went up Market Street as far as fourth Street, passing by the Door of Mr. Read, my future Wife's Father, when she standing at the Door saw me, & thought I made as I certainly did a most awkward ridiculous Appearance.
Since "Puffy Rolls" is Franklin's own moniker rather than an official name, I don't know for sure what kind of rolls Franklin enjoyed, or even if they were what we would consider rolls today. But for the sake of simplicity, I've been hunting for roll recipes. Surprisingly few of the 18th century cookbooks I consulted included bread at all, but I finally found a 1725 (only a couple years off!) "French Roll" recipe in Court Cookery: or, the Compleat English Cook. Containing the Choicest and Newest Receipts….
To make French Rolls

Take a Pound of the finest Flower, a little Yeast, and a little sweet butter, temper them lightly with new Milk warm from the Cow ; then lay your Paste a while before the Fire, covered in a Cloth, and make it up into Rolls, or Loaves, flower it well, and bake them in a very quick oven.
Unlike modern cookbooks or even 19th-century cookbooks, Court Cookery is not divided into chapters based on the type of food. This roll recipe was wedged between "Marrow Patties" and "Ramkins". Although at first glance the list of ingredients is manageably short, there are some important omissions:
Pound finest Flower [sic]

A little yeast

A little sweet butter

New milk (warm from the cow)
No quantities! The only quantity provided is the pound of flour. I tried comparing modern roll recipes from my favorite cookbooks and food blogs, but the two closest recipes I found were for "American Sandwich Bread." (Most modern roll recipes include eggs and a bit of sugar.)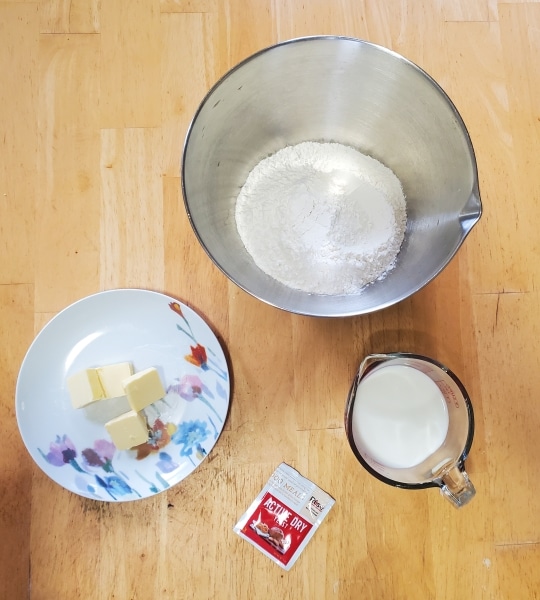 There's still one more important omission: salt!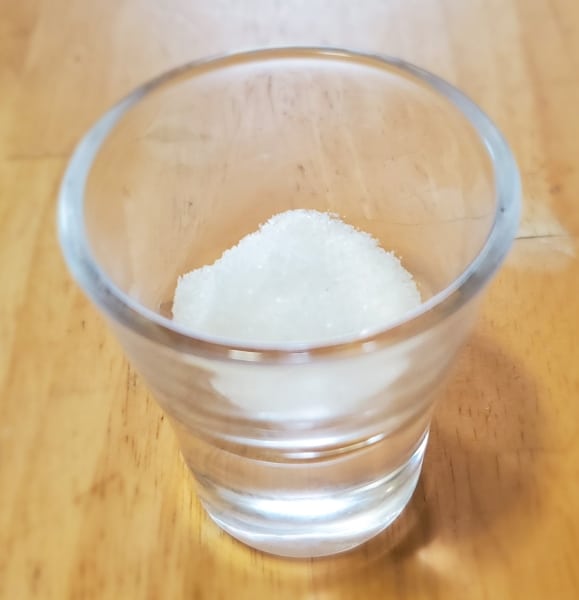 Adapting the recipe with quantities inspired by the two modern bread recipes, here is my version of the ingredients list:
1 lb flour
1 packet active dry yeast
4 tbs unsalted butter (softened)
1 ⅓ cup milk
1 ¾ tsp salt
Since the milk is supposed to be "warm from the cow" I heated it briefly on the stove until it passed 100°F. With the ingredients sorted, I can finally begin.
Take a Pound of the finest Flower, a little Yeast, and a little sweet butter
I know the 1725 recipe lists the yeast as if it's mixed in with the flour, but I don't have access to whatever kind of yeast was used 300 years ago, so I'm dissolving my dry active yeast into the warm milk.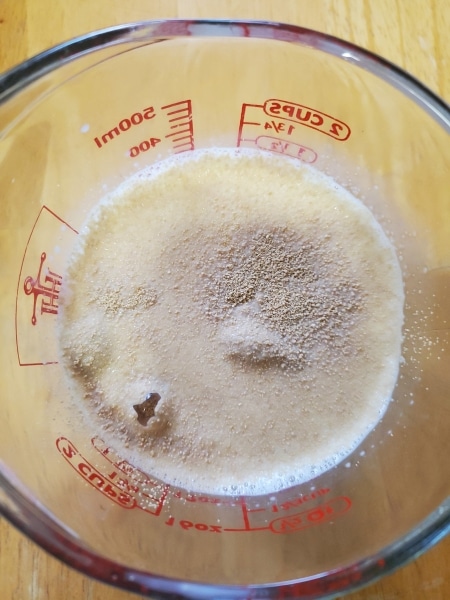 While waiting for the yeast to bloom, I rub the butter into the flour with my fingers.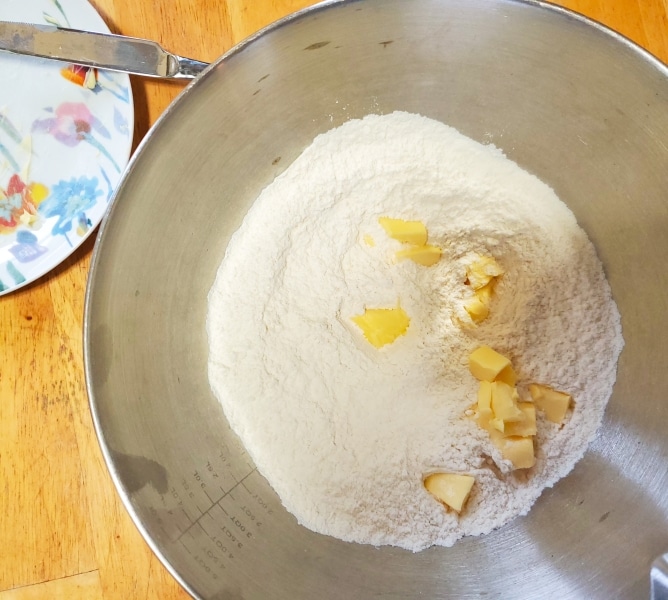 Modern recipes will usually melt the butter into the milk or water (you need a warm liquid to activate the yeast), but since the butter is added before the milk in the original recipe, I'm about 80% confident I'm doing this right.
Now it's time to
temper them lightly with new Milk warm from the Cow
Tempering usually involves gradually mixing in one (often hot) ingredient. I'm using a method that's worked for me before. I make a well in the center of the dry ingredients,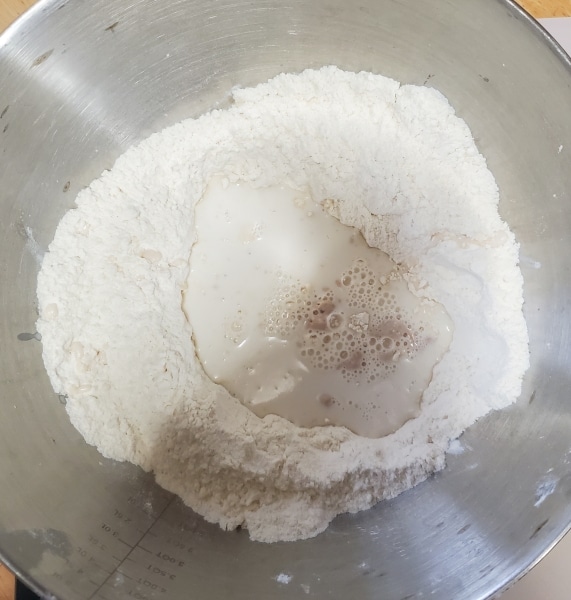 and mix gradually, including more of the liquid until I achieve a shaggy dough.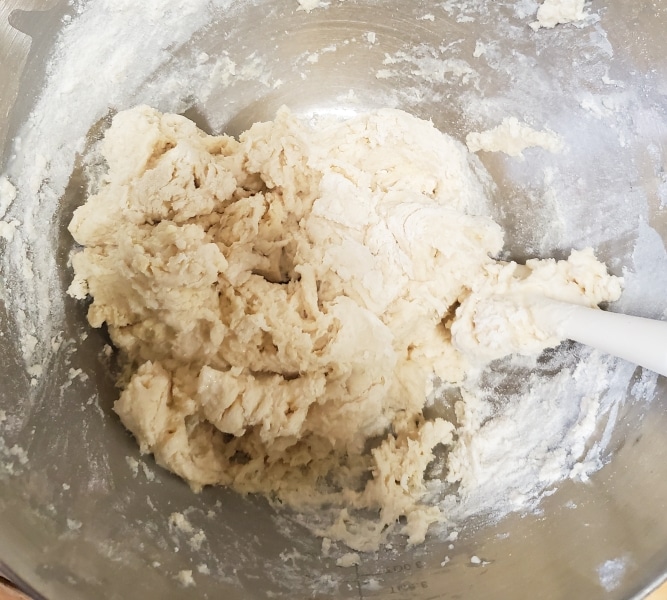 I know the recipe doesn't include a kneading step in the directions, but it is bread so maybe the writer assumes the baker knows they're supposed to knead the dough without being specifically directed to do so.
After ten minutes of kneading on a lightly floured cutting board I have this: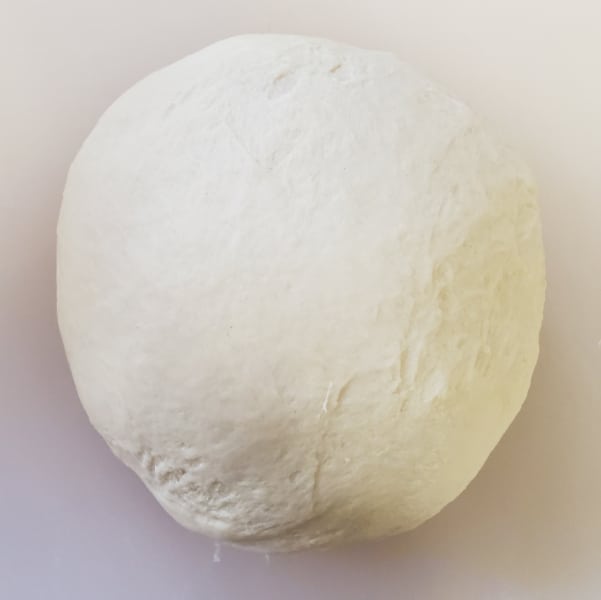 The next step is to
then lay your Paste a while before the Fire, covered in a Cloth,
I don't have a fire, but I do have an oven, and one of the modern recipes I looked up recommended covering the dough with plastic wrap and proofing it for 40-50 minutes in a *200°F oven. (I use plastic wrap when proofing dough because trying to get wet dough off of a dish towel is a nightmare.)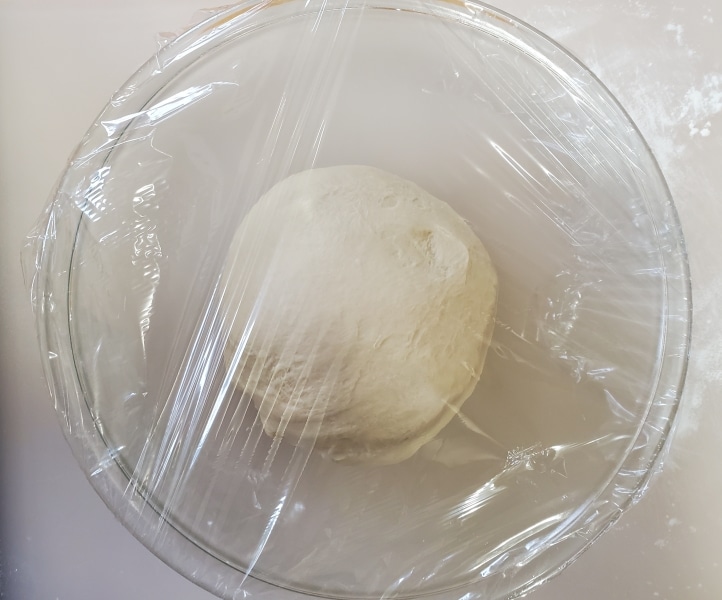 However when I check on it 40 minutes later, there's a problem.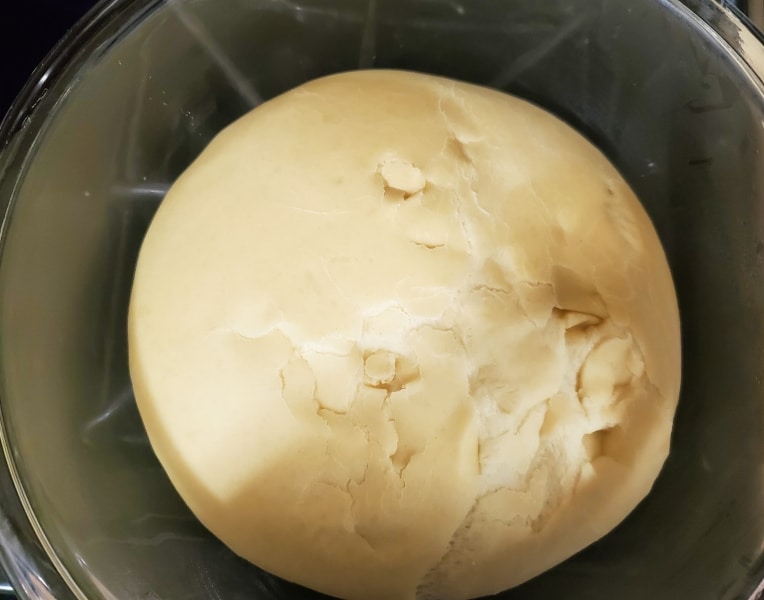 The plastic melted! Fortunately it stuck to the bowl and not the dough, but now the top layer of dough is dry.
*I was supposed to let the oven come to 200°F, then turn it off. Oops.
I'm worried I'll have to start all over again, but I start squishing the dough, and miraculously, it mostly still feels like dough, so I cover it with foil this time, and wait until it is cool enough to handle.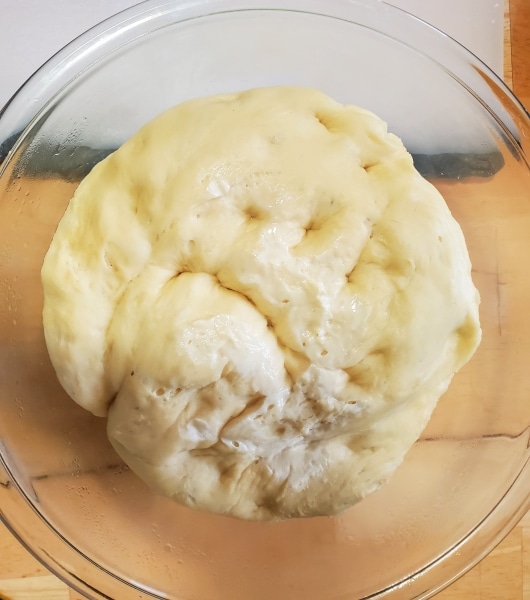 A while later it looks normal again and has risen somewhat. I can finally
make it up into Rolls, or Loaves, flower it well, and bake them in a very quick oven.
I'm taking the liberty of letting the rolls rise again for an hour or so, since I had to deflate them in order to shape them into 8 roughly even spheres.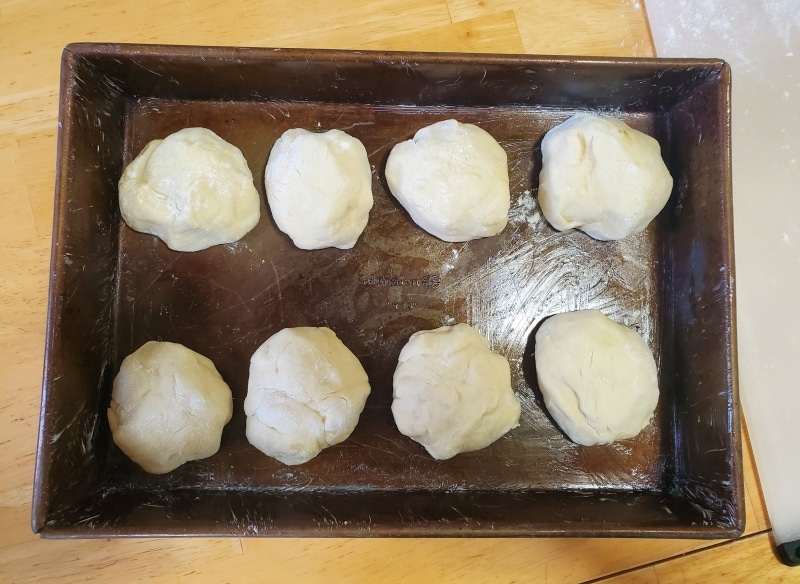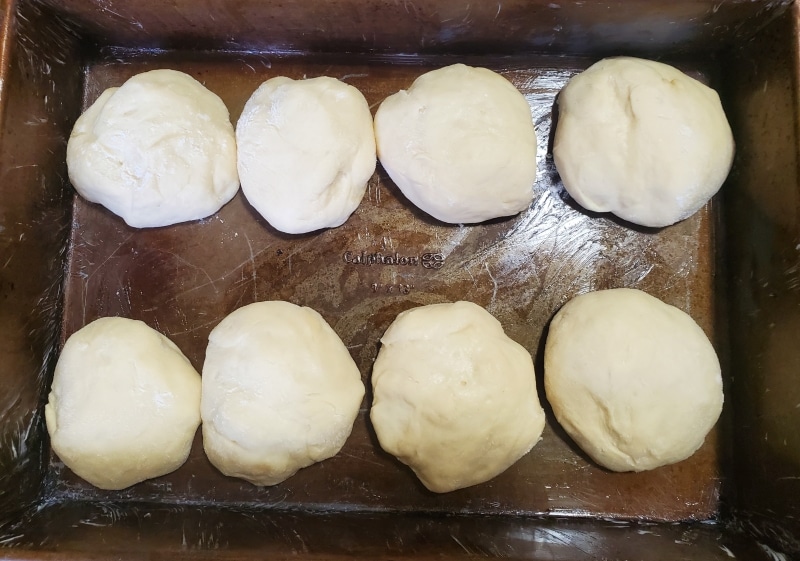 Before and after.
I assume a "very quick" oven should be fairly hot, so while the rolls rose for the last time, I preheated the oven for 375°F (my oven runs hot, so that could be closer to 400°F). After baking for around 18 minutes, I am pretty sure they are done.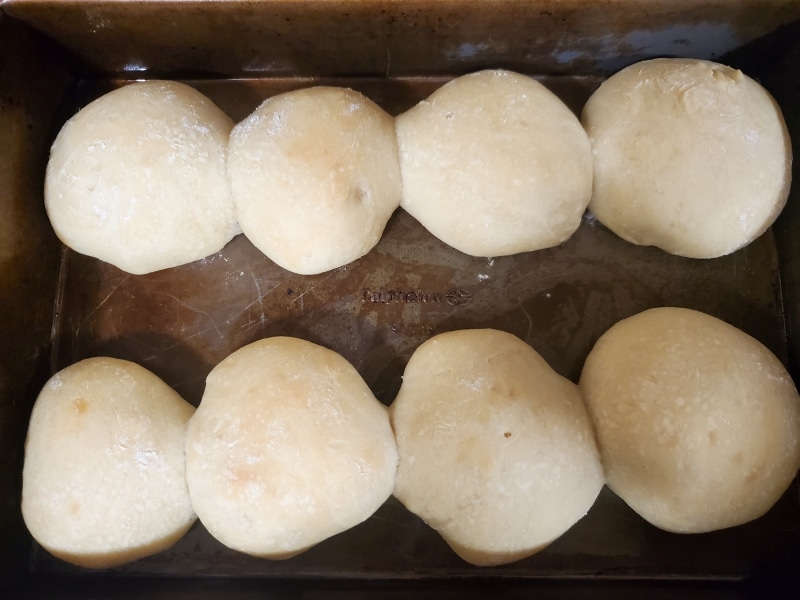 They puffed up somewhat, but I'm not confident they're as large and puffy as the ones Franklin described. Now I just need to taste them.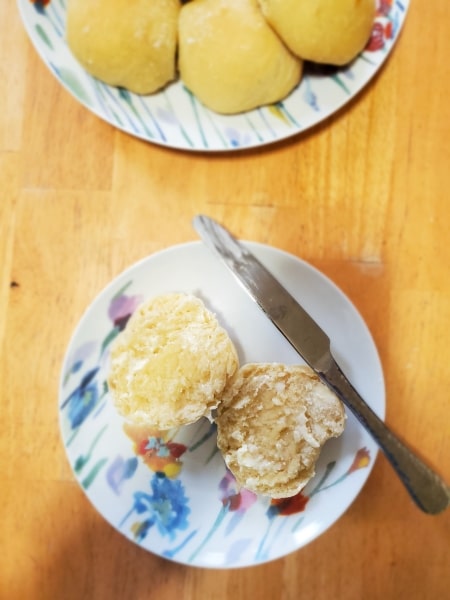 I know Franklin didn't butter his rolls in the excerpt I included at the beginning, but I'm pretty sure this is the correct way to eat this roll. It's a pretty good roll—it's a bit like a puffy English muffin! My rolls may not have achieved maximum puffiness, but they're buttery, rich, and most importantly, they aren't dense.
Later in the evening, I made a very decent egg sandwich with one of these rolls. Feel free to try this recipe at home, but maybe proof your dough on the counter.