Artichoke Hearts in Cream Sauce
Katie Maxwell, Visitor Services Coordinator
I was pretty excited for artichoke hearts, although I like them best on pizza. (Pizza is the perfect vegetable vehicle.) This time, I have decided to use the modernized directions. The ingredients are the same as the original 1734 recipe, just with more details on the process. You can find it on page 17 of 35 Receipts from "The Larder Invaded."
Let's get started.
The ingredients:

8 artichokes (one per person) *

1 lemon, sliced

3 tblsp. butter

1 cup heavy whipping cream

1 tsp. Chives, minced

1½ tsp. Parsely, minced

1 egg yolk

½ tsp. Nutmeg

Salt to taste (no more than ¼ tsp.)
*I'm only using four artichokes because there's no way my husband and I can eat all eight. Since halving an egg yolk isn't very practical, I'm making the whole cream sauce recipe and reserving half of it for something else.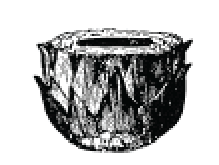 Rinse and drain the artichokes. Trim off the tough outer petals, and the top ⅓ of each head, as shown in the woodcut (right.)
No issues so far, just wait…
Remove the center or flower and rinse off any spiny material.
I've made artichokes once before, but I just roasted them in aluminum foil after trimming the pointy leaves. The choke is pretty easy to remove once they're cooked; I've never tried to remove it while they're still raw.
The spiny choke does not "rinse off." I can pull off the little petals, but the fuzzy bits really want to stay put. I watch what seems like every instructional video the internet has to offer, and I'm still pretty sure I'm doing this wrong.
I try attacking them alternately with a paring knife and a soup spoon (as suggested by varying tutorials).
I give up.
Moving on.
Set four at a time in approximately 1 gallon of boiling water with 1 sliced lemon and poach until tender.
My pot just fits two at a time, but at least this step is straightforward.
Drain upside down until free of all excess water.
Melt the butter in a broad saucepan and toss the prepared hearts until they begin to brown very slightly.
I can't fit the artichokes in my saucepan, so I'm using this cast iron pan for browning and a separate pot for the sauce.
This looks browned. On to the sauce.
Beat the yolk and cream together and add to the pan.
The cream/yolk mixture thickens even before it's heated in the pot, interesting.
Add the chives and and parsley,
And stir gently until a thick sauce forms.
It's coating the spoon, so I assume this is done.
Season and fill each artichoke with sauce.
Pour the excess sauce around the artichokes and garnish with a sprinkle of minced chives. Excellent as a side dish with fish.
(I did not pour excess sauce around each artichoke; that's just a waste of sauce.)
This proved to be very messy to eat. I think in the future, it would be a lot easier to serve the sauce on the side and dip the leaves as you go. The cream sauce was a little too rich for my taste, but my husband absolutely devoured his two artichokes, so it's all subjective.
While I will make more artichokes in the future, removing the choke ahead of time is just more trouble than it's worth.