Katie Maxwell, Visitor Services and Design Coordinator
Given the recent heat waves, I thought it would be an appropriate time to crack open Sarah Tyson Rorer's Hot Weather Dishes. I'm curious about what makes these recipes summer-specific. To celebrate the peak of tomato season, I am tackling "Baked Tomatoes," found on page 19.
Although Rorer did not list the ingredients separately, I have extracted them for the sake of convenience:
6 large smooth tomatoes

½ cup finely chopped, cold, boiled ham

12 chopped mushrooms,

2 heaping tablespoonfuls stale breadcrumbs,

1 tablespoonful chopped parsley

½ teaspoonful salt

Dash of cayenne

1 tablespoonful melted butter
I looked for the prettiest tomatoes.
Cut a slice off the stem ends,

and with your finger carefully scoop out the seeds.
I only scooped out the seeds. I didn't hollow out the entire tomato.
Mix together a half cup of finely chopped, cold, boiled ham, twelve chopped mushrooms, two heaping tablespoonfuls of stale breadcrumbs, a tablespoonful of chopped parsley, a half teaspoonful of salt, a dash of cayenne, and a tablespoonful of melted butter.
This looks like a lot of filling.
Fill the tomatoes with this mixture, heaping it in the center ;
I had more filling than would fit in the tomatoes, so half of a bell pepper is joining the party. Even though the direction was only to scoop out the seeds, I have a suspicion that I was supposed to completely hollow out the tomatoes.
sprinkle over the tops with breadcrumbs ; place the tomatoes in a granite baking pan, baste with melted butter, and bake in a hot oven for thirty minutes.
I interpreted "hot" as 400°F. Also, I don't have a granite baking pan. I didn't even know that was a thing.
When done, take them up carefully with a cake turner, and serve.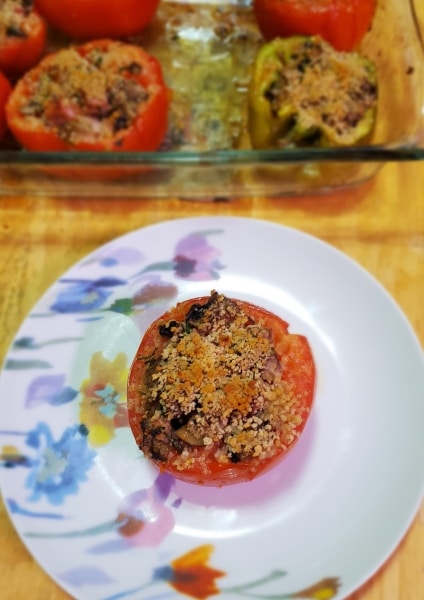 30-ish minutes later, my stuffed, baked tomatoes are ready to eat. They're pretty, but as I slice into my tomato, I realize that the filling didn't reach the bottom of the tomato. Still, It's savory and tasty, and I'd definitely make it again with a couple of slight adjustments—I would completely hollow out the tomatoes to squeeze more filling in there and either replace the ham with some ground meat of some kind or skip it altogether. I'm just not a huge fan of ham.
Baked tomatoes made very good leftovers, especially with a sprinkle of cheese on top.