Old Dominion, Industrial Commonwealth: Coal, Politics, and Economy in Antebellum America, By Sean Patrick Adams (Baltimore: The Johns Hopkins University Press, 2004)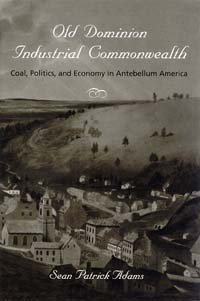 This volume in the Studies in Early American Economy and Society series continues the collaborative effort between the Johns Hopkins University Press and the Library Company of Philadelphia's Program in Early American Economy and Society (PEAES). Since its inception in 2000, PEAES has undertaken as part of its central mission the advancement of research on the early American economy through the antebellum era as well as the presentation of some of the important fruits of that research to a wide readership. Sean Adams' present study of the comparative political economies of coal in Pennsylvania and Virginia represents a signal contribution to the dialogue about early American economic relationships which such research engenders.
Scholars active in researching, writing, and teaching sometimes note our glaring collective failure to create conversations across the professional disciplines, and even within them, about the early American economy. Clearly, bridging the gulf between historical inquiry and economic issues offers great possibilities for enriching our understanding about how early Americans constituted their lives before industrialization. In this volume, Adams' case study of regional differences in thinking about legislating policies toward mining, moving, and consuming coal brings together the state-level institutional development of early national Pennsylvania and Virginia with the regional divergence of economic cultures in the North and the South. Comparing the two states' contentious public discourses on internal improvements, factious policy initiatives related to coal, and economic cultures of slavery and entrepreneurship, Adams makes important arguments about the active agency of state governments in responding to the abundance of a mineral fuel which became essential to American industrialization. His broad source base and array of voices lead Adams away from portraits of an emerging "national identity" and the oversimplified views of sectional divergence present since the 1940s in our economic histories of the early republic and toward a multidisciplinary, nuanced argument about regional economic political economy.
Cathy Matson
University of Delaware and Director,
Program in Early American Economy and Society