Money over Mastery, Family over Freedom:  Slavery in the Antebellum Upper South
(Studies in Early American Economy and Society from the Library Company of Philadelphia, 2011) Written by Calvin Schermerhorn.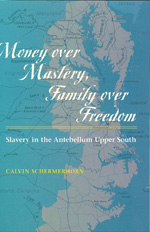 In this new title in Studies in Early American Economy and Society, a collaborative enterprise between the Johns Hopkins University Press and the Library Company of Philadelphia's Program in Early American Economy and Society (PEAES), Calvin Schermerhorn explores North America's oldest reproducing slave society.  Against All Odds:  Slavery and Enslaved Families in the Making of the Antebellum Chesapeake explores how slave families in the Chesapeake region encountered the brutal reality of sale and forced migration into the developing cotton and sugar regions in the south and southwest.
In an economic culture that had incorporated the skilled and agricultural labor of slaves into both plantation development and wage-paying enterprises throughout the Chesapeake for generations, slaves were familiar with non-plantation markets as well as the power of masters to command their labor at will, on and off plantations.  In post-Revolutionary America, slaves continued to play a crucial role in the booming interregional and international markets for cotton and sugar.  However, slaves rarely were able to take control over their individual or collective economic destinies, and when Chesapeake planters began to sell large numbers of their slaves into the great maws of "King Cotton" and sugar production, they made manifest the power of masters in slaves' lives.  Schermerhorn finds that when they were forced into the breach of forced migrations, slaves struggled mightily to protect vulnerable kin from sales that tore families apart by using the very market that sought to separate them.
Slaves could do so by various means.  Most importantly, Schermerhorn argues, as the larger political economy of international commerce and internal expansion unfolded, many slaves grasped at opportunities to preserve and expand "families" rather than resist outright the system of slavery.  Great numbers of slave families incorporated non-blood kin, which provided a shelter against forced sales for myriad individuals.  Slaves also cultivated networks of patrons and informal allies who could maneuver to keep kin out of slave markets.  Female slaves became wives and companions to slave traders to shield themselves and their kin from innumerable brutalities.  Slaves of all occupational backgrounds accumulated small property, rented relatives, or purchased family members with credit, in order to prevent forcible separations.
Time after time, slaves who were confronted with the unthinkable departure of loved ones chose various strategies to preserve family under a condition of slavery.  As Schermerhorn reveals, slaves consistently chose to use what resources they could muster to protect family rather than to flee toward individual freedom.  Slave families in the Chesapeake chose to forge relationships, sometime fleetingly, with slaveholders, slave traders, employers, and sympathetic white people in cash and wage economies, which amounted to strategic decisions to compromise with the slave market in order to preserve families, as defined and shaped by slaves, from the horrors of forced separations.  As a result, slaves' own agency in the revitalization of the Chesapeake during the early republic years, which served the interests of masters and internal improvers, became a source of strength and endurance for slave families.
PEAES is pleased to include Against All Odds in this collaborative series with JHU Press.  Schermerhorn's meticulously researched and intelligently argued study is admirably suited to the Economy Program's ongoing efforts to reach across scholarly disciplines and methodologies and to promote discussion of the early American economy in the broadest terms possible.
Cathy Matson
Professor of History, University of Delaware
Director, Program in Early American Economy and Society